In Conversation with Chef Melissa Axelrod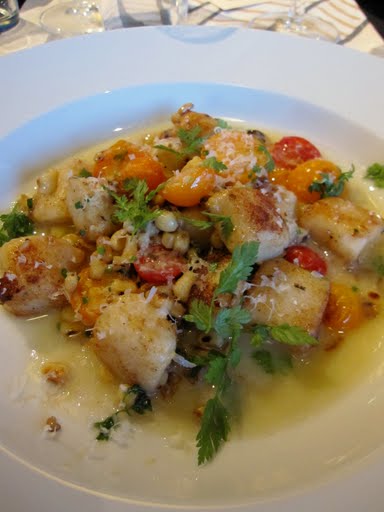 Melissa Axelrod, of Melissa Claire's Kitchen, a chef with a background at none other than Delfina and Fringale, now works with other chefs and beer and wine experts to create a series of meals rich in range and taste.
I took in a night in Melissa Claire's Kitchen at cozy Velo Rouge Cafe on August 27th, a stunning Indian Summer evening with white clouds dotting a moonlit sky. The four-course menu ($45 per person) redolent with freshness, each plate substantial and well-paced so I somehow did not leave stuffed.
Melissa filled the menu with "late summer goodness", starting off with a Caponata (eggplant, tomato, pine nuts) with fresh mozzarella and a grilled crostini, followed by a buttery Frisee Salad with ripe peaches, toasted almonds, and a tarragon creme fraiche dressing. Between the Renaissance Man and myself, I tried both entrees: a grilled/seared local Albacore Tuna, a generous piece of fish surrounded by butter beans, haricots verts and an Early Girl confit of tomato, basil, pesto. This would have been good enough, but she won me completely with her hand-made Potato Gnocchi with charred Brentwood corn, cherry tomatoes, corn butter broth and Parmigiano. For a gnocchi fanatic like myself (and I've had some of my finest in Italy), this was one of the best gnocchis I've ever had. Dessert was no afterthought: Gravenstein Apple Galette with cinnamon ice cream and salted caramel sauce, sweet with a welcome dose of salt.
Now that your mouth is watering, there are plenty of opportunities to indulge in such a meal yourself.
As I sat and talked with Melissa, it was exciting to hear the projects and partnerships she has in the works. Teaming up with Toronado, namely her fiancee, Christian Spybrook, they've created some intriguing beer dinners, usually around six courses at $95, with her own charcuterie and pates part of the feast (the last dinner offered tastes of no less than 13 local beers!) October 25th is their next Octoberfest-themed dinner (watch her website for details), but one where local Rieslings and German-style wines are paired (by wine consultant, Robert Joyce) with dinner, rather than beers.
With chef, Liz Bills of California Table, there's a series of meals, usually around four courses (plus passed plates) for $55, held at Mercedes Hair of the Dog. With communal seating, two long tables are set-up, and wine pairings commence, their last Tomato Dinner Feast paired with a fabulous selection of local Roses, again selected by Robert Joyce. Watch Melissa and Liz' websites for dates and tickets through Brown Paper.
Melissa's hands-on and seasonal, local approach is the "real deal" – she's so involved in each course and the farm produce she lovingly selects, having wisely partnered with other food and drink experts to maximize the experience and camraderie. When Melissa says she "doesn't want [her dinners] to be fussy", she ensures they aren't. Rather, it's a fresh explosion of local foods with the welcoming spirit of dining in a friends' home.