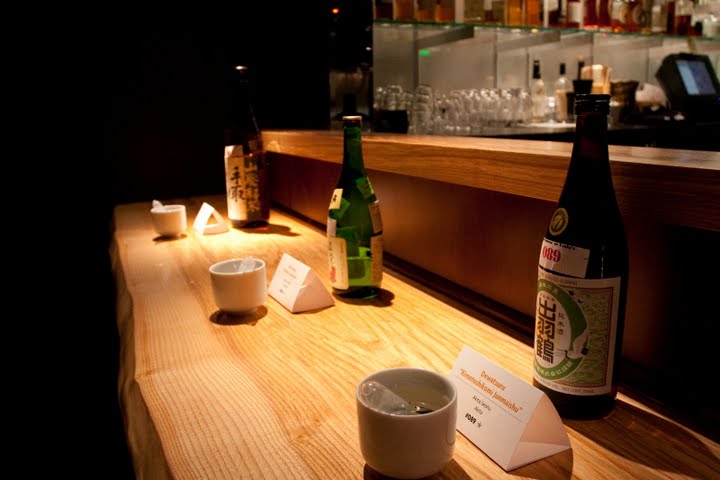 Top Tastes is my usual run-down of tastes over the past two weeks. Rather than a list of all-time favorites (another thing altogether), it's highlights since my last newsletter, often from new openings. Many don't make the cut, being a revisit written about before or simply not as stand-out as dishes mentioned.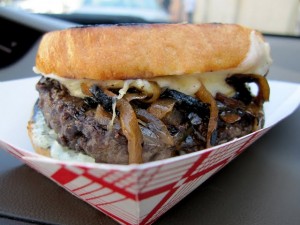 Finally got to try all of Kung Fu Taco Truck's tacos (duck, chicken, pork and beef) – tasty, if not my favorite Korean tacos (Seoul on Wheels' and Golden Gate Perk's spicy pork are my tops). With siblings & friends in town, I've mostly been revisiting classics (and cheap eats) lately: Rosamunde & Toronado, Velvet Cantina, Ti Couz, Thai House Express on Larkin, Uncle Vito's Pizza, Dosa on Fillmore, Poleng Lounge, Chutney, Za Pizza.
SAVORY – MEAT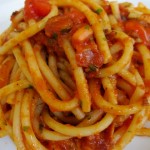 • Mission St. Food launched Mission Burger ($8), for sale in Duc Loi Supermarket every day but Thursday. It's messy, on a grilled Acme bun, slathered in grilled onions… and damn good.
• La Briciola's Bucatini all' amatriciana ($9 at lunch) with sauteed bacon, onions and slightly spicy tomato sauce, is a dreamy pasta. Al dente, chewy house-made noodles, a hint of spice… a truly great dish.
SAVORY – VEGETARIAN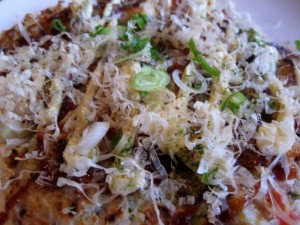 •  Deep Sushi, in my Noe 'hood, has morphed into Deep, currently in soft-opening phase with two nightly seatings. A few of Deep Sushi's best maki stay on the menu plus a whole new selection of yakitori, robata and noodle dishes. Thankfully, there's still the Sunflower Roll ($11), but also spicy King Crab Croquettes (basically legs in the shell, $9). Hokkaido Scallop Carpaccio ($9) is fresh but would be better as sashimi than with micro-green salad atop (wasabi caviar is a nice touch, however). Soba Noodles with Duck ($11) are comforting, but not a stand-out. My top initial taste had to be their Okonomiyaki ($11). I can't often find these "pancakes", one of my favorite Japanese dishes, and this is a worthy one, packed with bay scallops, shrimp and smoked bacon.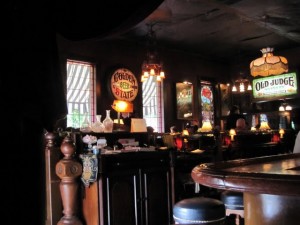 • The Fat Lady is Oakland old-school in the most pleasing of ways. Dark wood, Tiffany lamps, the spirit of the '70's (when the restaurant opened) and the turn-of-the-century (decor-style) co-mingling. The menu is similarly dated, but actually quite tasty, especially at brunch. I miss blintzes from my NY days, something rare in SF. Fat Lady serves slightly crispy Blintzes ($9) filled with warm, sweet ricotta, covered in strawberries.
• I like the slick whites and browns of pricey La Folie Lounge, plus the chance for a quiet cocktail and bite or two before an evening out. I think I'll just keep popping those Truffle Gougeres ($6) – about eight of them in a cup – warm, flaky, oozing with fontina cheese and aromatic truffles.
SAVORY – SEAFOOD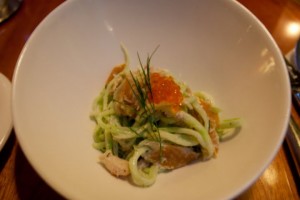 • It's a joy to return to Zare at Fly Trap, a restaurant whose staff and warm glow always make me feel welcome, wanted. The menu can be a little uneven, though never "off" in my experience, but some dishes stand out more than others. I had a happy fling with Smoked Trout ($11) over cucumber cut like linguine, with trout roe and dill creme fraiche. It works with Minted Memory ($10), a refreshingly light take on a Pimm's Cup, with Bombay Gin, Pimm's No. 1, malted vinegar syrup and lemon.
• Beretta normally serves their Baccala ($7 ) with grilled polenta, but recently I enjoyed the flaky, baked salt cod with giant, plump white beans and tomatoes. A worthy version.
SWEET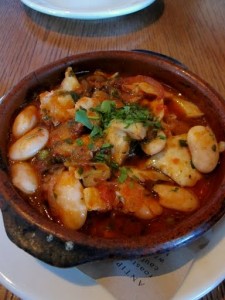 • Lois the Pie Queen is definitely queen of pies… a classic soul food diner, this place wraps around you like a warm blanket, easing any troubles with a hearty plate of food and the sweet staff calling you "baby" or "honey". You want it all, but what you really need is the pie. Most slices are around $4 and Sweet Potato Pie lives up to better versions. But the Lemon Icebox Pie blew me away with such a puckering tart in creamy folds of pie. I am haunted by that extra slice in my fridge right now…
• Vice Chocolates is an Oakland-based chocolatier using Venezuelan chocolate in their truffles and bars. I bought Vice at Oakland's Temescal Farmers Market, partial to a Lady Lavender truffle ($2) with dark chocolate, lavender, vanilla beans, and the Fig + Anise Dark Chocolate Bar ($4).
• Working your way through all flavors of Gobba Gobba Hey's "gobs" (two cake-like cookies with cream in the middle – a Pennsylvania specialty; see last issue's Top Tastes), I warn you, can become habit-forming. Will it be Black Cherry with Lime Buttercream, Apricot Almond, Strawberry Basil, Blackberry Lemon-Thyme? I'll take all, thanks. Subtle, moist, delicious. You can even order a box delivered to your office (get your co-workers hooked!) Follow Gobba Gobba Hey on Twitter for where to get 'yer gobs.