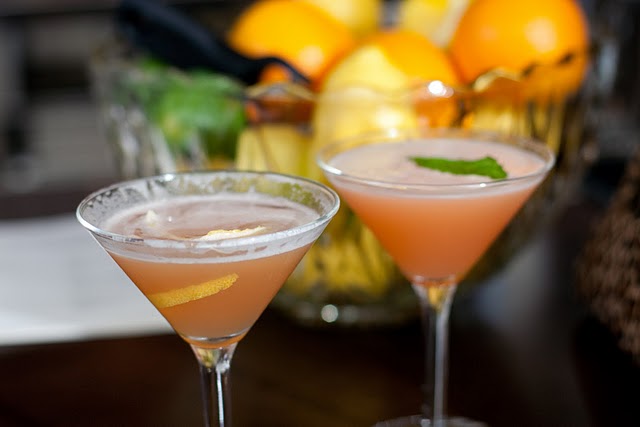 Cocktails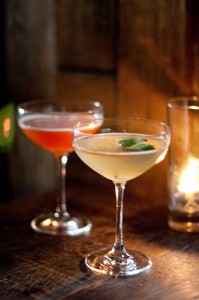 RICKHOUSE, Financial District – It's been a rewarding Summer thus far for Rickhouse and its talented bar manager, Erick Castro. First, Castro won one of two mixologist of the year awards at StarChefs Rising Stars (see On the Town), then Rickhouse was nominated for three awards (more than any other SF bar) in an international nominees list for Tales of the Cocktail: Best American Cocktail Bar, World's Best Cocktail Menu, World's Best New Cocktail Bar.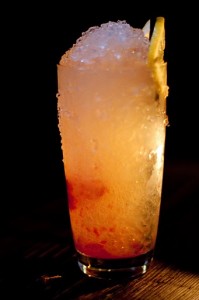 So it seems as a good a time as any to re-visit Rickhouse to try their brand new Seasonal Summer Cocktail menu with eight original drinks plus one new punch, especially when they're as good as Ginger's Trois ($8). This was tops of the few new drinks I tried last week, effervescent with sparkling wine, smooth with Plymouth Gin, fresh lime and mint, balanced with bitters, lightly spicy with ginger. I hope this is a permanent menu fixture. A Cherry Blossom Cobbler ($8) is a sno-cone tower of ice, topped with a cherry, rich with Yamazaki 12-year whisky, organic cherry blossom jam and lemon juice. On the spirituous side is a Paper Plane ($9), refreshingly strong with bourbon, Aperol, Amaro Nonino and lemon juice.
AZIZA, Outer Richmond – Aziza's one-of-a-kind cocktails are often fascinating and unlike anyone else's. There is a section on their Mixology menu for spirits from Pisco to Brandy. My latest visit entailed these three beauties (all $10):
– Tequila, garden fresh and bright with celery, sage and agave
– Gin, intriguingly grainy and balanced with blackberry and ginger
– Bourbon highlighted with apricot, barley malt and cinnamon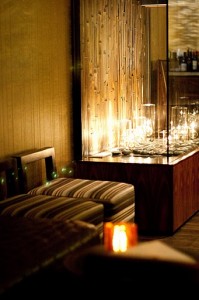 PROSPECT, SoMa – See my rundown of a return visit to Prospect in Top Tastes. Cocktails ($10-11) by the one-and-only Brooke Arthur were all high quality from a tart, bracing Mr. White (Pueblo Viejo blanco tequila, St. Germain elderflower, strawberry mint shrub, lime) to a robustly refreshing Prospector (Wild Turkey Rye 101, Zirbenz Stone Pine Liqueur, Drambuie, pineapple gum, lemon).
CLOCK BAR, Union Square – Clock Bar's fairly new GM, Phillip Barcio (formerly of Ramblas), launches his first seasonal menu, one of three throughout the year ("seasons" being grouped by produce): a May-September/berry season menu ($12-14 per cocktail).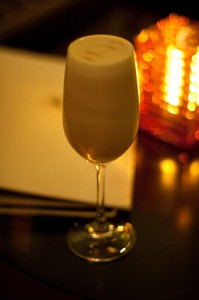 At a preview night on 6/21, it was a joy to witness farmers and producers congregated at Clock Bar who provided much of the produce or ingredients for the menu's cocktails. The menu is ambitious, playful and farm fresh, with every drink featuring a different spirit and seasonal produce or local and house-made sodas and syrups.
An Oregon 609 is complex but bright with Bols Genever, olallieberry marmalade, Cynar, Benedictine and lemon, though maybe my least favorite of the three I tried. Carl is a lighter take on absinthe (featuring Swiss Kubler absinthe) with apricot reduction and a zippy house root beer.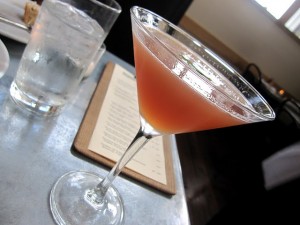 Nutty, creamy dessert comes in the form of a Mission Flip with Pampero Aniversario Rum, house cane syurp, Mission fig reduction and a whole fresh egg. It seems a locally-embracing new season has dawned at Clock Bar.

SERPENTINE, Dogpatch – See my rundown of a return visit to Serpentine in Top Tastes.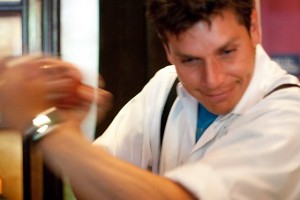 I was pleased with the silky, smooth layers of a myriad of ingredients in The Acadian ($10.50): Michter's Rye whiskey, Plymouth Sloe Gin, rosemary, absinthe, honey, lemon.
PICKLED at ABSINTHE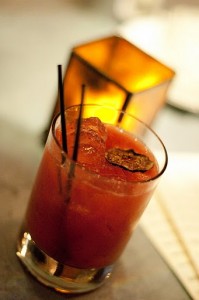 Yes, it's a pop-up bar called Pickled, happening on the last Monday of every month in Absinthe's private dining room, with ever-changing drinks created by bar manager Carlos Yturria. I stopped in inaugural night, June 28. A wide range of spirits are represented, from armagnac to mezcal ($10-12 a cocktail), and there's also a revolving offering of bar bites to go with. Pisco showed itself beautiful in Carlos' crushed ice presentation with figs, sage, lemon and a candied fig chip on top. Kudos for using my new local favorite, Encanto Pisco. Close the night with a little finish of Carlos' candied strip of rhubarb.
Soda
TAYLOR'S TONICS – Almost savory, spicy, herbal, Taylor's Tonics are local sodas available at Rancho Parnassus (see Top Tastes), Rainbow Grocery, and Berkeley Bowl. Chai Cola has elements of a traditional chai but a soda effervescence and strong, pleasant bitterness. And they are local. Check out Imbibe magazine's story of this wonderfully unique soda and it's creator, Taylor Peck.
Wine
Slow Food's GOLDEN GLASS – At the June 12 wine and food event at Fort Mason featuring sustainable worldwide wines, highlights included:
– Breggo Cellars in Boonville, CA – 2009 Anderson Valley Pinot Gris with key lime and honey accents, contrasted by bright, white pepper acidity;I'm impressed by their small production, old world mix with sustainable technique; eager to try more of their wines
– Paul Dolan 2006 Deep Red and 2007 Cabernet in Ukiah, CA – organic and biodynamic wines; the first is earthy and round with red fruit; the latter ripe but aided by notes of spice and anise
– Raina in Montefalco, Umbria: 2006 Sagrantino di Montefalco DOCG is rich with blackberry, spice, dry balsamic notes
– Bodegas Abanico Eternum Viti 2007 in Spain – Imported by Grapes of Spain, toasty oak hints, blackberry, leather
– Tenuta San Rocco 2008/09 Poggio Marcigliano Grechetto di Todi DOC in Central Italy – a white surprisingly sweet on the nose but dry to the taste