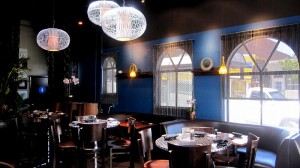 Top Tastes, rather than a list of all-time favorites (another thing altogether), are among the best eats since my last newsletter, often from new openings. Many don't make the cut, being a revisit previously written about or simply not as stand-out as dishes mentioned (for example, I appreciate Rocketfish opening by my office in Potrero Hill, though don't have a stand-out menu item to share yet in my initial three visits. The remodel from the former Lingba space is now bright blues and browns).
MID-RANGE RESTAURANTS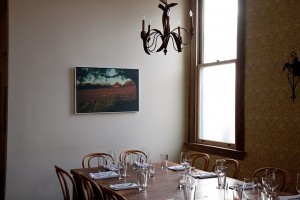 HEIRLOOM CAFE, Mission – The menu at Heirloom Cafe is simple: there are merely six items total, including appetizers and entrees, one $50 prix fixe option, three cheeses, and a couple desserts. But each is done to perfection, as such a brief menu should be, with more than a little Chez Panisse ethos, focusing on ultra-fresh, pristine ingredients. Opened by Matt Straus, who came from LA's Grace to the city he calls "the best place in the world to me", his passion for wine shows in his thoughtfully chosen wine list, ranging from $8-19 per glass, with an older wine list available by request. Sip a lush 2008 Chateau Musar Rose from Lebanon ($8 a glass), or a 2004 Lopez de Heredia "Vina Cubillo" Crianza from Rioja, Spain ($11 a glass).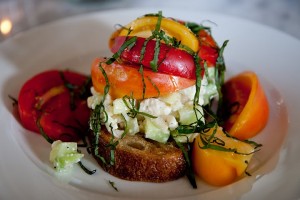 With a juicy mountain of Heirloom Tomatoes piled over toasted bread and a mix of pickled fennel, cucumbers and feta ($11), the melding of this uber-fresh dish with the Rose becomes revelatory. But the Bacon Onion Tart ($11) is equally brilliant: flaky, doughy pastry loaded with sweet, caramelized onions and meaty bacon. One of the best onion tarts I've ever had.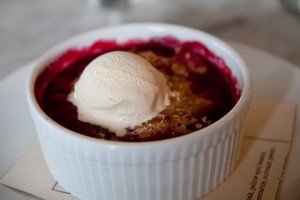 Potato Gnocchi ($15) is not exactly traditional in style or texture, but you will love it just the same: pillowy, lightly toasted, with crisp corn, mushrooms and a spicy house fennel sausage. A dessert of tart Plums & White Nectarines with a crumble and Straus vanilla ice cream atop ($10), continued the meal's trajectory of perfection in straightforward language. In a dining room that's Victorian country kitchen circa 2010 Mission, it's one all-around satisfying experience.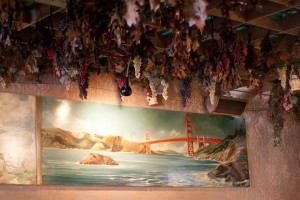 GASPARE'S, Outer Richmond – Though I've been to Gaspare's before, an old school bastion of East Coast-style Italian with individual booth jukeboxes, fake, plastic grapes and straw-covered wine bottles hanging from the ceiling, it's always been just for pizza.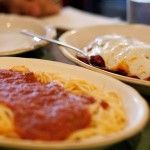 My latest visit, I ordered an array of pasta, from Spaghetti with meat sauce ($12), to Eggplant Parmigiana ($13.75), then a Caprese Salad ($7.75) and Garlic Bread ($4.50). But nothing transported me back to my Jersey high school days so much as the divine Baked Lasagna ($13.75), oozing with cheese, meat and the reddest of red sauces, lightly sweet, heavy on the savory, as good as home.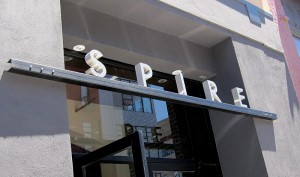 SPIRE, SoMa – Just back from New Orleans, I was happy to assuage immediate pangs of loss in leaving the South by visiting brand new Spire, whose Executive Chef, Laird Boles, is native to beautiful Charleston. The space is modern, industrial, clean, if not particularly memorable, but touches of the South on the menu intrigued. I've merely tried two dishes so far and they just began serving dinner (it was lunch only initially). Each staff member is genuinely warm and their friendly welcome, along with the promising menu, makes me ready to return.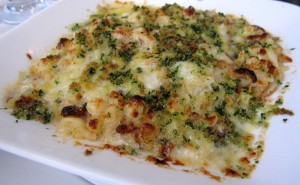 Whenever I see Shrimp and Grits ($11) on a menu, I have to order it. But having eaten that dish in Charleston, Florida, New Orleans (just had a brilliant version at Le Petite Grocery last week), and with stand-out versions in SF (at 1300 on Fillmore, or the best at Brenda's), Spire's lemony grits, flavorful as they were, did not hold a candle in taste or texture to the best. But I did appreciate plump shrimp and juicy toy box tomatoes in tarragon-chardonnay butter. I was won over by what is a worthy change of pace from mac 'n cheese: cheesy Oven Baked Spaetzle Gratin ($8), with gremolata and truffle infused throughout. More, please.