COCKTAILS
SPOONBAR, Healdsburg – I wrote last issue about Spoonbar in Sonoma County. It's up to you get out there… and fast… for some of the best cocktails in all of the Bay Area (no surprise) from Mr. Scott Beattie.
Ask for the full cocktail menu beyond the one you get when first seated. It's a glory of new creations, featuring edible flowers and the herbal, produce-driven beauties Beattie has perfected since Cyrus days. There's the added bonus of classics done with a Beattie sensibility. I get giddy at the site of three versions each of Old-Fashioneds, Negronis, Manhattans and Sazeracs, the holy foursome of cocktails.
I chose the Tempus Fugit Negroni ($8.50). How could I not? Made with Ransom's impeccable Old Tom Gin, Dolin Rouge Vermouth, orange zest and Tempus Fugit's brilliant Gran Classico Bitter, it's a musky, full revelation.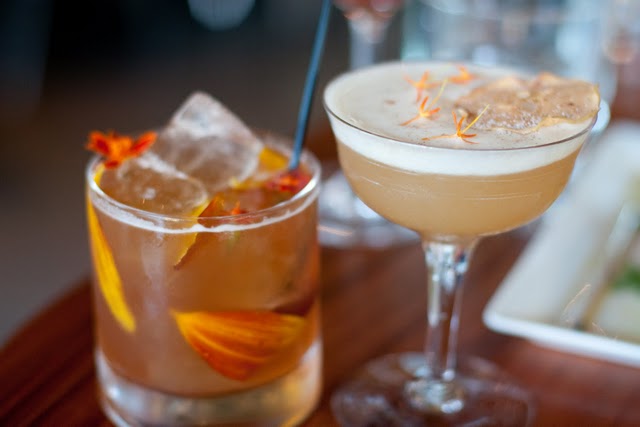 On the classics front, Beattie's Dark 'n Stormy trumps all others. There's an Appleton Reserve version for $7.50 (or pitcher for five at $37.50). I had the Ron Zacapa Solera 23 (a rum I've long been a fan of) version for $9/$45. With fresh lime juice and Angostura bitters, Beattie adds drops of essential ginger oil for a pure, full taste. Locally grown sunflower leaves are a vivid garnish.
Going the creative Beattie route is equally thrilling. John Chapman ($10.5) is a taste of fall. When you mix St. George Whiskey and Pear Eau de Vie with lemon, apple, ginger and a Thai coconut foam, you get magic. Ditto, on the other side of the spectrum, with the Summery Siddartha ($9.5). This one utilizes Hangar One Buddha's Hand Citron Vodka with Beefeater Gin, St. Germain Elderflower, lemon, Thai coconut milk and lemon verbena. It's silky, seductively bright and garden fresh.
Trust a drink from Beattie and try the spectrum. I am plotting a return…
BAR AGRICOLE, SoMa – I've been asked about my take on the new and long awaited hotspot from Thad Vogler. Though I tried three cocktails and bites at a pre-opening event for Bar Agricole, I did not walk away with enough of a stand-out yet to give you a proper report, though I'm sure one will be forthcoming.
I will say the space is strikingly unique, welcome in our city of understated dining rooms. It's forward-thinking and fresh, from the photography behind the bar, to radiant light fixtures, to the awesome front garden and patio.
15 ROMOLO, North Beach – I'm always happy here… you hear me say it enough. The 15 Romolo guys do it again with two divergent cocktails. One is Spaghetti Western ($9), it's cool name belying the crazy candy taste that happens when rye and Campari meld with sweet tomatoes (love the plump tomato garnish), lemon and a Pilsner float. The other, the spirituous bitter of Lo Scandinavo ($11) with North Shore aquavit, Gran Classico, Carpano Antica… a Scandinavian approach to a Negroni.
TAMARINDO ANTJOERIA's MIEL BAR and REVIVAL BAR & KITCHEN, Oakland and Berkeley – And in the East Bay, Tamarindo Antojeria opened a tequila bar, Miel, in half of their restaurant, a chic, shining temple of all things tequila. Besides a fine selection of tequilas by the pour, cocktails like the Mezcalito ($12) highlight Del Maguey's Creme de Mezcal with a little fresh orange and volcanic salt rim. They do a nice job on their margaritas and Paloma, too.
Revival Bar & Kitchen is a welcome cocktail stop in downtown Berkeley, even if the menu (food and drink) is similar to many you've seen in SF in recent years. They do classics, like Death in the Afternoon, Bourbon Crusta and Jalisco Sour, but also whip up specials of their bartender's doing, fresh with the likes of lavender, lemon and egg white.
REZA ESMAILI'S ROSEBUD, served at SF CHEFS' SPICE PARTY
This is a layered, aromatic aperitivo created by Reza for SF Chefs and one of my favorite drinks of the week. He was gracious enough to share the recipe…
Rosebud
1oz vodka
.5oz Hendrick's gin
1oz Lillet Blanc
.5oz Aperol
3 drops rosewater
-stir ingredients for approx 10 seconds
-strain into two sherry or port glasses
-garnish with rose
serves two
SPIRITS
MINISTRY OF RUM – Another year of Ministry of Rum, a fine rum tasting event put on by rum expert (and a downright great guy), Ed Hamilton (read about last year's here).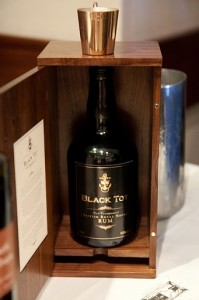 Many of last year's same vendors were there at Waterfront Hotel/Miss Pearl's Jam House in Jack London Square. Bartending greats shook cocktails as we sipped through various rums.
Diplomatico Reserva Exclusiva stands out with a caramelized, spiced nose and buttery spice and tobacco flavors. Cruzan's smooth Single Barrel Rum is an easy after-dinner sip: a light but mature, pleasing rum at the right price (retails from $27-35 online).
Despite the greater aged 8 and 12 year El Dorado rums, I prefer the 5 year cask-aged version. It's medium-bodied, lively and redolent of the tropics with toasted coconut and fruit notes.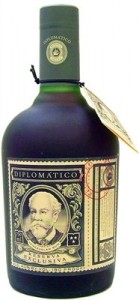 Each time I've tasted them, I enjoy honey and dark chocolates notes in Santa Teresa 1796, aged in Solera oak barrels, and Flor de Cana's rich, charred oak and dark caramel-tinged Centenario 18 year.
Black Tot Rum was the big hoopla of the afternoon, a 40-year rum doled out in dropper-sized tastes. From the little I could gather, it was nuanced though hardly revelatory, especially compared to whiskies of similar age. Though I find some younger rums more exciting, Black Tot was nonetheless an excellent slice of history and a worthy sip.
When it comes to rum, I can't help but return to Zacapa rums as favorites, both the Centenario and the XO.
Here's to next year, and thanks, Ed, for ever furthering our knowledge and showing us the scope of rum.
HEAVEN HILL – Heaven Hill has an enviable line-up including some of my favorite bourbons in existence. I jumped at a chance to stop in at 83 Proof on my way to judging a whisky contest to sip one of my top bourbons (another being Pappy Van Winkle 20 and 23 year): Parker's Heritage.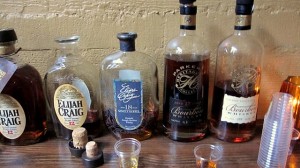 I fell in love after first trying their anniversary edition at Whiskyfest. Tasting Parker's 27 year again is fabulous every time. Sip their Golden Anniversary edition and you've died and gone to bourbon heaven.
I adore rye, and Rittenhouse 25-year Rye is surely a fine one, but I'm not sure I gained much more from the added years. When it comes to aged rye, my love still lies with Van Winkle Family Reserve 13-yr Rye, which is, tragically, very hard to come by.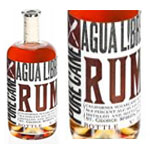 ST. GEORGE's AGUA LIBRE – Don't even get me started on how much I love St. George Spirits. I've been a fan for years, from my rush to purchase their incomparable Absinthe Verte upon release, to the loss of my last bottle of Agua Azul Reposado until they make a tequila again in the future, I've been proud to have them in the Bay Area. Tours, release parties, any event at the distillery is memorable.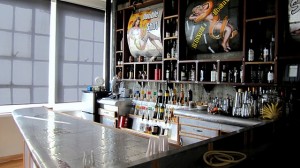 I won't go into the joys and secrets of a private tour from distiller Dave Smith last week, replete with tastes, whiffs and ecstasies from bottles, test tubes and barrels of unreleased products. Experimentation is alive and well at St. George/Hangar One and it thrills me to witness it.
In the meantime, there's two brand new releases to enjoy. The first US rum agricole grown from US sugarcane, Agua Libre comes in two forms: dark, aged rum and white, unaged, both grassy and smooth. Also, the second batch of Firelit Coffee Liqueur was just released with dark chocolate notes from the Blue Bottle beans.