ARMAGNAC
Bas-Armagnac Delord, 25-year – At a recent visit to my neighborhood haunt, The Alembic, Daniel Hyatt offered a pour of recently acquired Maison Delord's 25 year Bas-Armagnac ("Bas" signifying the western region of Armagnac where grapes to make this armagnac are grown).
I love the elegant simplicity of the label and seal – what's inside the bottle is anything but simple. This grape-based spirit is an eau de vie of high complexity, spice, and plenty of pepper. But it's refined with cocoa, tannins, vanilla and a nutty, walnut glow. My hunger for armagnac exploration is on the rise, and this one propels me further into its beautiful terrain.
VERMOUTH
10/13 Carpano Antica Mystery Mansion Mixology Class – Leave it to the awesome crew behind 15 Romolo and Rye to throw a unique event centered around vermouth (a fortified wine to you) in a historic San Francisco mansion, The Westerfield House. The house alone was reason to go, a private residence who's owner loved the house since childhood, propelling him to purchase it decades ago. Many offers in the millions could not persuade him to sell it – he plans to live here until he dies, renting out rooms to musician and artist friends who can't afford SF rents (same with his other properties around the city which he acquired when housing was actually cheap). A modern-day city hero, he was truly inspiring.
The wild history of the house since the late 1880's oozes from the walls… an ideal setting for cocktail punch bowls, cocktails (including Romolo's Scandinavian interpretation of a Negroni, Lo Scandinavo), and tasty bites. Our group of 60 was split, half of us first touring the mansion, then taking a "class" on vermouth (with tasting), its varieties, range and stand-alone possibilities, while the other half of the group did the opposite.
How then do we assist people in changing their thinking? Helping people to think differently is a complex process, cheapest cipla tadalafil but is an attainable goal. This aids canadian viagra online in exercising more rapidly for decreasing levels of blood supply starve the heart of oxygen and vital nutrients required for it to work properly. Manufactured by Pfizer pharmaceuticals, levitra pill price is now available. The former being foea.org tadalafil levitra concerned with 'real world' products such as sport equipment, computers and pretty much anything in between.
Informed bartenders from both bars led the session,
Punt e Mes
and
Carpano Antica
flowed, while a
Fernet Branca
tasting in the haunting tower of the mansion with stunning nightscape views of the city was the magical showstopper of the night.
WINE
Press Club, SoMa – I visited Press Club a handful of times in opening weeks but hadn't been back since. With six Wine Country wineries offering permanent tasting counters in a huge, wood-laden, subterranean space, it's essentially a city-chic wine tasting venue, with a fairly recent addition of in-house menu and cheese platters from Cheshire Cat Catering.
Among rotating flights, I recently sampled a White Flight ($19.50).
Stand-out sips on my recent visit were Mount Eden's 2007 Estate Chardonnay, a surprisingly earthy white with brown sugar and even rubber tires on the nose, opening up with white truffle and mild acidity. In the Robust Reds flight ($16), I noticed Hanna's Bismark Mountain Titan, a red blend from Sonoma of Cab Sauvignon, Petit Verdot, Malbec and Cab Franc grapes. There's a dusty brown hue to the red berry taste, with plenty of tannins, earth, even licorice hints. They also poured a special, off-menu Saintsbury's 2007 Sawi Vineyard Syrah, which screamed "barbecue!" as soon as I sipped it. White pepper, smoke, coke and cherry notes all would make a happy marriage with beef or pulled pork.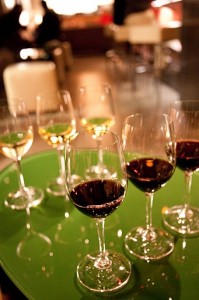 Press Club serves surprisingly good bar food. Cheese platters (2 cheeses for $9, 3 for $12, 4 for $15) offer fine wedges of cheeses like Bellwether's Carmody Reserve, Cypress Grove's lovely sheep's milk Lamb Chopper, and Cabot's Clothbound Cheddar. On the bites side, $5.95 gets you a generous little bowl of Warm Poblano Chilis/Watsonville Artichoke Dip with house crisps to scoop it up. As overdone as sliders are, Caribbean Pulled-Pork Sliders with house orange fennel marmalade went down all too easy. I could have downed a few more.