Indy Spirits Expo

This year's Indy Spirits Expo on November 17th was much improved since last year's inaugural year, though crammed into the cool, brick-walled nightclub space of The Mighty. This event offers one of the better opportunities I've seen to sample everything from cachaca and pisco, to absinthe and eaux de vie, all in one room, among the best small batch spirits happening in the US and a few places beyond.
Many favorites you've heard me write about were there, like the great St. George, Charbay, Craft Distillers, and more recent greats like Old World Spirits and Don Pilar. Outside of Northern California's riches, there were my Midwest faves like North Shore Distillery and Death's Door, plus Oregon delight, Bend Distillery. Amidst a can't-go-wrong line-up, here are just a handful of highlights:
– St. George did it again with a couple special behind-the-table pours, my number one being a brilliant eau de vie infused with fresh Dungeness crabs. I saw photos of a still filled with crabs, smelled the briney-sea whiff that emanated from the pour, relishing the crabby goodness that screamed Bloody Mary. No complaints about the other pour from the masters of liquid experimentation, an eau de vie infused with seaweed.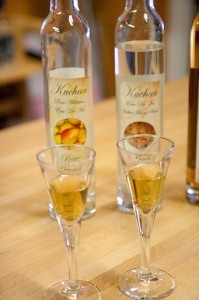 – Charbay brought some special hand-marked bottles filled with straight-from-the-keg whiskeys, including the ravishing 12yr whiskey I've told you about before in my Guardian column: their incomparable Release II whiskey, just aged another 6 years.
– Old World Spirits poured their latest releases of the gorgeous Indian Blood Peach and Poire Williams (Pear) eau de vie, plus their luxurious Walnut Liqueur. Take a thoroughly different gin route and try their Blade gin aged (called Rusty Blade) in a special, only-through-K&L Wines bottling. Technically you might not be able to call it gin, but the same herbs that go into the regular Blade are aged like a whiskey for 13 months. The gin's juniper and citrus expand with spice and oak for a truly unique expression (only 250 bottles made with a retail price of $59.99 – contact K&L before they're all gone).
– A surprising new addition to the rum scene comes from Colorado, of all places: Montanya Rum. It is sweeping up Gold and Silver medal awards the last two years since inception in esteemed places like San Francisco World Spirits Competition. I prefer the light rum Platino to the Oro dark rum, as the former is crisp and clean, nuanced with almond, oak, coffee and vanilla.
– A newcomer, Novo Fogo, ups the cachaça game bringing a 100% organic, gluten-free cachaça to the table. The aged Gold version is reminiscent of a bourbon or a rum, but I prefer the clean Silver, as I get more of those sugarcane cachaça properties, with hints of sea salt, citrus, and sweet peppers.
Single Malt Extravaganza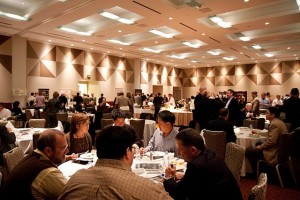 I wasn't sure what to expect at the Single Malt Extravaganza on November 16th at the Intercontinental Hotel, with welcome giveaway of Romeo y Julieta and Monte Cristo cigars as take home treats. Despite the lack of rare pours and master distillers present you get at Whiskyfest or Whiskies of the World Expo, you also (thankfully) get civilized, minimal crowds at Single Malt Extravaganza. I was able to flow, take my time with sips, and cover the whole room easily in two hours.
Though most pours were merely re-visits for me, as there wasn't a lot I hadn't tasted before, there were a couple special pours that truly wowed.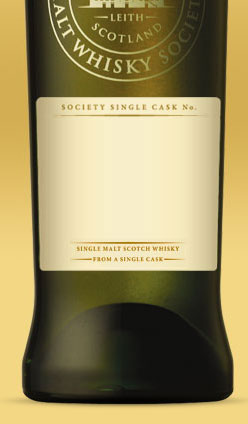 The highlight came in the members-only line of whiskies from The Scotch Malt Whisky Society (the co-host of the event along with Robb Report). Mostly from single casks and at cask strength, their rare bottlings are truly unique. I was relishing all five they had on offer this event. Cask No. 123.5 is an 8yr Southwest Highlands scotch described as "feisty but fun". I loved the heavy marmalade, cinnamon toast overtones, rounded out with salty caramel and rich woods.

But the one I couldn't stop thinking about and returned to during the evening was Cask No. 25.51. A Lowlands malt described as "cherry lips and bitter nuts", this bright wonder unfolds with passion fruit, spiced honey, and layers of aromatic rose petals. A hint of smoke, grass and tobacco round out cherry, banana leaf notes. I've never tasted a scotch like it and could sip it all night. Though they recommended a splash of water since it's cask strength, I preferred it neat.
I like the Society's playful bottling descriptors (like "Gateway to Narnia" or "Apples and Hallowe'en") and singular taste profiles. It's tempting to become a member.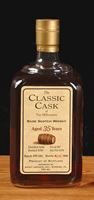 Spirit Imports/Classic Cask has not much more than 200 bottles left in the world of a brilliant 35-yr Classic Cask Rare Scotch Whisky. I lingered over this beauty awhile. A special millennium release in 2000, it blends 30 different scotches, aged 25 years each, then aged together for another 10 years. While the nose is rich with a buttery sherry from the Oloroso sherry casks it was aged in, the taste covers the gamut from rich butterscotch and oak, to dark chocolate and almonds.
Balvenie's 21yr PortWood is an ideal after dinner imbibement. Fruity and dry on the nose, it tastes like a Highlands single malt until you get to the long finish of spiced vanilla and nuts, reminiscent of a cognac.
Value sip of the night was Glen Garioch, a small distiller from Eastern Highlands, whose Founder's Reserve whisky retails around $45 and their 12yr around $60. The first is young, not a showstopper, but fruity with tart green apple and rhubarb, finished with butter cream. The latter hints of floral pears, sweet malt and banana with plenty of oaky notes.