Top Tastes is not a list of all-time favorites, rather it's about the best tastes of the last two weeks (since my last newsletter), often from new openings.
With visiting friends and some down time, I've been frequenting stand-bys like Flying Fish Grill (in Half Moon Bay), the house, Woodhouse Fish Co., Fat Angel, Tacolicious, and hitting up re-vamped spots like Citizen Cake and a few other new lunch spots I'm revisiting and will include next issue.
CHEAP EATS
WISE SONS DELI, inside Jackie's Café, 105 Valencia Street (at McCoppin), 415-787-5534, 9am-2pm Saturdays
Head to the Mission where Wise Sons Deli takes over Jackie's Café every Saturday. Rolling since January, the young guys behind this pop-up deli have a hit on their hands. Lines form out the door for Evan Bloom and Leo Beckerman's Jewish food with heart. The menu changes often, and they're preparing a killer-sounding Passover menu next week at Coffee Bar and for take-out.
True: we don't have enough Jewish food in this town. But these guys aren't just doing it, they're doing it with excellence. Case in point: there are multiple menu items that I'd call 'must order'. This is rare enough at a restaurant, much less a small pop-up with limited menu.
I eagerly await the day they will have their own storefront. Until then, here are three items you'd do well to order from their delightful menu:
1. Bialy or Bagel and Smoked Salmon
Whether the day's menu carries a bagel or bialy (Polish kuchen similar to a bagel but only baked, not boiled), get it. For $8 (or $11 open-faced), bread is laden with their house-smoked salmon, red onion, capers, and pickled veggies on the side. Homesick New Yorkers and bagel-lovers among us may have finally found a little something to assuage that bagel-shaped hole whenever we're away from NY.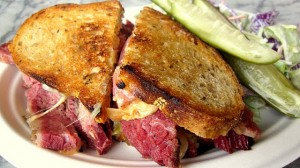 2. Babka
A sweet yeast cake with Eastern European roots, Wise Sons makes their babka sing with earthy swirls of Guittard dark chocolate weaving a pretty pattern through each slice. Whether you order this brioche-like bread by the slice ($3.50), half-loaf ($11), full loaf ($20), or as French toast with fluffy whipped cream ($6 for one; $9 for two), you know a craving has begun. Complicate things further with chocolate caramel babka ($3.75), made with Clairesquares' divine caramel.
3. Pastrami or Corned Beef
Watch a massive side of beef being sliced on the sideboard and try not to order a plate. Or better yet, get a sandwich ($12) of either cut of beef on double-baked rye bread, or as a Reuben ($13.5), the supreme sandwich of beef sandwiches. Potato salad or coleslaw plus garlic-dill pickles accompany, as do meaty dreams of home and all that is good.
MID-RANGE
HYDE AWAY BLUES, TenderNob (457 Hyde Street, between Ellis and O'Farrell, 415-678-8894)
New BBQ joints are popping up all over the city lately. This take-out shop for caterer Big May's BBQ is where all the remaining foods from their catering projects end up for dinner purchase.
The storefront exudes a blues and rock 'n roll-spirit lined with records and Blues Brothers on TV. Take home huge hunks of NY steak or addictive ribs (among the best I've had in the Bay Area) marinated in the likes of cognac and smoked with cherry or hickory. Prices come off a little high ($20 for steak with one tiny side of coleslaw and a corn muffin?), but that slab of beef is massive.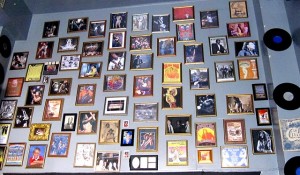 Add on collard greens cooked in ham hocks ($3) or Mama's home cookin' in a dessert like Banana Rum Puddin' ($5), layered with 'nilla wafers.
Most importantly, meats are juicy, toothsome and imbued with a smoky essence reminiscent of my barbecue road trip through the South. This here is Memphis-style, where the meat tastes as if its been in the smoker for hours.
I'd call this newbie one of the better BBQ options in the city. Their gumbo was sold out on my last visit… next time.
CAMPANULA, North Beach (701 Union Street, at Powell, 415-829-7766)
Brand new Campanula (from owners of Russian Hill mainstay Frascati) is a fun, relaxed setting with floor-to-ceiling windows boasting front row views of North Beach's bustle. There are a few minor downsides (for example, some cocktails are too sweet – classic recipes cater to the North Beach party scene).
As I went with a group, I was able to try a good chunk of the extensive small plates menu (some are small indeed). Only a simple side of white beans ($5) was unpalatable (a bit tough and flavorless), but among over ten dishes, a few impressed.
Our bill added up to $50 per person, high for a casual place with only having a bite of each dish, but we did order two drinks each, which made up a chunk of that cost.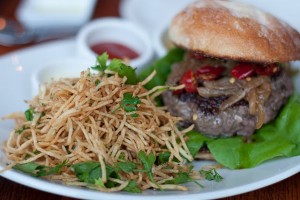 Their Negroni ($9) is a revamp version with Gran Classico instead of Campari, Carpano Antica and Plymouth gin.
Bourbon Smash ($8), with Four Roses, mint, lemon, sugar, is sweet but fun, faring better than a Corpse Reviver simply titled Reviver ($9), which didn't achieve balance.
A simple Dark 'N Stormy ($8) refreshes with Kraken rum, Bundaberg ginger beer and lime.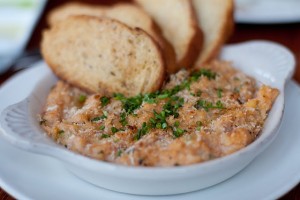 My top dish of the night, Salt Cod Brandade ($14) is a warm dish of Dungeness crab, potato and salty cod dusted with herbed bread crumbs. A dreamy, creamy dip.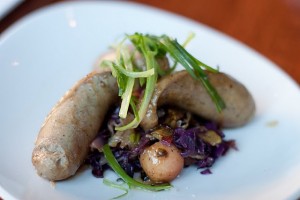 Under "Big Plates", the Kobe Beef Burger ($14) came out medium-rare as asked for, juicy and overflowing with caramelized onions and Calabrian chilies. Satisfying with shoestring fries and aioli.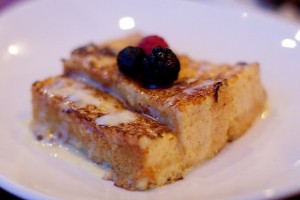 Foie Gras & Duck Sausage ($10) converted my entire table of friends, even the non-foie or duck fans. Slightly sweet, meaty and tart with apple slaw and cider gastrique, I immediately wanted to order another.
On the vegetarian tip, Tuscan Kale "Panzanella" ($7) is a riff on the traditional Florentine bread salad where kale is the base with a few toasts and red onion, accented by gorgonzola. It's hearty and good for you.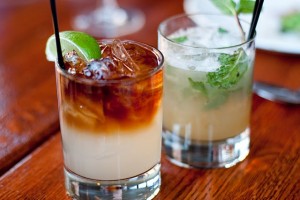 Dessert held consistent highlights, from three ice cream sandwiches ($5) filled with housemade ice creams like cherry or hazelnut, to peanut butter cream-stuffed chocolate eclairs ($6).
With texture bordering on a melting-soft cloud in creme anglaise, brioche 'French toast' ($5) left its mark. It is warm, orange-inflected, comforting, the dessert queen.
KATIA'S RUSSIAN TEA ROOM, Inner Richmond (600 5th Avenue at Balboa, 415-668-9292)
It's been a couple years since my last visit to Katia's, a place I always considered tops for Russian food in SF, with charming, no-nonsense mother/daughter running the cozy dining room and kitchen.
Other than a terrible draft on a chilly night next to the window where we were seated (they said their landlord still hadn't fixed it – we could not take our coats off the entire meal, a real problem), food remains a slice of authentic Russia.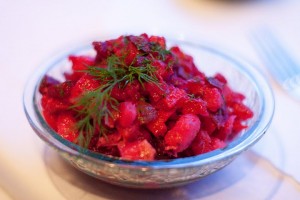 Borscht ($5) is a simple but heartwarming broth of beets and veggies, while the Vinaigrette ($6) salad is bright pink with beets mixed with diced potatoes, carrots, dill, and sauerkraut.
Two favorite starters include homemade Peroshkis ($3 for two – beef, mushroom or cabbage). They taste exactly like my Russian friend's grandmother's peroshkis. I closed my eyes and my childhood came back to me after one bite. My friend and I would eat as many as we could stand as her babushka plied us fresh-from-the-oven peroshkis.
Another key starter is Eggplant Caviar ($4.50), a mix of eggplant, onions, tomato and garlic that is far tastier than it looks. Reminiscent of French ratatouille, the Russian version is delightful.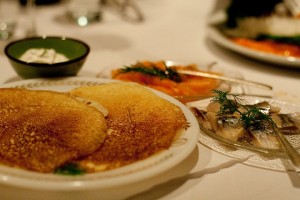 On the entree side, Beef Stroganoff ($16) is hearty, while Golubtsi ($15) is very similar to a popular Polish dish: ground beef, onions and rice wrapped in cabbage and covered in a warm tomato sauce. Pel'meni ($13), beef dumplings, are served boiled or sauteed in a light curry sauce (I like the sauteed version).
If cornered, my top Russian dish is caviar and blini. Here, Blini ($19) is four Russian crepes with sour cream and mini-plates of pickled herring, salmon caviar and Norwegian smoked salmon. The Blini are excellent, warm, with a hint of sour cream in the batter.
It may not be vodka on a snowy St. Petersburg night, but with a blustery draft, wine, live accordion and blini, it was transporting.
HECHO, Financial District, 185 Sutter Street at Kearny, 415-835-6400
Let me clarify: this is merely an early word on my one visit to brand new Hecho, currently in soft-opening mode (from Joseph Manzare of Globe, Tres and Zuppa).
Hecho offers the delightful combo of tequila and sake with sushi and yakimono (grilled items).
The bar area is low-key, conveniently located downtown for post-work meet-ups. A mostly nigiri menu holds such treasures as Canadian Botan Ebi (spot prawn) and Korean fluke. But at $4-5 for one piece, it adds up fast.
Small plates don't offer more substance but they do convey an artistic eye in stand-out Bakudan ($18): lush uni with ikura (King Salmon roe), botan ebi (spot prawn), and natto topped with a quail egg. Mix it together and spoon over sheets of nori (dried seaweed). It's merely a few bites but evokes fresh ocean breezes and sea brine.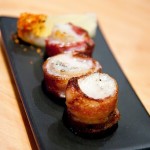 Yakimono options are likewise small, from shishito peppers ($3) to three small scallops wrapped in bacon ($7). Thankfully, all is prepared with care, though when a bill totals over $100 for two and you leave hungry, it's not a good thing. Still, staff and sushi chefs are earnest and the location ensures a steady stream of Financial District workers.
The tequila menu is another plus though the selection is not so much for the hardcore, made up mostly of well-known brands. A 7-spice Margarita ($10) sounds delightful with a rim of togarashi spices, Pueblo Viejo tequila, fresh yuzu juice and cucumber. It was a bit sweet with Agavero orange liqueur so the spice rim is crucial for balance.
A Paloma ($10), a simple classic, is blessedly made here with fresh grapefruit juice and soda water instead of the Squirt you get in Mexico. I think it was due to the Renaissance Man's request that it not be too sweet that it actually was boozy with no taste of grapefruit. Maybe it would have been more balanced without his request?
Lunch service just began and soft opening mode shows service and execution is already on the right track. I wonder if a few more substantial menu offerings might be in order? Otherwise, it works best as a place to get literally a bite and a sip of sake or tequila on the way to dinner.