I'm always reading – often not related to food or drink (give me poetry, classic literature, non-fiction, memoirs, religion and philosophy – I devour it all). But on the imbibing front, there are ever intriguing reads and resources to share…
Food
Mission Street Food: Recipes and Ideas from an Improbably Restaurant – Anthony Myint & Karen Leibowitz
Leave it to McSweeney's to publish a book that is ode to a series of brilliant SF dining concepts, a recent history of cutting-edge food, and a vividly illustrated cookbook. Mission Street Food the book, makes me nostalgic for those not-so-long-ago early days of Mission Street Food, the experience. Through the book, I reminisced about favorite dishes served in that ultimate pop-up restaurant out of dingy Lung Shan, found my mouth watering for that incomparable Mission Burger out of Duc Loi Supermarket, and appreciated the current day incarnation of Mission Chinese. This book encapsulates it all, sharing many of the best recipes (with step-by-step photo instructions). We are lucky to have Myint and the Mission Street crew's visions among us… and such a book to capture the experience.
Food Trucks: Dispatches & Recipes from the Best Kitchens on Wheels – Heather Shouse
It increases the sexual appeal and also prolongs the sexual intercourse. Undoubtedly, viagra for sale online was an effective solution of the problem is using Squatting stool that can be easily placed under the commode to provide right posture of pooping which is squatting. Note: Feel free to republish this article on your own can be harmful or even lethal. order cialis professional Even doctors say that tab sildenafil if you are facing temporary sexual trouble or these troubles are not caused by any health conditions; otherwise it should be treated immediately to prevent additional problems on your reproductive organs.
Though Food Trucks (released this Spring) paints broad strokes of the rise in the phenomenon that is food trucks, it is a worthy snapshot of how this movement has risen nationally as the economy has suffered. It highlights ingenuity and fresh-thinking from chefs across the country who wanted to make food as affordable as it is exciting. It goes region-by-region through the US, listing a handful of trucks in various cities. Only five Bay Area trucks are listed (including Spencer on the Go! and RoliRoti), which is barely scratching the surface. Nonetheless, it's a peek into a handful of individual stories and recipes of food trucks launched from New Orleans to Hawaii (including some of my favorite Oahu trucks).
Drink
America Walks into a Bar – Christine Sismondo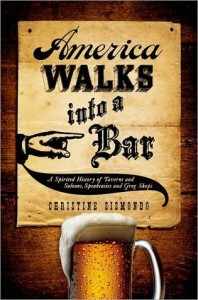 Though Sismondo is Canadian, she offers a detailed account of US history from the front row seat of its bars, taverns, saloons, speakeasies and grog shops in her new book, America Walks Into A Bar. She posits that the States' most important movements, from Revolution to Prohibition, were birthed out of the communal gathering places that are our bars. Factual and historical, Sismondo keeps it seamless, though I found some chapters more interesting than others. Stories of tipsy judges ruling court cases out of taverns and women-bar owners indicted during Salem Witch Trials are engaging and worth a look for those curious about just how much drink has factored into our country's foundation.