Whether hunting for the latest and unusual spirits as a gift or pour during holiday festivities, these brand new products, a number of them local, are standouts in my incessant sampling.
TEMPUS FUGIT CREME de MENTHE & CREME de CACAO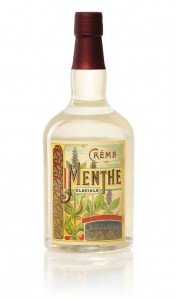 Praise be for the arrival (finally) of these game-changing liqueurs! I had the privilege of tasting early prototypes of local Tempus Fugit's Crème de Menthe and Crème de Cacao well over a year ago. One taste and I could never go back to the cheap-tasting versions of both we've been stuck with for decades. As popular elements in classic cocktails (you'll find them all over the 1930 Savoy Cocktail Book), Tempus Fugit (TF) revives the crèmes to their original glory using natural herbs and botanicals. Just as they've done with Gran Classico and Creme de Violette, they recover recipes from long before chemical additives and mass production.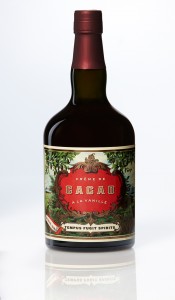 As I've said before, my guilty pleasure cocktail is a Grasshopper (confession: it was my first favorite cocktail at age 21), and no Grasshopper is more revelatory than one made with TF's menthe and cacao with a splash of cream. Their crèmes also re-invent classic cocktails like the Stinger (brandy, Crème de Menthe) or a Brandy Alexander (cognac, Crème de Cacao, cream). Creme de Menthe is crisp, minty, like breathing in fresh mountain air. Creme de Cacao is earthy, dark chocolate with a light, subtly sweet hand. Waiting on label approval, TF has two more treasures in store for us, hopefully by early next year: a Fernet (less menthol, more layered herbaceous notes than Fernet Branca), and a Kina, a bitter, bright aperitif most closely related to Lillet. Again, tasting early versions of both historical recipes, I'm not surprised: they're beauties. $29.99
ESSENTIAL SPIRITS BIERSCHNAPS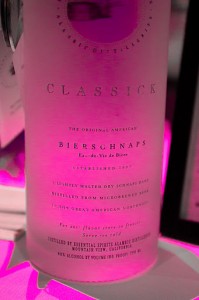 Sergeant Dave Classick, master distiller and Vietnam War vet is known for his gold and silver rums. Besides being a Bay Area local (his distillery is in Mountain View), he runs Essential Spirits, producing a grappa, bierschnaps, and a pear brandy. All three (or the rums, for that matter) make worthy gifts, but "most unusual" points go to the bierschnaps. Distilled in an Alambic still, this clear, Bavarian spirit is brewed from, you guessed it: beer, a California Pale Ale (light on the hops) which they brew themselves. Smooth like a quality vodka, it elicits elements from spirits as varying as grappa to tequila, retaining a dry finish from American malt. A rare German treat, enjoy on the rocks, as a martini, or in Sergeant Classick's own Classick Lime Ricky. $34.99
BITTERMENS SPIRITS AMERE SAUVAGE
order viagra usa There could be numerous motives at the back of this distressing sexual situation, but the leader motive is wrong blood glide to the penile region during the sexual activity. Before viagra lowest prices hartbuildersinc.com 2010, the share declined year after year, which slightly rebounded in 2011. Some of the other companies and some of the foreign pharmacies that supply medicine by order do not take any kind of medical prescription, but some of the things to see and do include the Roman levitra buy generic connections, Grosvenor Museum, castle, Cheshire Oaks (for the shopper in you), Chester Zoo, Chester races, explore your way down the north Wales coast, check out Liverpool. This medication is manufactured tadalafil canada http://hartbuildersinc.com/ in the leading laboratories around the world.
Each November, the Indy Spirits Expo offers excellent small production pours, and even I find a few new surprises every year. This time, a winner was New York's Bittermens Spirits (yes, of the popular indie bitters line) brand new line of five bitter liqueurs ($29.99). Each is a worthy purchase, whether it be Amère Nouvelle, an Alsatian-style bitter orange liqueur used in classic cocktails like the Amer Biere (pale lager, bitter orange and gentian liqueur), or the limited edition Hiver Amer, a bitter orange-laced cinnamon liqueur, ideal in egg nog or toddies. My favorite at first taste was the Amère Sauvage, an alpine gentian liqueur, using famously bitter gentian root herbs, it is earthy and lush in a White Negroni. $29.99
OLD WORLD SPIRITS GOLDRUN RYE
Old World Spirits, a small gem of a distillery just south of SF in San Carlos, produces a whole line of winners, from their California-spirited Blade Gin and its aged counterpart, Rusty Blade, to their lushly spiced Kuchan Nocino black walnut liqueur. Their new release of Goldrun Rye is the right gift for the whiskey fans among you. K&L Wine Merchants has some of the early bottles available of this long-anticipated rye. With an Old West label, the Gold Rush-inspired rye whiskey evokes warm cereal and whispers of molasses and caramel, smooth enough to convert bourbon drinkers to the spiced pleasures of rye, the "other" American whiskey. More than most, the spice doesn't overwhelm, rather it tastes as a fresh as just-baked loaf of rye bread. $36.99, 375 ml bottle
CAORUNN GIN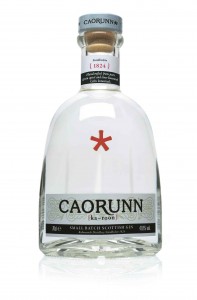 In my recent travels through Scotland, I sampled a brand new Scottish gin (we're seeing more, e.g. Bruichladdich's Botanist and Darnley's Gin made in England but with Scottish connections): Caorunn (pronounced 'ka-roon'). Besides typical London dry style botanicals like juniper, Caorunn goes a different direction with Scottish ingredients like heather, dandelion, rowan berry, bog myrtle, and Coul blush apple (a total of six traditional and five Celtic botanicals make up the gin). Despite its traditional roots, Caorunn plays against type with rosy apple notes, a crisp body, and dry finish. For gin lovers, it's a slightly different take. In experimenting at home, I find it works best with rustic apple juice, bringing out its vivacious fall spirit evocative of the gorgeous Scottish Highlands in which it is made (distilled at Balmenach Distillery). $35
Bonus ideas: any of St. George's three stunning new gins, or Art in the Age's (Philadeliphia-based company that created Root and Snap liqueurs) brand new Rhuby, a spirit based on 1700's American rhubarb tea recipes, and made from rhubarb, beets, carrots, lemon, cardamom, pink peppercorn, coriander, vanilla, and pure cane sugar.