Avuá Cachaça
(pronounced ahv-wah kah-SHAH-sah) is spreading the cachaça gospel. Founders Nate Whitehouse, Pete Nevenglosky, and Mark Christou are key voices raising awareness of the complexities and range of Brazil's beloved sugarcane spirit, best known as the base for the
Caipirinha
cocktail. Though it surged in popularity a few years back with major brands, the category never quite took deep root in US bars as a wide diversity of brands did not make it to the US.
Cachaça is primed for far greater exposure as Brazil hosts the 2014 FIFA World Cup this summer and the 2016 Summer Olympics, where the nation's favorite drink will surely be consumed in copious amounts. Though the spirit has long been lumped in with rum, despite being considerably different, recently gaining its own official classification/category won't immediately help bring it to the forefront of spirit drinkers' minds. Education and greater access to the range of cachaça out there is still greatly needed.
I first tasted Avuá (the Portuguese word voar, meaning "to fly") back at Tales of the Cocktail last summer, both the clean, fruit and floral notes of Prata (aged 12 months before bottling), and the 24-month aged Amburana, named after the wood it's aged in, exhibiting savory vegetal notes alongside the soft caramel of the wood. I was immediately impressed by Avuá's quality and complexity above other brands I'd previously tasted. Made from single-sourced cachaça, Distiller Katia Espírito Santo is one of few Brazilian female distillers who also grows all sugarcane used to make Avuá on her family farm, Fazenda da Quinta, in Carmo, roughly four hours north of Rio de Janeiro.
Talking cachaça, I recall
pisco
a few years ago. The Peruvian and Chilean grape-based spirit has long had a close connection with San Francisco where there have have been bars dedicated predominantly to pisco for years, even when most of the US didn't know much about it. Pisco really didn't place on the national cocktail consciousness until recent years when brands like
Encanto
upped the profile and quality of pisco and bar managers began to feature it more. In my visit to
Peru
last year
making pisco
in Ica and
visiting cocktail bars around Lima
, I was amazed at the diversity of ingredients mixed with pisco in cocktail menus often 50-deep, far beyond how it has been used in the US. Though the spirit has gained much more attention in recent years, there's still unexplored worlds of its possibilities best represented in its home countries. I see similarities with cachaça.
In a recent conversation with co-founder Nate Whitehouse, I immediately caught his passion for Brazil and cachaça. There's a growing US community of cachaça producers, importers and aficionados who are uniting to educate and share in a greater way than ever before. Whitehouse is working with cachaça expert Felipe Jannuzzi, who runs the extensive site,
Mapa da Cachaca
, to translate it article-by-article into English (
English site here
; more on
Facebook
).
Whitehouse compares the rise he hopes to see in the cachaça category to the way mezcal has captured the national cocktail scene. His hope is that as knowledge of the sugarcane spirit deepens, it will face a similar widespread growth. He talks of over 4000 registered cachaça producers in Brazil, but that actual estimates range from 7000 to more than 30,000 producers. With over 500 years of history, cachaça is one of the historic spirits of the world. It can be young, clean and cocktail-friendly or aged in a wide range of woods, resulting in elegant, sipping cachacas. Whitehouse describes these cachacas as embodying, "… a richness we're not familiar with because of many of them have not come into the US market."
Similarly, Brazilian bartenders mix cachaça with a wide range of fruits from the Amazon, punches are commonplace, and some infuse the spirit with Amazonian barks and other unusual ingredients. Alongside the revival of the dining scenes in Rio and Sao Paolo, the cocktail scene is thriving.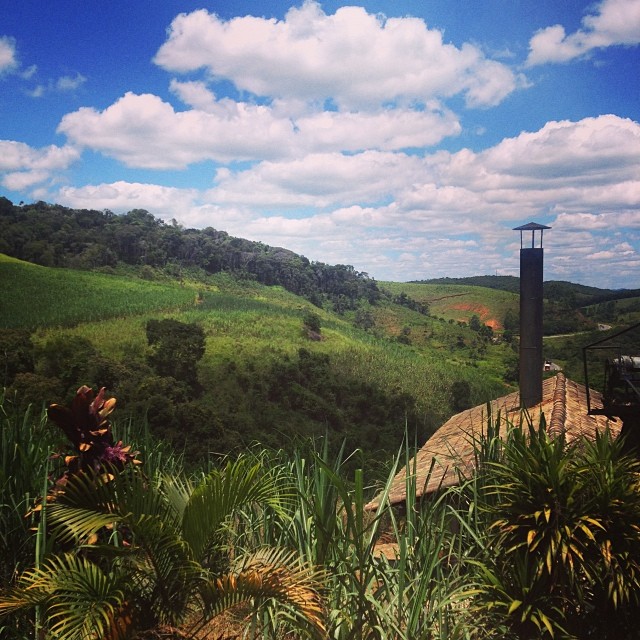 The story of how lawyer-turned-entrepreneur Whitehouse fell in love with cachaça and Brazil is a good one, well told in 2012 in Gourmet. Whitehouse was inspired by famous Brazilian architect Oscar Niemeyer, sharing with me Niemeyer's most famous quote, a passage that inspires the ethos behind Avuá: "It's not the right angle that attracts me, nor the straight line—stiff, inflexible, created by men. What really attracts me is the free, sensual curve. The curve I see on the sinuous course of our rivers, on the clouds in the sky, on your favorite woman's body. The universe is entirely made of curves."
While Avuá launched on the East Coast in NYC this fall and at a few choice spots here in San Francisco, its official rollout in California is right now: late February. In San Francisco, you can find it bars like Smuggler's Cove, Lolinda, Absinthe, AQ, Wingtip, Local Edition, Laszlo, Penelope in Oakland, and more.
As I listen to bossa nova, which I've been crazy about since I was teen, while sipping Avuá cocktails I've made at home, I long for a visit to a few of Brazil's many cachaça producers myself. Every time I get up close and personal with a spirit – particularly when I visit its home country and distilleries – I fall further in love with it and the people who make it. But until I get there, I'm grateful for people like Whitehouse and Jannuzzi who are working to share the best of what's going on in Brazil here at home.