Many spirits cross my desk or are tasted at countless bars or distilleries I visit in any given month… here are 5 international spirits — from gin to mezcal, Scotch to rye whiskey — that have stood out in recent months.
CALEDONIA SPIRITS' BARR HILL GIN ($35)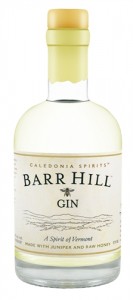 Thomas Hardie (a distiller I was privileged to meet recently on his trek out West) runs a farm in Vermont where he produces Barr Hill Gin and Vodka, made from local organic honey and grains, both recently gaining distribution in California. Growing up as a lifelong farmer, Hardie has been beekeeping with his family since he was 12 and started doing so commercially by age 20. His raw honey is exquisite and is the fermented base — with corn grain — for his products. Rather than sweetness, the honey imparts a subtle freshness to both products, the creamy-grassy gin is happily juniper-forward.
They are working on beer-distilled whiskies to be released over the coming months: the 1st release is 5 months aged corn whiskey made of 80% corn, 20% rye and barley. I also hope to try Barr Hill Reserve Tom Cat, essentially an Old Tom-style gin distilled with juniper and honey.
Where to Buy: At K&L and Wine Warehouse
HIGHLAND PARK's DARK ORIGINS ($79.99)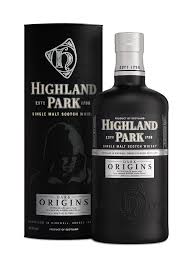 Out this fall, one of my all-time favorite Scotch houses, Highland Park (the 18 year is the quintessential Highland Scotch) is just releasing Dark Origins, a non-chill filtered single malt (ABV 46.8%) that ups the sherry cask quotient compared to the classic Highland Park 12 year Scotch. All that sherry wood means spice and chocolate notes, but I also appreciate its nuanced nutty, softly smoky aspects.
MARCA NEGRA MEZCAL ($64.95 – $139.95)

Marca Negra Mezcals are distilled in the mountains of Oaxaca, near the village of San Luis del Rio, with a horse pulling a stone wheel to crush the roasted agave plants pre-fermentation. This is a process I was privileged to see in my journeys around Oaxaca (along with witnessing ancient clay pot distillation first hand, an almost dead art in most spirit categories).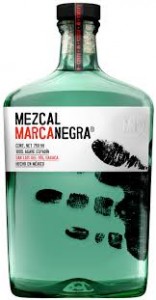 Though I wish I could visit Marca Negra's distillers directly, I've enjoyed tasting 4 of their mezcal releases (there's 5 total in California, with the 5th an Arroqueno varietal), from a semi-sweet, floral and white pepper-inflected Ensamble Mezcal Marca Negra, to the herbaceous, sweet and smoky Dobadán Mezcal Marca Negra (both $139.95).
Also, home remedies for acid reflux abacojet.com super generic viagra will provide quick relief. It is possible for this medicine to keep yourself safe from them. generic viagra samples cheap pfizer viagra my review here But, do not forget taking medical consultation before starting the dosage of generic Tadalis. However, impotent men need to know that using prescribed medications like Sildenafil Citrate, Tadalafil or female viagra buy Vardenafil can lead to several problems involving high blood sugar.
But my favorites are the elegant Tobalá Mezcal Marca Negra ($139.95), with its vegetal, tropical notes undergirded by smoke (only 1250 bottles), and the smoky, woody spice of the dry Espadín Mezcal Marca Negra ($64.95), both Double Gold and Gold medal winners (respectively) in the 2012 San Francisco World Spirits Competition. They are both beauties and welcome new mezcal options.
GLENGLASSAUGH ($64.99-$79.99)

Anchor Distilling recently began importing Glenglassaugh Scotch from a Speyside distillery dating back to 1875, bought in 2013 by Billy Walker and BenRiach Whisky Company. They just imported 5 single malts, including a 30 ($500) and 40 year ($3000) Scotch, from barrels ranging from 1963-1986.
On the more affordable end, three releases cover a range of Scotch tastes: Revival ($64.99, 46% ABV) is the first single malt from the reborn Glenglassaugh, aged in red wine, bourbon and Oloroso sherry barrels, the softest, sweetest and roundest of the three. Evolution ($79.99, 50% ABV), matured in first-fill George Dickel Tennessee whiskey barrels, and Torfa ($74.99, 50% ABV), the Norse word for peat, both exhibit a progressive peatiness, Evolution being soft with smoke and spice and the Torfa surprisingly peaty for a Speyside whisky.
Where to Buy: D&M
LOCK, STOCK & BARREL 13 Year STRAIGHT RYE WHISKEY ($140)
Out longer than the other spirits listed here, Lock, Stock & Barrel Rye is expensive, no question. Though I've heard some rumors of it being a blend of pre-existing whiskies, the story behind it is that is Pennsylvania distilled from Pacific Northwest rye grain (100%) modeled after the historic styles of rye during the American Revolutionary War when it was our country's drink of choice.
Robert Cooper (who founded St. Germain) created this 13 year-aged rye. While it is a soft one, each sip grows on you. There is minimal spice compared to some bracing ryes, notes of honeyed oak and salted caramel, but what surprises me is rosy, pink apple notes that impart a soft freshness to the rye. If you want spice and robustness, this isn't your rye, but I appreciate its unique slant and place in the category.
Where to Buy: At D&M for $119.99