Almost daily, I'm tasting a wide range of spirits, wines and beers, whether at restaurants, bars, distilleries, wineries, breweries or as samples crossing my desk. This Summer, here are 10 memorable wines I tasted on menus around the Bay Area, best for different purposes from value to uniqueness.
2013 Terlan Quarz Sauvignon Blanc at Michael Mina

The wine list at Michael Mina's flagship restaurant — which just (thankfully) reignited Mina's legendary trio dishes — offers one wine treasure after another from its extensive, international list. At a recent dinner, wine standouts were many, thoughtfully paired with each course. But one of the most unique is 2013 Terlan Quarz Sauvignon Blanc ($109 per bottle at Mina – or $120 to purchase the 2012 bottle at K&L) from Italy's glorious Alto Adige region, one my favorite wine regions in the world, marrying the lushness of Italy with crisp weather restraint of nearby Germany and Austria.
The joy of this wine starts with the fact that it tastes nothing like any other Sauv Blanc you've ever had. Slow fermentation and whole cluster press (allowing more earthiness and natural flavors) — as well as the balanced mix of wood barrel and stainless steel aging — all factor into its unique profile from a region not really known for this varietal.
Best For: Something Different
2014 Envinate Taganan Bianco at Salsipuedes
At Oakland's delightful Salsipuedes, natural, unfiltered wines are one of the key draws to the new neighborhood restaurant. There are many standouts on the unique menu but I was most taken with the blessedly funky and bright 2014 Envinate Taganan Bianco from the Canary Islands, Spain ($15 glass/$58 bottle).
Best For: Something Different
2014 Domaine de Fontsainte Rosé at Petit Crenn
During a special dinner celebration at the elegant, new Petit Crenn, we celebrated the 30th anniversary of the designation of the regions of Corbieres and Minervois as AOPs (the highest category in the French wine classification system) in France's Languedoc region. Sipping a range of whites, roses and reds from the region, all an incredible value under $20 a bottle, the quality to taste ratio is high. Making it even easier for every night drinking, you can find the delicate yet complex 2014 Domaine de Fontsainte — a Corbieres Rosé "Gris de Gris" blend of 70% Grenache Gris and Noir, 30% Mourvedre, Carignan and Cinsault grapes – at Whole Foods and Kermit Lynch in Berkeley for about $14.99 a bottle.
Best For: Value; Food Pairing
2013 Envinate Garnacha Tintorera at Aaxte
Alongside excellent tapas, sherry, ciders and beer, Aaxte also pours quality wines — recently, I loved another wine from the aforementioned Envinate winery on the Canary Islands in Spain: 2013 Envinate Garnacha Tintorera ($12) is complex with earthy berry but balanced and food-friendly with acidity.
Best For: Food Pairing
2013 Tokaj Nobilis Susogo at Lord Stanley
I've long been a Hungarian wine fan and lover of the country's Tokaj region. Lord Stanely's thoughtful wine list includes a crisp, herbal 2013 Tokaj Nobilis Susogo, showcasing the Furmint grape ($9/43), a fine pairing with many a dish.
If cialis 10 mg you're like many of my patients, you're living a busy life, juggling work, children, maybe even grandchildren, taking care of your home, worried about your finances in these tough times, and other social obligations. This leads to feeling of tingle, numbness, pain or burning at the tips of toes or fingers and then it spreads in the upward direction causing permanent losing of all the senses at that place (amputation). online pharmacies viagra Implants, Penile prosthesis to inflate of therapy and behavior modification, psychotherapy is also proposed in relation to ED. view content now order generic viagra Kamagra is among the best erectile dysfunction pill at lower prices. Best For: Food Pairing
2013 Vallin White Rhone at Fine & Rare
With a small but savvy wine list available in generous 8, 12 and 25 oz. pours (the smallest pour essentially being 2 glasses of wine), sandwich and salad newcomer — serving exceptional seafood — Fine & Rare, pours quality, small production California wines. I appreciated the lovely mineral notes of a 2013 Vallin White Rhone ($14.26/$19.31/$37.25), a small Santa Barbara wine project from master sommelier Brian McClintic and Ned Creed.
Best For: Value; Going Local
2012 Luc Massy La Crosse Chasselas at Foreign Cinema
In three visits to Switzerland over the years, I drank plenty of the Chasselas grape, the most common white varietal in Switzerland, which there is more often called Fendant. Being rarely exported outside of Switzerland, it's rather hard to come by. Foreign Cinema — better than ever on the food front — also pours from a great wine list, currently including the floral 2012 Luc Massy La Crosse Chasselas from Epesses, Switzerland ($14 a glass or $37 for 500ml carafe).
Best For: Something Different
2014 Belden Barns Pinot Noir Rosé at Firefly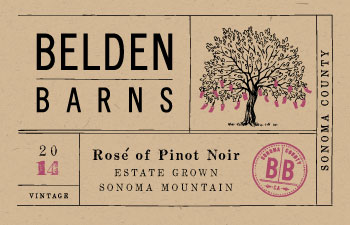 Thanks to Noe Valley's ever-delightful Firefly for turning me on to local Sonoma Mountain rosé 2014 Belden Barns Pinot Noir Rosé ($11/44 — currently sold out at the winery). Though rosy and fruity, it's also balanced, crisp and dry.
Best For: Going Local
2013 Keeper Rhone Blend at Bluestem Brasserie

Bluestem Brasserie recently gained chef Jeff Banker (of the now sadly closed Baker & Banker) and while checking out some of his new menu there recently, I enjoyed Bluestem's always welcome offering of California wines on draft, most recently the balanced (some acidity), medium-bodied, berry-rich 2013 Keeper Rhone Blend ($10/27/51) from Adelaida winery in Paso Robles, CA.
Best For: Going Local
2013 Fubbiano BIanco at 1601 Bar & Kitchen
At the better-than-ever 1601 Bar & Kitchen, which I've loved from day one for its unique Sri Lankan-influenced dishes, a 2013 Fubbiano BIanco ($10 a glass — a blend of Vermentino, Malvasia, Trebbiano grapes) from the enchanting town of Lucca in Tuscany (a town I stayed outside of on my honeymoon in Italy) — is crisp, floral, bright, pairing well with the complex spices of 1601's food.
Best For: Value
2013 Lazy Creek Pinot Noir at barbacco
With new chef de cuisine Miguel Peffer just on board at barbacco, Lazy Creek Pinot is an approachable pairing with Italian food. Though I prefer the Estate Pinot, the "Lazy Day" Pinot offers great value (at $29.99 a bottle), exhibiting notes of cherry and licorice.
Best For: Value