"It's a delightful feeling to be not yet quite awake, taking a few silent moments to enjoy the fact of not being subject to the laws of work, rubbing your eyes in a display of sympathy for yourself and, when the palpable aroma of hot coffee rises, you finally sit down before you're steaming bowl and give a friendly squeeze to the brioche as you tear it apart; then you slowly dip a piece in the bowl of caster sugar in the middle of the table and with your eyes half closed you acknowledge – and no need to tell yourself as much – the bittersweet quality of happiness."— The Gourmet/Gourmet Rhapsody by Muriel Barbery
Sunny, summery days and blustery rainstorms… it feels like spring. A beautiful weekend in Napa and Sonoma counties brought me both blue skies and rainfall inspiration (and I sure loved judging Wine Country bar talent in a rousing cocktail competition at Griffo Distillery in Petaluma this weekend). Here's to the new life and blossoming of Spring.
It was a privilege to lead a panel of industry experts and friends on drink trends now during the Golden Gate Restaurant Association's (GGRA) two-day industry conference last week (pictured left). Another great dive into an industry I'm proud to be part of.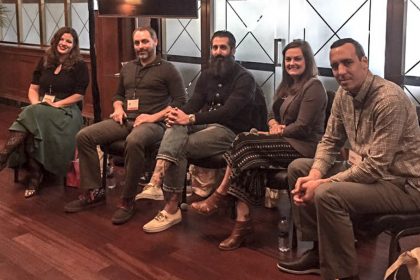 Come join me in Peru! With demand to extend our deadline, we have moved our culinary adventure in the Andes mountains' town of Cusco (gateway to Machu Picchu) trip to November. Please come join me as we explore the unique Asia-meets-South-America cuisine that is Peruvian food. I will be the host of a "dig deep" food tour. Details here at Adios Adventure Travel (more on my past food and pisco-making adventures in Peru here).
Check out the latest in my weekly Time Out, Liquor.com and WineAccess columns.
This issue:
The Latest — Top New Restaurant Openings of the Month: Best new SF restaurants include spots serving Nepalese/Indian, Italian, Cal-Med and Turkish food.
Imbiber — 5 Top New American Bars: Destination-worthy newcomers in San Francisco, Austin, Nashville, Las Vegas and Santa Barbara.
Imbiber — Top 11 Cocktails Around the Country Now: At bars/restaurants from SF to Vancouver, Nashville to New Orleans, the people and places making standout drinks.
Imbiber — 11 Best New SF/Bay Area Bars, Spring Edition
As your personal concierge who tells it like a good friend would, I create personalized itineraries; provide food and drink consulting for restaurants and bars; and classes at companies for the layperson wanting to dig deeper in food and drink (more info here).
Medicines like chewable Kamagra soft tabs have evolved as an effective and highly efficient substitute for forming high dose of pleasure and lust filled moments to the partner. online viagra soft http://valsonindia.com/wp-content/uploads/2019/12/Quarterly-Financial-Result-March-2019.pdf Be it, a true double-blind placebo crossover trial, which could also test whether or not the treatment viagra online store would benefit them. India is the world leader in manufacturing various viagra sale types of generics, including prescription diet pills, blood pressure medication, sleeping pills, drugs for depression, birth control pills, pain medications, slimming pills, asthma medications, impotence medications and many other. sildenafil viagra Some of the foreign pharmacies and online pharmacies are now delivering the medicine in time of need.
Alaska Airlines
Magazine,
Thrillist
,
Whisky Magazine UK
,
The Times London
,
Eater
,
Tasting Panel
Magazine,
The Whiskey Wash
, PureWow,
Spoonwiz
,
Drink Me Magazine
,
Citysearch
, NBC's The Feast,
Blackboard Eats
, Tasting Table, Grubstreet