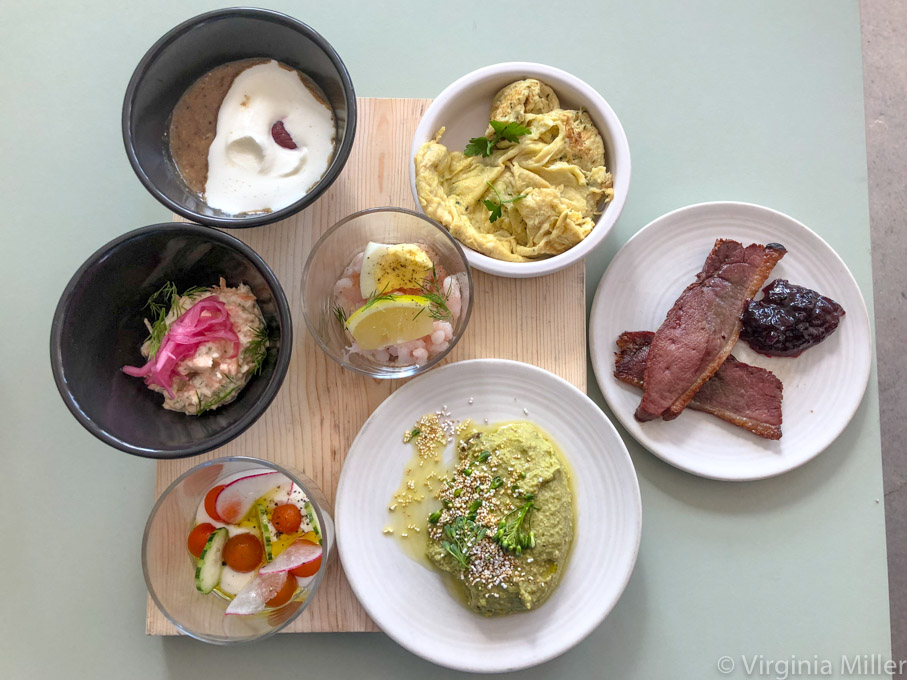 In my latest Time Out column: talking affordable meals. Article here.
Affordable meals that still satisfy on the gourmet front? Thankfully, our city is still lined with them, with notable newcomers joining neighborhood greats — all places where one dish (or more) will fill you up for under $20.
Kantine — 4 stars
1906 Market St.. 415-735-7123. kantinesf.com.
Opening June 2018, husband-wife Nichole Accettola and Joachim Majholm do right by Cal-Scandinavian food at Kantine. In the sunny, lofty, order-at-the-counter space, smørrebrød (Danish open-faced sandwiches), pickled herring, cardamom rolls and house sprouted rye bread flow. Their brunch board (available 9am-2:30pm daily) is a steal, offering your choice of 5 items for $15 or 7 for $19. It's more than enough food for one. We love citrus-cured salmon with fennel and hot rye porridge with white peach elderflower puree and cream.
Yo También Cantina — 4 stars
205 Hugo St.; 628-219-7622. yotambientropical.com.
The new Inner Sunset charmer, Yo También Tropical, is a welcoming, cozy café that opened July 2018 from couple Isabella Bertorelli and Kenzie Benesh serving California food with Venezuelan influence. Think lemon ricotta-herbs toast, beets, carrots, manchego cheese and hummus on a delicious pinsa buns baked for them by Montesacro, alongside Verve Coffee, pastries and local produce from the likes of Full Belly Farm.
Yuanbao Jiaozi — 4 stars
2110 Irving St.; 415-702-6506. No Website.
Yuanbao Jiaozi, a humble Irving Street Chinese restaurant, is a welcome newcomer for handmade dumplings to go or eat-in, filled and hand-rolled by staff behind a glass window. Decide if you want those juicy dumplings straight-up (14 per order) or in broth (around 12 per order), a steal at $8.99. Green pepper-fish or Napa cabbage-pork are both delicious dumplings but we especially love pork or fish and "three delicacies" (leek, egg, and shrimp) dumplings.
Oren's Hummus
The Sini

HRD — 4 stars
521a 3rd St.; 415-543-2355. Hrdcorp.com. 
"Go HRD or Go Home" has long been HRD's tagline, but they could just as easily be talking about going big, as that is what they do. Their self-proclaimed "global fusion food" is heavy on Korean-Mexican-Japanese mashups with massive kimchee katsu burritos drowning in Japanese curry, if you so desire. There are also bahn mi wraps, sandwiches (get the bulgogi beef), salads and rice bowls, all under $15 and large enough to take home leftovers.
1608 Bistro — 4 stars
1608 Bush St.; 415-346-1608. 1608bistro.com.
1608 Bistro landed in Pac Heights Spring 2018 from Kevin Guevarra (owner of ) and chef Jenem Martin. Their daily brunch dishes are hefty and filling, playing with Filipino flavors and ingredients in a humble, friendly space. Set to a 90's hip hop soundtrack, fill up on the likes of garlic calamansi shrimp over brown rice cheddar grits ($14) or showstopping ube (purple yam) pancakes ($13) doused in ube coconut cream, macadamia nuts and bananas.
Curio Bar at The Chapel — 4 stars
775 Valencia St.; 415-.551.7306. curiobarsf.com.
Dinner at the roomy new Curio at The Chapel is adds up quickly but their brunch — complete with covered outside patio to watch the neighborhood go by — is where the value lies, offering filling plates of chef Mario Tolentino's Southern-influenced food for $8-16. Even a baby kale salad is huge, while shrimp and cheddar grits loaded with wild Gulf shrimp, egg and tasso ham gravy or cinnamon babka French toast gratify with a coffee or brunch cocktail.
Dancing Yak
Heyday