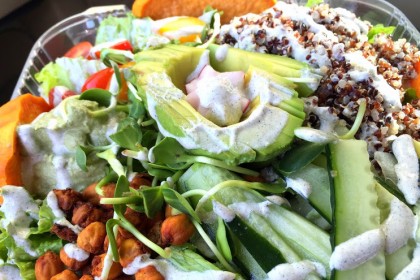 In my latest feature at Blackboard Eats, I cover 8 SF places to eat healthy in the new year (article here):
— Nourish Cafe, Inner Richmond & Nob Hill
— El Pipila, SoMa
— Dabba, Financial District & the Marina
— Little Gem, Hayes Valley
— Paper Rooster, Tenderloin
— What the Cluck SF, Upper Haight
— Beloved Cafe, Mission
— Kitava, Mission

If you're like, well, anybody, your 2019 resolutions probably have a little something to do with self-improvement, with a focus on wellness. But that doesn't mean you have to adopt an austerity plan of unsatisfying meals in the new year. San Francisco has plenty of health-minded options to look forward to visiting, whether plant-based eateries or fast-casual spots serving deliciously good-for-you dishes.
Nourish Cafe
One of SF's best spots for healthy eating since the original Inner Richmond location opened in 2015, Nourish Cafe also has a second outpost in Nob Hill location, though really it's the kind of eatery we wish was in every neighborhood. Nourishing is indeed the name of the game for order-at-the-counter food that is vegan, 100 percent plant-based, organic, and often raw, served up in filling portions. Large salad and grain bowls range from a bimbimbap to a Mission bowl, while the Nourish Bowl has been on the menu since day one, packed with quinoa, greens, avocado, spinach, yams, hummus, beet sauerkraut, sunflower seeds, cucumber and cherry tomatoes in a creamy, oil-free hemp dressing.
Neighborhood: Inner Richmond MAP Nob Hill MAP
Kitava
A gluten-free, health food takeout and delivery favorite in the Mission, Kitava pays close attention to everything from sourcing pasture-raised meats to using safe cooking oils. The "veggie forward" menu also offers "mindful meats," from spaghetti squash Bolognese to a healthful General Tso's chicken. Their ever-popular Cuban Bowl is packed with plantains, avocado, kale slaw, cilantro-garlic mojo sauce, beans, and white or cauliflower rice, with the option to add on pastured heritage pork shoulder if you're craving meat.
Neighborhood: Mission MAP
El Pípila
The brainchild of Chef Guadalupe Guerrero and daughters Brenda and Alejandra, El Pípila is more than just a new order-at-the-counter Mexican spot in the Design District. With ultra-fresh ingredients and regional specialties from chef Guerrero's native Guanajuato, Mexico, El Pípila is also an unexpected source for hearty and healthy home cooking. An inspiring immigrant story—a mom who worked seven days a week at a Berkeley taqueria to save enough to bring her daughters to the U.S.—Guerrero has been a La Cocina entrepreneur since 2012, serving her food at Off the Grid and beyond. In this bright, white space, a hefty salad is loaded with organic purple kale, nopales (cactus), pinto beans, cherry tomatoes, red onion, and queso fresco, tossed in spicy cilantro vinaigrette. Her signature pozole verde is singularly comforting—tangy with tomatillo, the stew is loaded with shredded, locally sourced chicken, bacon, serrano, cilantro, and hominy, and topped with white onion, fresh cabbage, and watermelon radishes.
Neighborhood: SoMa MAP
Beloved Cafe
A healthy take-out spot just off the 24th St.–Mission BART station, the welcoming Beloved Café serves 100 percent organic, vegetarian, and "consciously sourced" food. Start the day with "creamy supercharged oatmeal," and move on to citrus hazelnut kale salad or quinoa-stuffed delicate squash for lunch or dinner. Drink fresh juices, tonics, and elixirs or choose from an array of creative superfood smoothies, like a bright orange drink loaded with mango, oranges, turmeric, goji berries, ginger, carrot, coconut oil, black pepper, and chia seeds.
Neighborhood: Mission MAP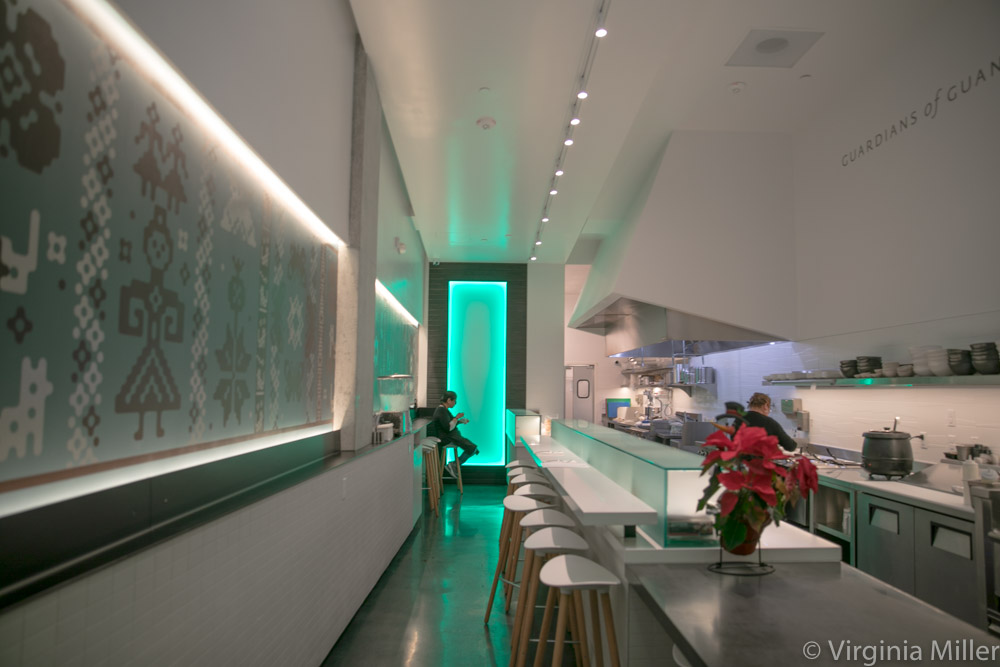 What The Cluck SF
In a neighborhood that could use more new eateries and healthful options, What the Cluck opened its humble, counter-service spot in 2018 with a simple menu of Thai-style chicken and rice (khao mun ghai), a popular street food dish in Thailand. Here all-organic ingredients enhance the rice, aromatic with garlic and chicken broth, and a punchy sauce of ginger, garlic, Thai bird chiles, cilantro, fermented soy bean sauce, white vinegar, and sugar. Order from a few variations, whether the "Classic" with skin-on chicken breast and thigh meat over rice, or the chicken soup broth form, ideal on chilly nights.
Neighborhood: Upper Haight MAP

While not exactly dedicated to super-healthy options, Paper Rooster is a simple but quality sandwich shop in the Tenderloin—a neighborhood where healthy isn't plentiful. Here, freshly made sandwiches and house-fried potato chips (try the Sriracha chips) offer healthier versions of typically heavy food. Chinese-American owner Stanley Y. focuses on quality chicken in most of the sandwiches, with accents like Vietnamese pickles and XO sauce. Vegetarian sandwiches likewise shine with fresh, flavorful goodness, whether it's the roasted five-spice eggplant and mushroom or fennel artichoke salad.
Neighborhood: Tenderloin MAP
Little Gem
This corner spot in Hayes Valley is a draw for order-at-the-counter fare that is gluten-, dairy-, and refined sugar-free. The understated, modern, all-day café gazes out over busy Gough Street, serving vegetable-loaded California brown rice bowls, pastas like rustichella corn spaghetti in sorrel pesto with turkey meatballs, and the ever-popular beef short rib and kale bowl. Save room for the light, tart lemon custard for dessert.
Neighborhood: Hayes Valley MAP
Dabba
A longtime fan of Marin County's beloved Avatar's—an institution since 1989—Andy Mercy worked with the Indian "fusion" spot's founders and chef Walter Abrams (formerly of the French Laundry and Spruce) to bring Dabba to fruition in 2016. Now With two locations in the FiDi and Marina, Dabba delivers a mash-up of Indian cuisine that's both healthy and satisfying. Start by choosing the form—burrito, taco, hummus wrap, salad, or grain bowl—then select a base, such as veggies, lamb curry, or jerk pork, and complete your creation with accents like garbanzo beans, tangy tamarind fruit chutney, pickled carrots, and yogurt. Packed with flavor, this quality "fast food" is made with all-organic ingredients that come from sustainable, local farms.
Neighborhood: FiDi MAP Marina MAP