Savannah, otherwise dubbed "crazy pirate town" by the Renaissance Man, is a strange little city that lives fresh in my memory, with surrounding islands and mixture of drab modern with graceful, old architecture. It's intimate, not cosmopolitan or diverse like bigger cities, but haunting and navigable.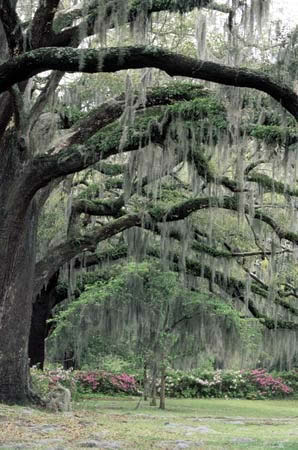 After the colorful beauty and museum-like preservation of Charleston, I expected similar from Savannah (as people often compare the two) but find that though they're both coastal, historical towns less than two hours from each other, they're radically different. Where Charleston is vibrantly colorful and pristine, Savannah is moody and gray. Where Charleston feels like stepping straight into the 1700's via bright Caribbean colors, Savannah feels more 1800's Gothic, with a mixture of old and new.
Where Charleston has some pirate history (like parks where public hangings of pirates took place), Savannah evokes a rough, swashbuckling pirate town along River Street. Here, 1700's pubs have pirate-carved tunnels underneath where pirates would drag men through (after drugging their drinks) to waiting ships where they'd wake up "shanghaied" as indentured slaves (yes, this actually happened here!)
The squares of Savannah (21 in all, laid out every few blocks in a perfect grid) are dreamy, exuding a lazy, old-world feel with mossy trees and fountains. To really experience this town, one need merely sit in the squares and observe.
Renaissance Man and I stayed at River Street Inn, an 1817 'historic monument'. Our high-ceilinged room overlooked the Savannah River, its dirty water rushing along ports welcoming overseas cargo. Lined with industrial smokestacks and barges, the river is not exactly aesthetic. River Street itself is touristy, lined with crappy souvenir shops capitalizing on pirates and the over-hyped Midnight in the Garden of Good and Evil (both book and film take place here).
Cobblestone streets, riverboats, gas lamps, soot-stained brick buildings and balconies made us feel giddily out of time. Like gritty Disneyland for grown-ups, especially with an open alcohol policy! One can roam the streets of Savannah with drink in hand. We did our part walking around with an Artillery Punch, a boozy mix of multiple spirits, invented a couple hundred years ago by the Chatham Artillery (Shrimp Factory serves it on River St).
Our character-laden hotel has a nightly wine & cheese 'hour' (from 5-7pm), which can be imbibed on their rocking chair-lined porch. We spent every night on the porch before heading out to dinner, wine or champagne in hand, Renaissance Man smoking a cigar, both of us reading or swapping dreams as the sun set.
Street musicians were top notch, our favorites being two one middle-aged guitar player, the other, an elderly Grandpa with a glowing white beard, wearing a doo rag and sunglasses (at night, mind you). Their voices were deep and sonorous, bellowing out the blues… while Grandpa's dancing was hilariously robotic. He 'worked it' as the other guy mastered slide solos and smooth licks on the guitar.
We cheered them on from our porch one night, which led the guitar player to ask why we were here. "For our anniversary," we replied. He said, "Come on down for a special anniversary serenade!" We sat face to face along the water as they sang a medley of Billy Ocean and Lionel Richie songs (!?), blues style, complete with robot dance moves from Gramps. We tried to contain the laughter, reveling in the perfect serenade.
Then there are Savannah's graveyards. Straight out of the movies, they're the gothic, eerie dream you envision in a Poe tale or vampire story. Moss-laden, elaborate statues, morbid or angelic, 1700's faded headstones (one stuck out of a huge oak tree), the creepy Little Gracie statue, Johnny Mercer's grave. All this in surreal Bonaventure Cemetery, a few minutes drive from downtown.
DINING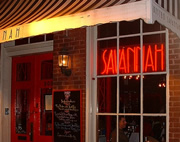 Bistro Savannah: A quintessential gourmet, neighborhood restaurant that would succeed in San Francisco – one of the fresher, more creative meals I had in the South. I ordered duck confit (flavorful, tender) with sweet potato squares, dried cherries, walnuts and a rich cherry sauce drizzle along with fried collard greens (light, crispy, melt-in-your-mouth). Renaissance Man ordered tender chicken stuffed with gorgonzola, prosciutto and arugula. Our crab cake was all crab meat (no bread) in a spicy green curry sauce with mango relish.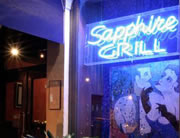 Sapphire Grill: My second favorite after Bistro Savannah was this little restaurant with big city aspirations. I had a perfectly crusted halibut with lobster dumplings. A calamari appetizer was surprisingly excellent: fried lightly, in a ginger coriander pesto ponzu, spicy peanuts & fresh lime juice.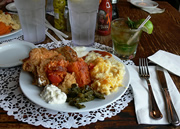 The Lady and Sons: This is Food Network Southern queen, Paula Deen's, touristy restaurant. One I might not write about if it weren't a quintessential, fatty-delicious Southern meal. It requires a long story just to describe securing a table. Wait in early morning lines just to get a same-day reservation (the only way to get a table), then come back later at your reservation time for a cattle call from the "Come and get it!" lady, before getting literally sick over butter-laden food in massive portions: hoecakes, garlic cheese biscuits, fried green tomatoes, chicken pot pie (topped with huge phyllo dough mountains), dense crab cake, rice and beans cooked in ham hocks. It's heart attack central… and worth it!
DRINKS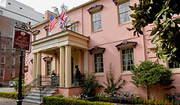 Planters Tavern:
Planters Tavern is in the basement of the Olde Pink House. For drinks and live jazz, this tavern, in a 1771 pink (!), colonial British house, is sheer magic, with its low-ceiling, fireplaces on either end of the room, brick, wood and antique furnishings. You feel transported to another century.
We sat on a couch by the fire listening to local legend, Gail Thurmond, who's been playing almost nightly over 15 years. A local book describes her as "endearingly elegant", but I'd say, rather, endearingly quirky, her vocals incongruent with her appearance. She's gray-haired, with the look of a Midwest mom, except for shaded heart-shaped glasses and a red dress belying inner sass. Her voice flows in soothing, clear waves; her piano-stylings completely her own. I could have watched her all night. Gail is known for unique interpretations of favorite jazz standards as well as jazz renditions of the Beatles and other rock tunes. She had a hilarious way of raising her fingers when she'd receive applause: if she raised two fingers (gazing out over her glasses), it was with a smile and nod as if to say "Thank you, kindly". When she raised one finger, she had a serious look as if to say: "Hold the applause – I'm not done." Oddly delightful, this cozy cellar tavern is a Savannah highlight.
Casmir's Lounge: Casmir's Lounge, upstairs in The Mansion at Forsyth Park – A stunning, historical mansion (now chic hotel) of grand staircases, chandeliers, ridiculously high ceilings… like an art museum full of eclectic paintings, decorated with tactile velvet, fur, marble, gold, leopard, reds, purples. Each room proclaims itself: lush, striking… sensual.
I heard a superb jazz quartet here: trombone, drums, upright bass and a brilliant, young pianist. Half white/half black, the band had chops AND style. There was a patio outside the Lounge packed with suited men smoking cigars. Downstairs is a Bosendorfer Lounge with three Bosendorfer pianos in a wood paneled, nautically modern bar with plush, brown couches. An unforgettable, classy evening all around.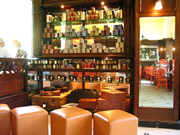 Gryphon Tea Room: An epic 1800's dining room with gorgeous stained glass ceiling, hip decor and impeccable teas and coffees. Great place to while away the hours writing or reading.