I'm a fanatic of all things shellfish, especially crustaceans. It doesn't get better than fresh, sweet crabmeat! Summer is not crab season in these parts but it's one of my favorite times to eat crab with a refreshing rose, sparkling wine or minty lemonade.
There are amazing whole roasted crabs at classic spots like Thanh Long or oyster king, Hog Island Oyster Bar in the Ferry Plaza Building, but now, I write about crustacean bars for straight-up, fresh crabmeat, shrimp or oysters.
Nearly hundred year old Swan Oyster Depot serves some of SF's best seafood … but there's the equally good, lesser known, Gigi's Oysteria Sotto Mare, which I've long 'kept mum' about though I've been going since it opened a couple years ago. I didn't want to see the same long waits at Sotto, but, thankfully, it has stayed chill, filled with locals. Except for usually steady weekend nights, I can walk in and sit at the bar for fabulous crustaceans and oysters… during hours that Swan isn't even open.
Swan Oyster Depot:
1517 Polk Street (between California and Sacramento Streets)
San Francisco, CA 94109
415-673-1101
Hours: Monday-Saturday 8am-5:30pm
Price: Mid Range, $5-$30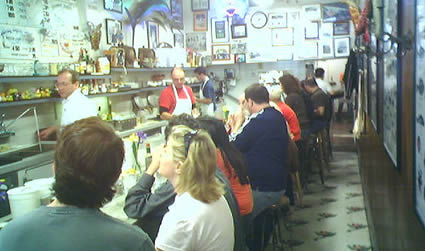 The King of great SF seafood, Swan is what the Wharf should be, but ain't. If you live here and haven't been, you're not yet a full-fledged San Franciscan. It's that much of an institution. The line is exasperating, sure. But that's what 8am is for (!?) If you can stand to eat oysters early morn or mid-afternoon, you'll cut wait time down, otherwise, hold out for those few coveted (uncomfortable) counter stools.
What you go for is the spectacle of freshness before you: succulent oysters, a mountain of crabmeat in the "salad" (which is really a pile of crabmeat on a bit of iceberg lettuce – I ask for the Louis dressing on the side), and for lovably crusty service from the family (brothers, sons, cousins) who've owned it for decades.
New England-style clam chowder is thinner, less heavy than the classic norm, full of savory clam juice and luscious clam meat. Other gems include salmon (fresh or smoked), half cracked crab, plump shrimp (salad or cocktail) and catch-of-the-day fish to take home. Don't worry: there's Anchor Steam or wine to pair with it.
Instead of taking that visiting family member and shellfish lover to Fisherman's Wharf, take them here. You (both) won't regret it. Don't bring a group. More than two or three is pushing it here…
96 years old this year (open since 1912), this place is the definition of San Francisco Seafood… old school style. Long live Swan!

Gigi's Oysteria Sotto Mare:
552 Green Street (between Columbus and Grant Avenues)
San Francisco, CA 94133
415-398-3181
www.sottomaresf.com
Hours: Monday-Thursday 11am-8:30pm; Friday-Saturday 11am-9:30pm
Price: Mid Range, $7-$25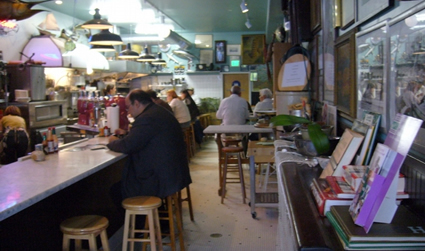 Ah, Sotto Mare… I'd have written about you long ago (they opened March 2007), but you're one of those places I've selfishly kept to myself for fear of the entire city descending on it (not that my voice would singularly make that happen… but it has happened to many a favorite).
Much of what's great at Swan is also great here: sweet crabmeat or plump shrimp, served as "salads" ($11-18) or cocktail style ($8-13), clam chowder, an always fresh selection of oysters ($1-2.50 each). Crab Cioppino ($25) and pastas ($12-15) are unexpected gems. They also grill up some mean Sand Dabs ($17).
There's a spacious long counter top here, but also a few tables (including sidewalk tables). Though not ideal for a huge group, you can bring a small one, something not possible without suffering for it at Swan.
On top of the food, service and attitude are charming and saucy. The Renaissance Man likes to "hassle" a regular waitress we've had most visits, saying she has such a feisty sense of humor, she reminds him of a beloved Canadian Aunt. Great seafood and feels like family? If I lived in North Beach, I'd be a regular.