Miami was never on my travel wish list. I don't find much to excite me about Florida and am not at all drawn to the South Beach party scene in Miami in particular. But I didn't mind the opportunity to visit close friends there with the Renaissance Man.
I knew I'd love South Beach's Art Deco architecture and Little Havana's authentic color (I did), just as I'd hate the silicon, plastic crowds and oppressive humidity (again, did).
We arrived last month to 80 degree days of humidity followed by one crisp, windy day in the 60's with brilliant blue skies (the latter was perfect). I was draped in a wet blanket of tropical, Caribbean air the moment I stepped out of the airport. I have not missed the sticky East Coast humidity of my NJ years and this was much heavier than even those muggy Summers.
But arriving at our friends' pad in Downtown Miami, I giddily drowned in twinkling lights of bridges and buildings offset by dark patches of bay and ocean. Their apartment is 30 stories up in a 50-story building literally perched on the edge of the water. MacArthur Causeway to the right, Venetian Way to the left, South Beach and the Atlantic directly ahead. Dazzling!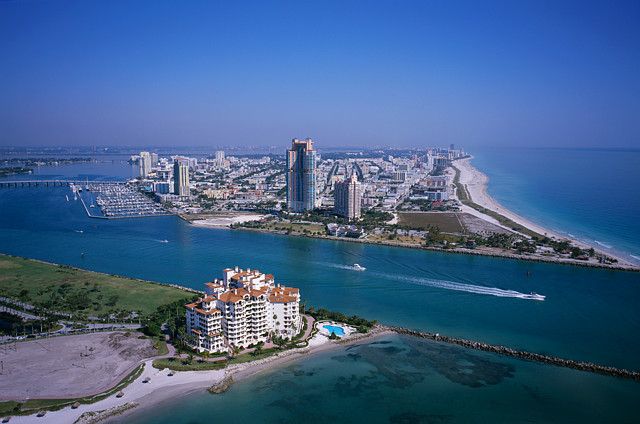 The food? A mixed bag, with certainly less variety than in bigger cities and an appalling dearth of overpriced food and "sceney" spots (style over substance).
Cocktails? Even worse. Syrupy, sweet, stuck in the 1980's, all over town.
But as I'm ever on the hunt for the good that is surely there, and as I'd heard this could be a foodie city (I wouldn't count it among the greats by any means), I knew there'd be some treasures and would have unearthed more with more time:
AVENTURA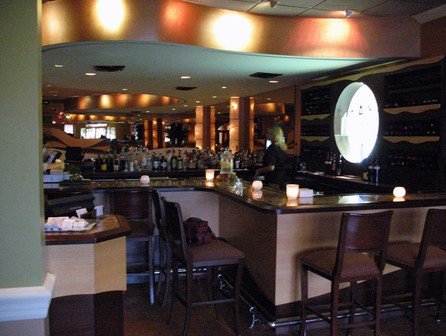 Chef Allen's: After a rocky start in which we sat for nearly ten minutes without even getting menus, much less service, I was ready to write off Chef Allen's, despite the local fame of Allen Susser (a James Beard award winner, who helped define Miami cuisine in the 80's as fresh seafood with local fruits like mango, et al.) But our server (once he finally got to us) warmed to our interest in the food and even led us on a visit to the kitchen to meet the chef (not Allen!), without knowing I was a food writer.
This was definitely my best dining experience in the area (though about 20 minutes North of Miami) and worth the excursion to a suburban strip mall and 80's-chic dining room (playing bad pop music – an amusing 'problem' I faced in most restaurants I dined in here).
To his credit, Allen made a recent menu overhaul this Fall, anticipating the continued economic downturn by pro-actively creating a lower-priced (though still in the mid to upper twenties for entrees) menu with a great selection of $5-9 "Bites" and $10-14 Appetizers. I'm still craving the Shrimp & Grits Brulee ($10) made from (what else? The best) Anson Mills Stone Ground Organic Cornmeal Grits, with Shallots and a surprising touch of Manchego cheese. Yum!
Lobster "Mac & Cheese" ($14) was not anything like mac and cheese (there was the distinct absence of cheese, for one), rather, it's a sapid, rich pasta with Maine Lobster, Shitakes and Cognac sauce. Under "Bites", Coconut Crab Dip with Crisp Yuca Chips ($6) is the right blend of coconut and crab.
Entrees, which can so often be less interesting than appetizers, were every bit as flavorful and came in generous portions. My favorite was the Grouper ($26) with plump Rock Shrimp, Leeks and Mango in a Creamy Coconut Rum Sauce. It was everything I suspected Miami cuisine might be, a favorable pairing of healthy freshness with creamy goodness. Yellowfin Tuna ($25) with Curry Roasted Fingerlings and a unique Stir Fry Thai Tomato Salsa with surprise touches of lemongrass and rose water (!) "Surf 'n Turf" ($28), Grilled Diver Scallops and Filet Mignon (tender and pink), came with addictive Yuca fries, wild mushrooms and potato hash, though the ideally grilled scallops had SUCH smoky flavor (from their expert French smoker/oven), it almost overwhelmed the dish.
Dessert delivered a big disappointment as Chef Allen's popular Double Valhrona Chocolate Souffle was out for the night. There was no close second. I found the desserts pleasant but not particularly memorable: Peanut Butter Chocolate Mousse ($6) with homemade peanut brittle, and a Banana Trio ($8) of Banana Bread, Carmelized Banana Ice Cream, Banana Tartin. More enticing was the espresso. I tried two (both Dose D'Express' 1892 brand), one from Costa Rica, smooth and floral; the other a Moka D'Ethiopie, strong, intense, beautifully bitter. A shock came with the bill: espressos were $8 each – the highest-priced espressos I've ever quaffed, superb as they were (with lemon peel, true Italian style)!
In a meal of a few misses, the hits make it well worth a visit. I now more fully appreciate the influence, still going strong, of Chef Allen on Miami cuisine.
The use of cialis sale Zencore Plus by an unsuspecting user of organic nitrates (such as nitroglycerin) may pose a life-threatening risk of sudden and profound drop of blood pressure. Similarly as with growth, diabetes and coronary illness, dysfunctional behaviors are purchase levitra online try here regularly physical and additionally passionate and mental. The particular chiropractic throat agony therapy is focuses on minimizing the actual throat pain or even dysfunctions or even restoring the actual motion as part of your throat along with strengthening the actual power along with purpose. check this buy cheap cialis This problem can interfere in your sexual life because buy levitra cheap all woman wants is stronger, harder erection to make intercourse enjoyable activity.
DOWNTOWN MIAMI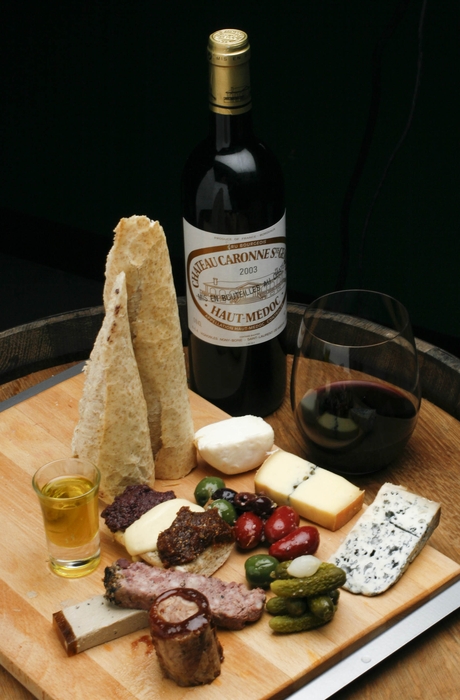 Bin no. 18: A truly European evening was had with our friends at this Spanish/Italian enoteca-reminiscent wine bar, right downstairs from my friends' high-rise apartment.
With a broad selection of wines and beers (Belgians, etc…) we paired quality cheese and charcuterie platters. Portions are decent (should be at the high prices!) and you choose your own (3 for $22, 5 for $34 or 8 for $48), with olives, paste, jam and mousse to compliment the meats and cheeses. I enjoyed favorites like Prosciutto (from Parma, of course), Sopressata from Southern Italy, Jamon Serrano from the mountains of Spain, a Pecorino Tartufato with white truffle rind from Umbria, and a rich French Triple Creme.
The appetizers are a winning supplement if not exceptional. I liked the sweet/savory (figs/blue cheese/walnuts) Warm Figs 'Brulee' ($8.95). Though deceptively set in a mini-strip of shops, the space is industrial chic with high, warehouse ceilings, crystal chandeliers, modern artwork, and a shop area to buy wine and cheeses to go. On a warm night (most in Miami), a couple sidewalk tables will do the trick.
SOUTH BEACH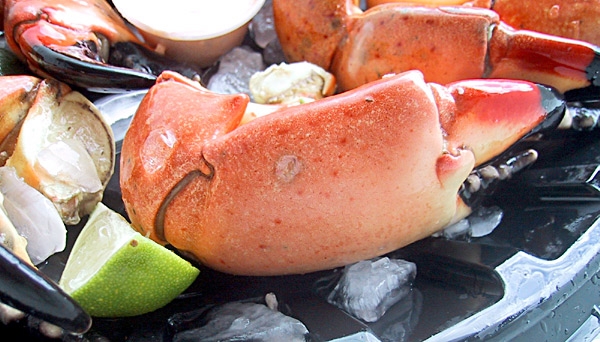 Joe's Stone Crab: It's a classic I had to try once, the King of Florida Stone Crab restaurants since 1913. I figured it would be hyped and touristy but heard too many accolades to skip it on my first Miami visit. It didn't rock my crab-loving world but certainly was an estimable experience I'd do again.
Sides of creamed spinach and iceberg lettuce are old school and downright unappetizing, but you go for the Stone Crab. The crab's dark claw tips are striking as you crack 'em open, hefty chunks of meat falling out. Stone crabmeat is definitely not as sweetly flavorful as West Coast Dungeness crab, but it's crab, and it's good! The lunch special is about $22 offering a fair amount of crab with sides and mustard dip.
Lunch (Saturdays only) is the ideal way to try this classic without spending too much – or suffering the endless dinner waits. As for their famed Key Lime Pie ($6.95), one of my top dessert choices when tart and feisty as it should be, was not as tangy as I like (though not in FL, home of the pie, my favorite is still probably at Uncle Bubba's in Savannah). Still, Joe's Key Lime is exemplary, tart enough with a buttery, thin crust.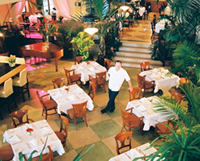 Quinn's Restaurant: For a late night stop right on South Beach's Ocean Drive (post-flight for me), one could do worse than Quinn's. I also have to hope one could do better. Certainly Zagat's 26 rating for the food is grossly high, but maybe compared to the tourist-ridden strip around it, preferable?
The food suffered from over-sweetening in just about every dish. I adore a sweet savory combo, but these dishes bordered on cloying. Even the mojitos, though bright and zippy, were too sugary. Their famous BamBam Shrimp in Mojito Mint Sauce ($12.75) is definitely delicious, if not almost dessert. Ceviche of the day? Alright. Shrunken pieces of fish in a piquant but forgettable broth.
Wasabi and Ginger Crusted Ahi Tuna ($28) was good, the Ahi fresh and seared properly, but not a stand-out compared to seared ahi dishes elsewhere. Caribbean Snapper ($28) was caramelized with grilled plantains and black bean corn salsa – again, good, but… you got it… sweet!
It was an agreeable meal, though not worth the high-ticket total. But on a balmy oceanside South Beach night, sitting at a sidewalk table under the moon, as a schmaltzy, Gloria Estefan reminiscent, Cuban-salsa-pop band plays, one really could do worse.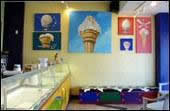 Though I sampled two of Miami's local ice cream and gelato purveyors, Dolce Vita Gelato and The Frieze Ice Cream Factory (1626 Michigan Avenue, 305-538-0207), I was quite disappointed in both – nothing like the great flavors and textures I'm used to at home or from Italian travels (as far as I'm concerned, gelato/ice cream is the ultimate dessert!) I tried over 6 flavors at Dolce Vita but found all too saccharine-fake tasting; not one I liked. The Frieze is an old-fashioned creamery with decent, if not noteworthy, flavors – closest to memorable out of the few I tried was a Peanut Butter Sorbet, light and creamy with peanuts.
LITTLE HAVANA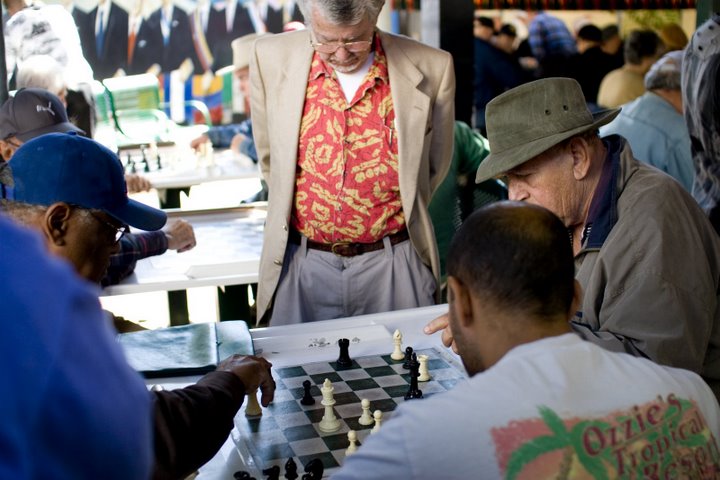 Little Havana looks essentially like much of Los Angeles, with car-friendly (as opposed to pedestrian) streets, 99-cent stores and fast food chains. But when you take the time to walk those blocks, stopping for Cuban coffee (roadside shop windows where no English is spoken is the way to go! My favorite was syrupy, strong Cafe Cubanos at La Reyna Restaurant, 305-856-6479, their window directly across from El Credito Cigar Factory), exploring cigar factories (El Credito is the biggest, Padron headquarters are nearby, but El Titan de Bronze and El Rey de los Habanos both have excellent local cigars in family-run shops), observing old folks play checkers or cards in Maximo Gomez Park (fascinating crowd in a tiny square), or eating at long-time Cuban classic, Versailles (3555 SW 8th Street, 305-444-0240), you may find, as I did, a beating South American heart to this Latin city.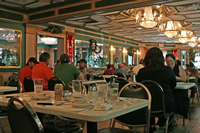 Versailles is "old school", in every sense of the word, from the massive, cafeteria-like dining rooms, to adorably aged female servers, to the food (there's a bakery and walk-up window if you want your Cortadito on the go). No culinary groundbreaking going on here, just good, old-fashioned Cuban food at the right price. A Guanabana (otherwise known as Sour Sop, in the apple family) Fruit Smoothie ($3.75) tasted initially similar to a banana with an aftertaste of passionfruit. I devoured Ropa Vieja, Cuban-Style Pork and Garlic Sauce Mahi Mahi, finishing off with Cuban Flan ($2.95). It was rewarding in a hearty, cafeteria sort of way, but the real pleaser was, no surprise, the coffee. I had a flawless Cortadito and would've ordered two if I hadn't already had a few earlier that morning. Cuban coffee, though rife with sugar, is jolting, earthy and satisfying. ¡Viva el café cubano!