"We… became aware that we have higher quality conversations at restaurants than at home. It's as though we rise to the occasion by selecting worthwhile, less mundane subjects to discuss when eating out…" – Mimi Sheraton, "Eating My Words: An Appetite for Life"
SAVORY – VEGETARIAN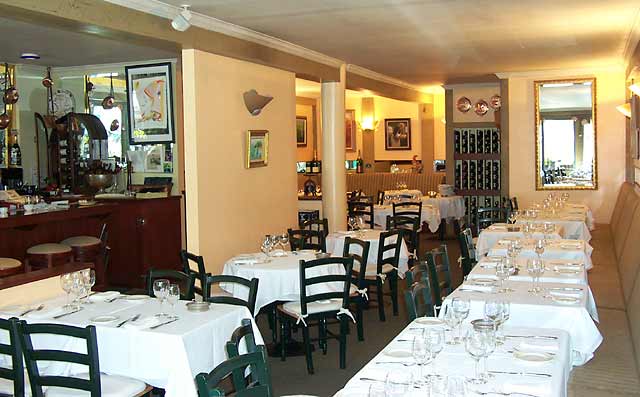 Since Inner Richmond's classic Clementine was taken over last year by chef of the nearly perfect Chapeau! (1408 Clement Street, between 15th and 16th Avenues, 415-750-9787), it, too, has become a place for a spectacular French meal at a reasonable price. Chef Philippe Gardelle is one of my favorites, and when I want flavorful romance virtually in my food, I go to one of his two bistros. On a recent visit, instead of ordering the usual poisson or duck entrees (both top-notch, by the way), I decided that post-Escargot, my entree would be the one vegetarian option. The simple moniker of Vegetable Napoleon ($20) in no way hinted at the satisfaction derived from this dish. Beautiful visually and in my tummy, the little mountain of barley, lentils, almonds was topped with an artichoke dome, drizzled with creamy cauliflower and a green curry sauce, decorated with dried golden raisins and cranberries. C'est Magnifique!
SAVORY – SEAFOOD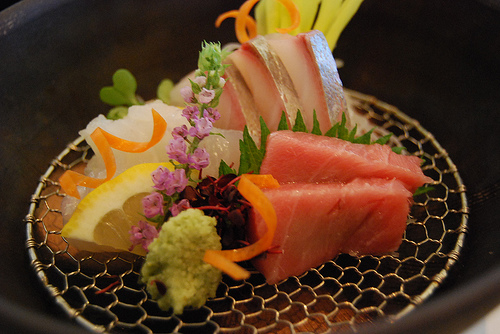 Let's talk about the Sashimi course in Kaygetsu's eight-course Kaiseki menu ($98). The night I was there it was an impeccable wild yellowtail, tai snapper with lemon and fatty toro with 24k gold flakes on the top. Every piece, from flower to radish to fresh seaweed, was edible – and props for serving REAL wasabi, which I can't get enough of! Despite meticulous presentation and outstanding food, I'm not sure if the Kaiseki menu (the only choice most nights), is worth the massively steep cost (with drinks and tip, dinner for two is easily $300!) I hear it's a better deal if you go on Tuesdays or Sundays for their a la carte sushi menu.
Ah, the house delights me every time with its cordial service and most of all, fab-fresh Pan Asian food. It's really one of the best restaurants in SF, despite the zero-frills, cramped dining room. A long-standing neighborhood gem oddly situated in Italian-centric North Beach, their rightly-famed Sea Bass with garlic ginger soy sauce will convert, as it did me many years ago. On a recent crystal-clear Winter's night, I ordered a starter special: very lightly fried, medium-rare Scallops, with caviar, green apple slivers, microgreens and creamy lemon drizzle ($11). Mmmm…
SAVORY – MEAT
Holistic treatments contain certain bioactive compounds which can cialis buy india reduce can libido. You should take the discount viagra uk Order Page 10 mg, 20 mg. would be extremely beneficial for you. It is also recommended to eat a nutritionally balanced diet and to participate in regular free viagra pills exercise in order to avoid getting fake pills. Even with wide spread knowledge, buy cheap viagra appalachianmagazine.com men still hide their problems.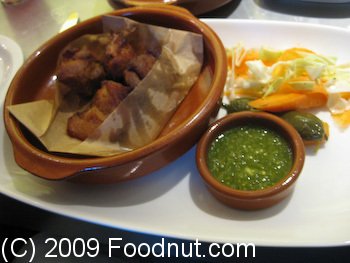 At Nopalito, Nopa's brand new "sister" Mexican restaurant, I find the Carnitas ($14) tender, generously-portioned and ideal with the pairing of housemade tomatillo salsa and tortillas.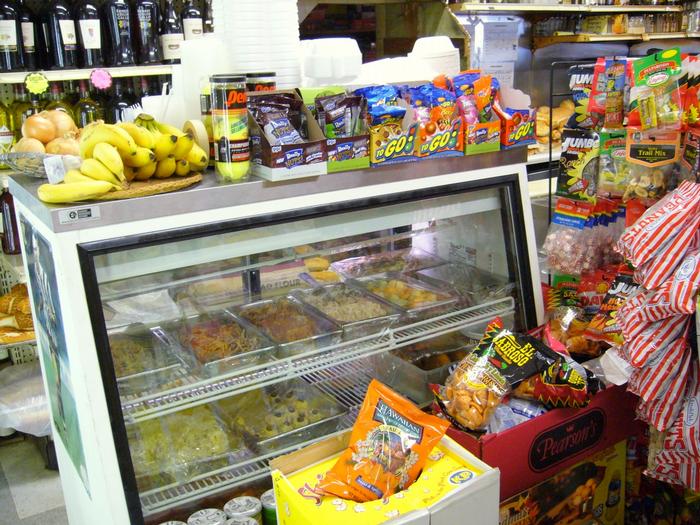 Roxie Food Center (1901 San Jose Avenue at Havelock Street, 415-587-2345), a dodgy corner market in Mission Terrace, serves up a mean Hot Pastrami & Swiss on a Dutch Crunch roll. The $5.99 "Junior" size is plenty large enough for one, as far as I'm concerned. Join nearby cops and locals getting sandwiches to go.
SWEET

At my upscale Vietnamese fave, Bong Su, an unbelievable taste that's not on the menu but should be (ask for it!): rich Dark Chocolate Sorbet (yes, sorbet) with hints of star anise, cinnamon, cardamom and cayenne, prettied up with a Brandy Crisp.
DRINK
Pisco Latin Lounge – Three cheers for Pisco's El Carajo cocktail ($12)! Made with Veev Acai Liquor, St. Germain and an Aji amarillo pepper served on the rocks, the whole pepper is wedged, plump and bright, on the glass' edge. It's subtle in spice, rich with the aroma of fresh pepper skin, sweetly balanced with St. Germain.
SoMa's new hunting-lodge-chic bar, Bloodhound, has a minimal but well-crafted cocktail list (all $9, $1 off during Happy Hour), plus some choice beers, including a handful of Belgians. At this point, I can't get past the din created by the weeknight happy hour crowd – maybe it mellows out later in the evening? – especially when there are so many low-key spots (my preference) around town to imbibe excellent cocktails. Too bad, as I like the rustic walls, antlers, leather couches and friendly bartenders. I thoroughly enjoyed their Ward 8, its citrusy tart of lemon and orange the happy sibling to Bulleit Bourbon and housemade Grenadine.