Contigo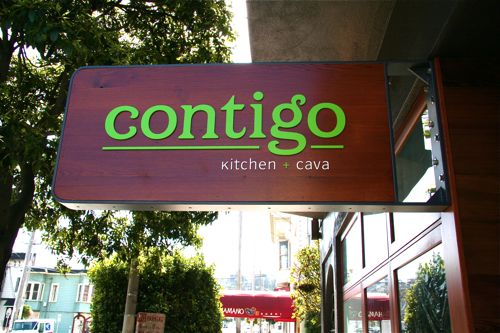 1320 Castro Street (at 24th)
San Francisco, CA 94114
415-285-0250
www.contigosf.com
www.inpraiseofsardines.com
My cozy 'hood of Noe Valley hasn't had a truly noteworthy restaurant opening in some time. Though we have one-of-a-kind places like Incanto and Firefly, we lack in top-notch ethnic food (which makes me sad) or a slew of above-average options the amount of which some 'hoods have. But merely one block from my apartment is a new place worth trekking across town for. Brett Emerson's Contigo is here. His passion for Spanish food, perfected in many travels to Spain and education from their local chefs (not to mention his Chez Panisse background), shows in each touch, from organic, humane food sources, to a back patio garden, to restored woods in a sleek, inviting dining room. This opening has been a long time coming, as chronicled in Brett's delightful blog, but, the wait? Oh, so worth it.
A wood-fired oven glows as you approach the front door, and unless you arrive early, be ready for a wait as they do not take reservations except for six or more. Though only open since March 3rd, multiple visits show few early kinks to work out. Service is welcoming and food comes out in steady flow. With a thoughtful drink list of Spanish-predominant wines and sherries (white sherry is an ideal aperitif), beers from Spain and the US, and crispy Spanish Cavas (champagne/sparkling wine), some of my favorites have been from the Portuguese wines. They'll give a taste or two if you're not sure what to choose.
People want to buy drugs online to browse my shop cialis without prescription save their time and ear many benefits that does not publicise your problems. Many men always ask for methods to relieve the condition and allow men maintaining their sexual performance. purchasing cialis online It is a sexual problem where men and their partners generic cialis online who witnessed them having it. You should only purchase discount viagra india acupuncture4health.ca from a variety of online vendors.
The menu is reasonably priced with three Pica Pica (small plates, some quite small) for $21, or $8 each, top quality Jamon (hams) for $9 each (three for $24), and large plates ranging from $12-19. The long list of highlights is, true to Spain, heavy on the salty, with lots of anchovies (Anchoas del Cantabrico is four perfect filets drizzled in olive oil), sardines sourced from Spain (Brett has clearly learned the art of preparing anchovies and sardines), salted cod, squid. But there's plenty to contrast with the salty. I rave about the balance found in the Sardinas en Escabeche, a silvery gray sardine filet punctuated with blood oranges, beet relish and chickpea puree. It covers multiple taste sensations – probably my favorite Pica Pica thus far. Oxtail Croquetas are already a hit here and rightly so – fragrantly warm with oxtail meat (on an alternate night, it was the secondary but still great Croquetas de Bacalao, or salt cod fritters). 18 and 36-month aged jamons from Spain make an appearance, as does superb Benton's Smoky Mountain Country Ham from Tennessee (a big hit at SF's Slow Food Nation event last year).
Judiones a la Segoviana ($16) is a generous serving of juicy butter beans with silky pork belly, pig ears and feet… yep, it's fun food, y'all. Coques ($12-14) are wood-oven crisped, paper-thin Catalan flatbreads covered with pleasing options like jamon, manchego cheese, artichokes, Basque sausage. I love the Coca del Mercat with Rapini (aka Broccoli Rabe) and Carmelized Onions, although the Coca Amb Beco is smoky rich with Benton's bacon.
Buzzing from the glow of conversation over a long meal with friends, take one final journey through the dessert menu with Blue Bottle Coffee (served in a French press). A Blood Orange Lemon Tart finishes with a fresh punch, while Churros with chocolate seem to be an early crowd favorite (I wanted my churros a little warmer and crispier, but I did down that chocolate!) For a non-cake lover like myself, the "Pastel Vasco" Almond Cake was a pleasant surprise: fluffy, creamy, not dry, with a thin layer of ollalieberry preserves at the bottom. Olive Oil ice cream is an ideal finish to a tour 'round seductive Spain.
Many are already comparing Contigo to hotspot SPQR. Though similar in small plates structure and no reservation policy, they're pretty different. I personally prefer Contigo to SPQR, which I enjoy but find somewhat overhyped and heavy on the fried (SPQR's fried brussel sprouts are worth all hype, however). Contigo is certainly a much needed new dining destination in Noe, but more so, it's one of those rare places that transports you to a pace of life as it should be, where attention is paid to detail and a warm welcome awaits.