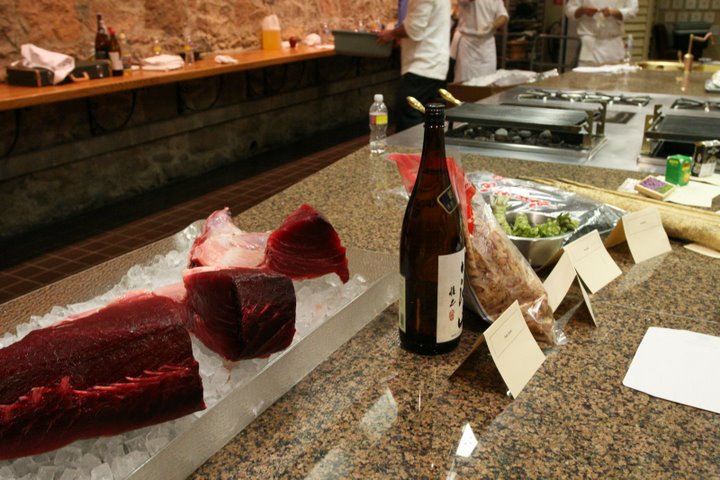 A couple Spring excursions up to Napa this month meant more "Top Tastes" for me from new and not-so new restaurants. But first… an event that brought me up for a day was a rare afternoon of Japanese food at the Culinary Institute of America (CIA). With a cadre of visitors, including the Consul General of Japan, and speciality food producers of Wagyu beef or versatile nagaimo (a type of yam), main demos were cooking and instruction from three superb chefs: Kimio Nonaga, a grand champion Iron Chef from Tokyo (I 'heart' watching Japanese Iron Chef competitions on You Tube), Douglas Keane from Healdsburg's fine dining temple, Cyrus (which I recently wrote about), and Nori Kusakabe from my longtime sushi fave, Sushi Ran in Sausalito. What a line-up! Reason enough to go.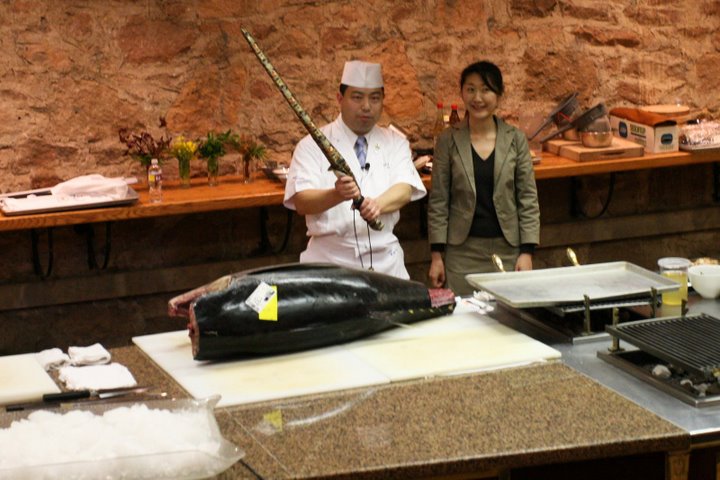 Things started off with a bang as Chef Nonaga (interpreter by his side), carved a giant, 120 lb. plus tuna from Japan. At market price of $1000, it was fascinating watching him wield samuri-like knife to slice through this behemoth of a fish which needed three men to lift it. The best part was that we ate from this beauty all afternoon as all three chefs had different takes on the ingredients. With a little sampling of different dashi (cooking stocks for soup broth) in front of us, we tasted a range of dishes the chefs cooked for us that hit all five basic tastes (sour, bitter, salty, sweet, umami), and received recipes of every dish cooked.
Highlights were many, including Meat & Potato Nikujaga (like a stew), Seared Tuna with Black Garlic Puree, traditional simmered Beef with Burdock over Rice (Yukari-style Gyudon), and Wagyu Beef with lotus, burdock, mitsuba (Japanese wild parsley) and myoga (edible ginger flower). Besides Keane's memorable Wagyu Beef dish, the most exciting for me was Kusakabe's experimental dessert of Brown Sugar-cured Tuna with Nagaimo yam. Cured for a day in brown sugar and brandy, the tuna is jelly-like with red bean between thin, crispy slices of yam, like a sandwich, wrapped in a salted sakura leaf. Genius. You'd never know it was tuna, so sweetly playful and candied it was. He's trying this out for Sushi Ran so I hope to see it there soon.
This was just a preview of the CIA's Worlds of Flavor event in November (tickets went on sale April 1), representing countries around the world, both in time-honored traditions and creativity. If this Japanese afternoon was a sample of the three day event coming in November, it's going to be some damn good eatin' and cookin', educating in detail on authentic cuisines from those who know it intimately.
Any vegetarian I know would likely love Napa's Ubuntu, raved about even by the hippie/granola-averse New York Times as 2nd best vegetarian restaurant in the country. Ubuntu, helmed by Jeremy Fox, formerly of Manresa and Rubicon, equally pleases the non-vegetarian with robust, savory dishes that make you forget there's no meat. The slick, open space is stimulating, while alternative rock hits play in the background, with attentive, young servers. I'd have to say Millennium is probably still my favorite upscale vegetarian, but this would be second with nary a throwaway dish but for the chickpea fries, which were just ok. Beet Tartare ($11) is brightly crisp, colorful, laid out like a museum display. Lemon fried Brussel Sprouts over yellow corn grits ($14) are smoky and heartwarming. Roasted, partially pureed, Indian-spiced Cauliflower in a Cast Iron Pot ($14) is hot and rich with little toasts to spread it on. Jeremy's wife, Deanie Fox, is the pastry chef (also of now defunct Rubicon, where they met), whose Bittersweet Chocolate Ganache ($9) is an artfully presented serving of dark, fudgy mini-cakes with caramel-like butterscotch, brown butter ice cream, curried peanuts and popcorn foam which extracts from me a "Hell, yeah!"
Been meaning to try Napa's Barbers Q for some time… though inviting and crisply clean (a refined BBQ joint, if that isn't an oxymoron!), I was a little disappointed in the food. It was all good enough but not memorable or overly authentic BBQ. I liked best the sliced Beef Brisket, ideal with Green Apple Coleslaw. A $17.95 lunch platter with Ribs (a little dry), Brisket and coleslaw was more than enough for one. I added $5 Pulled Pork to the dish to taste all key BBQ meats – as a pulled pork fanatic, it was alright. Loved the side of Rancho Gordo Cranberry Beans ($3.50) with collard greens, onions and Callegio ham hocks: aromatic, simple, packed with flavor.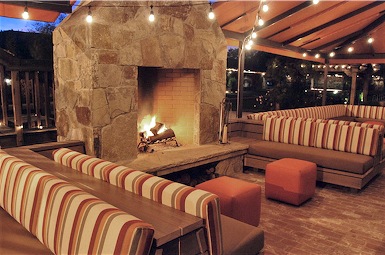 I had to try famed Food Network chef, Michael Chiarello's, new Bottega, in Yountville, though after only one visit, certainly need to return. The place is quite large, with a somewhat corporate chain-looking dining room, but inviting, massive, wrap-around patio strung with lights and dotted with fireplaces. Methinks it'll be a fab spot for late afternoon drinks and appetizers. Initially trying pastas, they're rich, heavy, and didn't quite pack the flavor punch pasta greats do. But there's a slew of appetizers and entrees I'd like to try next, so I'm definitely going back. Stay tuned.
Bardessono is Yountville's modernistic, eco-resort (opened in February) with hardcore Japanese toilets, walls of growing grasses and a bar with drinks from SF's own Thad Vogler (Jardinere, Heaven's Dog, Slanted Door, soon to come Bar Agricole). There hasn't been a wealth of fine cocktail options in understandably wine-heavy Napa, but Bardessono's fireside, chic bar area with outside pool and patio couches, is the right spot for $12 and up cocktails made with local citrus and quality spirits. The drinks, more often than not, are mostly the same ones us SF locals have on menus where Thad has already spread his magic, like Beretta, so no need to go out of your way if you frequent any of the spots he consults for. Still, a welcome all day locale for imbibement in Wine Country.
Bouchon, the original, the best… remains a most idyllic venue for early evening oysters and champagne at the silver bar. Warm, Spring air wafts through open doors, classic jazz softly swoons, new friends are made and the staff pours tastes of wines to help you choose a glass. I would say I'm transported to Paris here, but the experience is fully Wine Country (with a Parisian touch). On a recent visit, the Maine Lobster Salad ($14.50) with duck confit gizzard, frisee, arugula, poached cherries and foie gras vinagrette, couldn't have been a sweeter respite before an intoxicating sunset.