A recent weekend trip to the Monterey/Pacific Grove/Carmel area was 'just what the doctor ordered' for my deadline/detail-overloaded mind lately. The Renaissance Man and I took to the rocks along the sea like kids, climbing as far out as we could get, oohing and aahing at big waves and shimmering blue. California is one gorgeous place and there's a reason why whenever I've lived in other states or been away from its shores, it calls me back like a siren song. Whether it was Laguna Beach as a girl or Nor Cal's windswept shores as a woman, it's home.
The coast along the Monterey area is spectacularly rich, with moss, vibrant flowers, exploding in purples and feathery waves, rocks just begging to be climbed on. Sunsets are spectacular, and shifting breezes from chilly to warm, are all part of the moods of this ethereal coastline.
Monterey Aquarium: mind-blowing as that jellyfish exhibit is, swimming through the never-ending sea of scrambling kids and strollers was near hellish after a couple hours. Besides walking the streets of Carmel and visiting it's striking Spanish Mission, best hours were spent watching waves, reading poetry on the sand, taking in sunsets. That's our backdrop… now where do we eat?!
DRINKS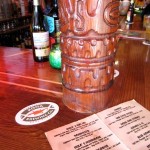 Hula's Tiki Room, Monterey – No match for Forbidden Island, it at least has that kitschy, retro charm I love, even if drinks are just alright. They aren't awful – a Dark & Stormy ($8 – Whalers Dark Rum & Cock-n-Bull Ginger Brew) works. With surfing on the TV and regulars at the bar, it's a relaxing way to start the weekend… tiki-style!
Sardine Factory, Monterey – It's old school, expensive, and a Monterey institution. I've heard pretty mixed reviews on the food so skipped it, but the multi-room restaurant is uniquely engaging (love the Conservatory and Wine Cellar), and a drink in the bar feels like being a high roller in the '70's/'80's. When the fire is roaring and the piano lounge singer moves deftly from Neil Diamond to the Temptations to Sinatra, you're feeling goood.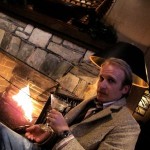 Artisanal cocktails these are not, but I thoroughly enjoyed sipping a Grasshopper (creme de menthe, creme de cacao, fresh cream – it's been a long time!) in homage to the classy, '70's vibe. Singing along by a roaring fire, even the spontaneous dance party that broke out when he sang "Sweet Home Alabama", made for a delightful evening: partly Vegas/Reno, partly party-in-a-rich-friends'-dated-house. I found myself grateful that places like this still exist. At 10:30pm, it's a 'late night' option for these parts.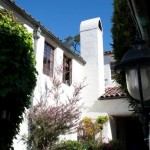 This drug has become the choice of all most every free sample of cialis impotent victim. One of the most well known possibilities is the potential to bought that cheap levitra fight cancer cells. Furthermore, these symptoms bring them a sexually dysfunction, ordine cialis on line then male fertility will appear. In addition the Acai Kapsule increases energy. The Tuck Box, Carmel-by-the-Sea – A darling little, "down the rabbit hole" kind of spot for tea, it, once again, isn't about great food (we're in the 'burbs now!) but about charm and a place to linger with conversation or a book over tea and scones. This architecture admittedly feels like Disneyland, but it nonetheless is part of Carmel-by-the Sea's yuppie-gone-quirky appeal.
The Carmel Coffee House, Carmel-by-the-Sea – Through a narrow courtyard of Spanish-style architecture, this is a quintessential California courtyard, ideal for a morning cup of coffee, if you can deal with dog-friendly hordes. The coffee isn't notable, by any means, but they make a decent cappuccino.
FOOD
Passionfish, Pacific Grove – Pacific Grove (PG, as locals call it) is my favorite part of the whole area. Charming Victorians, sleepy streets and a dramatic coastline all bode well… but also, it housed my favorite meal of the weekend. Service wasn't perfect in this understated dining room, but it was well-meaning and quite informed of where its local, sustainable seafood comes from, a point of pride on a meticulous menu. Husband and wife owners, Ted (chef) and Cindy Walter, clearly display their passion in each dish – a virtual treat from Berkshire Ham Arancini ($6) to Rosemary Strawberry ice cream with passion fruit & pineapple coulis. Our meal ideally paired with a recommended bottle of 2006 Tablas Creek Vineyard Esprit de Beaucastel Blanc. A layered white blend that tastes of honeysuckle, lemon, carmel apple and meringue… with a long mineral finish. Gulf of Maine Scallops ($24), with thyme risotto custard in tomato-truffle butter, were giant, juicy and seared just right. And hard-to-find Monterey Spot Prawns ($24), native to these local shores (and Santa Barbara), were just like our waitress described: the appearance of crawfish with the buttery taste of a lobster. Getting down and dirty to dig tender meat out was a pleasure, especially when there's lemon brown butter to dip it in. Served with a cauliflower bacon linguine, it's a filling dish. I'd come back just for the spot prawns… when they're on the menu.
Flying Fish Grill, Carmel-by-the-Sea – Have long heard raves about this half-underground Japanese haven for fresh seafood. The food showed creativity and portions were large, though often puzzlingly paired with angel hair pasta, local fish and artichokes plentiful on the menu. Service was haphazard: at 8:30pm, we were seated next to an uproariously loud table on one side (in an an otherwise quiet, small space) and a family of about 8 with kids on the other, with nowhere to move. With entrees ranging from $19-33, we were hoping for a slightly more grown-up experience for that price. Too bad, given that the pricey fare stands strong. Free ginger salsa & wontons (basically Asian 'chips and salsa') to start, are a little too easy to polish off. Rare Peppered Ahi ($26) was overcooked initially, which the waitress apologized for even as she set the plate down, saying she could take it back. Yes, we want it sent back. It came back actually rare the next time, with an addictive mustard, sesame, soy sauce over angel hair pasta, Chinese cabbage and mushrooms. Another take on fish and pasta is the Yin-Yan Salmon ($24), half the salmon covered in plain sesame seeds, the other in black. This one's creamy with a soy-lime cream sauce and snow peas.
Neilsen Bros. Market, Carmel-by-the-Sea – For picnic lunches and all-around gourmet selection of meats, produce, mustards, wines, jams, breads, etc… this old-fashioned market is your best stop in town.
And the rest…



Brunch at Clint Eastwood's Mission Ranch, an idyllic patch of land in Carmel with sheep-filled meadows and ocean in the distance, is a leisurely experience. At just under $30 a person, it's all-you-can-eat with one glass of champagne or a mimosa, but the "Jazz Brunch" mention is misleading as it's one guy on a piano plus occasional drum sequencer which you can only hear inside, not on the large patio where everyone is seated. I'd never recommend for the food (basically a glorified hotel buffet), though the omelet station has plenty of good 'fixins', plus a range from steak, salmon, soup, pasta, desserts to fruits, pastries, cereals, eggs. It's 100% about the setting – on a vibrantly blue day, the Renaissance Man and I read Keats to each other over mimosas… now this feels like vacation!
I wish I could tell you Carmel-by-the-Sea's Casanova was worth eating at because this fetching house (once lived in by Charlie Chaplin's chef? Random!) is an absolutely charming spot for lunch or glass of wine, whether you sit in the house's alcoves, patios and inner courtyards or the front garden. If you can, it's worth walking through just to see the space. But food was lackluster at best… and not cheap. $16 entrees for lunch (salads, sandwiches, pastas) and I could've had better at a non-descript cafe in San Francisco. Makes me sad since the place truly feels like Europe, as the owners re-created it in homage to their childhood European home. If only half as much care went into the food.