SAVORY – VEGETARIAN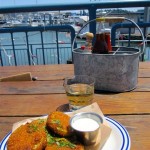 • There are a number of Burmese gems in SF (see last month's Top Tastes), but I've been getting my lunch lately at a little alley Burmese restaurant that's quite tasty: Yellow Pa Taut. Traditional Tea Leaf or Ginger Salad ($9.95 each) are treated well here (ask for the Ginger Salad without dried shrimps if you're a vegetarian). Some curries are a little oily, but savory and filling, with lots of fluffy rice.
• You wouldn't expect culinary adventure in a nightclub, would you? I sure didn't, which is why Brian Beach's (formerly at Aqua and Cosmopolitan) recently launched menu at Infusion Lounge is a pleasant surprise. "Whimsical" ($9) is technically not vegetarian since the ice cream is made with bacon, but there's no actual meat in this daring, well-executed dish: 63-degree egg with bacon ice cream, chive and sourdough toasts. The cream of the egg and ice cream meld into one savory, lush mix. Paired with a peppery Santa Carolina Carmenere from Chile ($7 a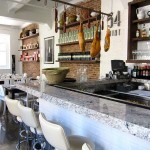 glass), a smoky essence explodes. I felt like I was having breakfast… or maybe BBQ (see "Seafood" for another great dish.)
• 54 Mint, helmed by New York's Il Buco chef, now an SF transplant, serves up some filling Italian fare. I love the delicate Octopus Carpaccio ($10) and was comfortingly filled by Arancina di Carne ($10 – rice ball stuffed with ragout), but it was the Caponata ($8), eggplant ratatouille with sweet, grilled peppers and onions, that lingered with me.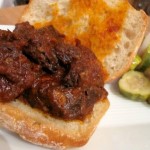 • Flour+Water may be yet another artisan pizza, pasta, charcuterie spot, but I still found worthwhile tastes, even if there are better pizzas around town (theirs still works, especially the Uovo/egg pizza, $15). There's a bright, fresh Summer Squash Salad ($10) with duck prosciutto, toasted pistachio and vibrant basil leaves. I was especially struck by Sweet Pea & Ricotta Tortelli ($16) enlivened by mint, Meyer lemon and pig cracklings for some crisp (vegetarians, ask for it without the latter). PS – Kudos to the Paxton Gate-like bathroom display from Paxton's designer, Sean Quigley.
SAVORY – MEAT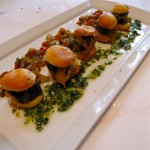 • In the wood and brass bar area of , happy hour is a pleasure with a glass of wine or a cocktail (like Elphaba's Wicked Emerald-tini: Hendrick's Gin, Ciroc Vodka, St. Germain Elderflower, basil, cucumber, lemongrass syrup, $10 or $6 at happy hour… one of three inspired by "Wicked" at nearby Orpheum). Gougere d' Escargots ($9), essentially escargot sliders in Chartreuse-garlic-parsley butter, go down like juicy jewels on puff pastry.
• Little Skillet has been a good time from day one. How can I resist chicken & waffles from an alley walk-up window? They just went up a notch in my book by feeding my love of Cheese Grits with or without Andouille Sausage (with, thank you very much!) With maple syrup mixed in, there's a hint of sweet to the savory, smooth cup o' grits.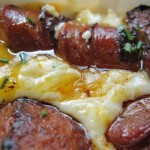 • Yes, Korean tacos and burritos risk getting played-out, but not yet in our city – and in an internet cafe? Slipping into Golden Gate Perk for a Spicy Pork Taco ($3) doused in lime is transporting – feels like I'm 23 and backpacking alone through Europe again… minus the Korean tacos. Low ceilings, top-40 hip hop playing (rock on, Kanye's "Amazing"), sweet Korean owners, and European clientele checking email. But the best part is that these are damn good tacos – an ideal balance of meat and kimchi.
• On opening day lunch at new gourmet BBQ haven in FiDi, Wexler's, I dug the minimalist, European-bistro reminiscent space, draft beer list (Allegash, Ommegang, hooray!) and uber-fresh Monterey Bay Squid Salad ($9) with chunks of fried green tomato (yeah!), pickled Fresno chilis and frisee. The 4505 Meats Mission Dog ($11) with bacon works (wanted it wrapped in bacon instead of bacon chunks), but I could just keep eating the "Sloppy Joe" ($12). Despite being engulfed in Acme bread, it was loaded with savory, tender Texas-style burnt ends, considered a delicacy as choice cuts of brisket. Read more in my SF Bay Guardian Appetite column.
SAVORY – SEAFOOD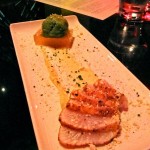 • "Transcendence" ($13) is just that at Infusion Lounge. A thrill of a take on a BLT, with the flavor profile of a BLT but one creative path to get there! Hiramasa (yellowtail kingfish) is splayed out sashimi-style, tomato gelee to the side, topped with a frozen sorbet scoop of, yes, iceberg lettuce and pea shoots. The plate is streaked with Wasabi mayo, dusted with bacon powder. Brian Beach's possibility and passion show in these kinds of dishes… and it happens at a nightclub (see "Vegetarian" for his Whimsical egg dish). Slip in post-work during happy hour (till 8pm with discounted drinks) for the unexpected.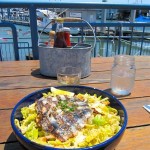 • A Sunday afternoon at FISH is always idyllic. Seafood at picnic tables, sittin' on the docks as houseboats squeak in the water, sipping beer from a mason jar. The good life (albeit at a price – sandwiches are $25, y'all! But portions are huge, so share!) On a radiant blue Sunday, I blissfully ordered Monterey Sardines ($14) from the specials board – plump, with lemon squeezed over them, their silver grilled skins shimmering in the sun atop a huge salad.
SWEET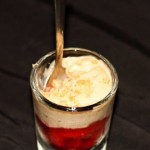 • At Supperclub's rousing Uber Dinner II on June 1, Jamie Lauren (Absinthe, Top Chef) and Jennie Lorenzo (Fifth Floor), prepared a one-night only 4-course feast with Guus Wickenhagen, Supperclub's Exec Chef. Besides being one sensual experience of show, massage, food, drink, lounging, music, dance, it was fun to see what each chef created, my dessert rave for the night being Lorenzo's Black Licorice Candy Parfait with strawberries. Tasted like an absinthe and berries cream – exquisite! Once the sparkling, blue bunny came out and the place erupted into a spontaneous dance party, it officially became a Monday night to remember.
DRINK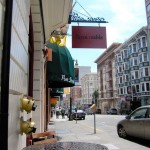 • Oh, boy. Coffee at darling, closet-sized Farm: Table is one non-stop joy. From a Tendernob (their version of a Gibraltar and ode to the 'hood) to a bitter, strong espresso, it's all beautiful, using Verve Coffee Roasters from Santa Cruz. Paired with apricot bread pudding or grapefruit bread as you sit in the picturesque window or sidewalk tables, feels like the best of a European lifestyle.
• Two vinos I especially enjoyed at Flour+Water are Anselmi's San Vicenzo from Veneto ($7 glass/$28 bottle), a bright garganega white with hints of peach and nuts. A 2004 Di Bruno Sangiovese from Santa Barbara's Stolpman Vineyard ($11.50 glass/$45 bottle) is smooth with smoky, cherry notes.
• Domaine Chandon hosted a fabulous Art of the Cocktail party on June 4 with DJ Dukes playing the tunes we all want to dance to (morphed into quite the dance party, let me tell you!) on Chandon's scenic open-air tasting room and back patio. NOPA's Neyah White was the perfect guest bartender creating champagne cocktails using Chandon's sparkling wines. A number of highlights, my top taste was his cardamom-infused cocktail. Sparkling wine, cocktail attire and great music under the stars makes for a truly magical Napa Summer evening. Join me at the next one?