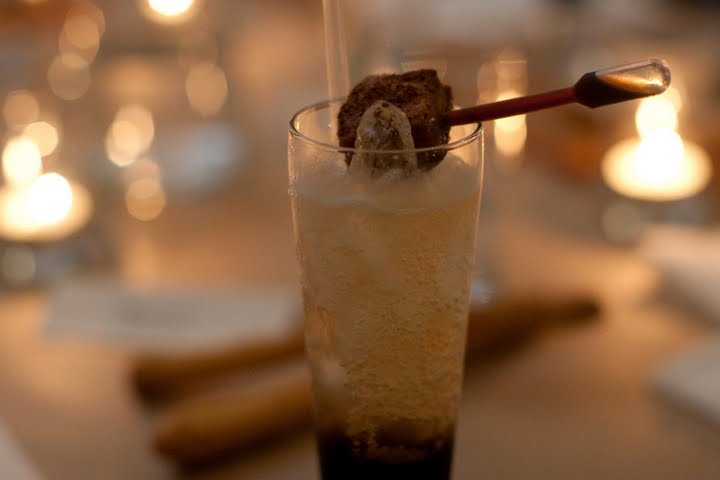 WINE
• Contigo is a fine source for experimenting with Spanish and Portuguese wines, which the staff know well. Though a crisp, white Bodegas As Laxas from Rias Baixas ($9 glass; $23 carafe; $42 bottle) certainly paired well with my meal, the one I'd hunt down is recently added Vina Valoria Crianza, a 2004 white from Rioja (10 glass; $25 carafe; $48 bottle). Dry, with hints of honey, it startles with a mustard finish.
COCKTAILS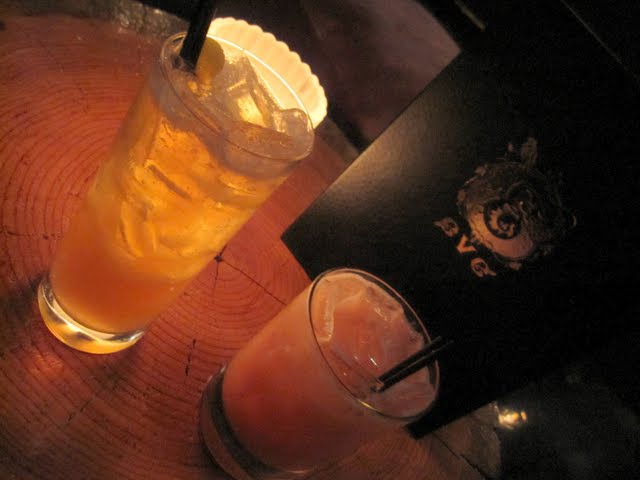 •  Yes, I may be mentioning Bourbon & Branch for the umpteenth time but their specials are so often winners, like Indian Summer (since we're in ours): Rittenhouse Rye, orgeat, egg white, lemon, Angostura bitters, house-made cherry-based sherry, zest of lime.

•  The club scene is not mine by a long stretch, but I had to stop in to brand new Eve at happy hour to try a cocktail menu put together by 15 Romolo's Bon Vivants consulting service.  I didn't mind pin-up paintings and "Cat on a Hot Tin Roof" playing on a double-sided screen. Though I didn't leave with one stand-out favorite among drinks I tried ($10; $2 off at happy hour), it's a consistently fine menu, and for club-goers, a classy step up. There's surprisingly tropical Zona Rosa: Gran Centario Roseangel tequila with guava, lime, pink peppercorn and a splash of rose water. Ellie Mae is happy mix of rye whiskey and Georgia peach, accented by ginger syrup, lemon, peach bitters, and my favorite Bundaberg ginger beer.
• Sierra Zimei at Four Seasons' Seasons Bar is one of our city's great mixologists and I pretty much trust any drink she makes. Though I've long appreciated the absinthe/champagne combo in a classic Death in the Afternoon, Sierra's take, Passion & 'Pagne ($14), contains fresh-squeezed, potent passion fruit puree and absinthe smoothly mixed with punch of crisp champagne in a generous wine glass. Wondrously balanced, it creeps up on you… seductively so.