Back to Chicago (part one here; part two here)… the city remains much as I remember it from earlier visits: gritty, even at its "prettiest", middle America in a big city/New York-reminiscent package. It doesn't woo me like San Francisco or New Orleans, nor secure my eternal loyalty as NYC does, but it's the only real city in the middle, as far as I'm concerned. Here I eat hearty and well, surrounded by locals who are welcoming, rough around the edges, good-hearted. Neighborhood by neighborhood, in a multi-part series, we'll cover some of my haunts during my last stay.
GOLD COAST
• The Drawing Room at Le Passage – I'm a huge fan. This is pretty much my favorite cocktail destination in Chicago. Ignore the clubby Le Passage side, check in with the bouncer, and walk downstairs for an underground haven of fine mixology and artistic precision. Charles and Tim are brilliant bartenders: gracious, knowledgeable. Tell them your favorite spirit and let them make you what they will – deliciousness ensues. Or order from a menu full of spirituous pleasure.
• NoMi – It's all about the view. I didn't eat here – it's a pricey one, well-lauded but with such a high tourist following, I'm not sure how much of it is inflated. I did enjoy picturesque giant windows overlooking the Water Tower and a big city rooftop deck, ideal in the Summer for lingering with a drink.
LINCOLN PARK
• Alinea – What can be said that hasn't already been said about this molecular gastronomy destination and its brilliant, young chef, Grant Achatz? It would be an injustice to try to do a complete review in an already busy list of favorites, and you can certainly read about it everywhere or note its Zagat perfect 29 rating. I will confirm that you'll pay a fortune (starting at $150 a person). The atmosphere is chic, refined, but not particularly noteworthy (other than a long, empty hall with door that mysteriously opens as you approach). Service is impeccable. As for food, be prepared to taste and see that it is good.
From a smoke covered table enhancing a perfect little square or near rare Waygu beef and its otherworldly partner of a creamy whipped potato square covered in crispy potato chips, to a lavender pillow that softy deflates under your dish, the effect and spectacle on the table does not overshadow the sheer pleasure of taste. That seafood custard rich with cream, duck, Fall-redolent spices..? Unbelievable. If only I could have one of those hanging, candied bacon strips (crisped in butterscotch, apple and thyme) now. When dessert is a flavor profile of chocolate, blueberry, tobacco and maple, you know you're eating from the hands of a genius. Don't even get me started on the smoking Sweet Potato Popover in bourbon, brown sugar, cinnamon.
   Annette's Homemade Italian Ice – A beloved Italian ice window on a charming, walkable stretch of Armitage. It didn't hold up to my fave NY Italian ices, nor even to my tops in Chicago (which I'll tell you about when I get to the Wicker Park 'hood in a future Wandering Traveler). But on a sticky, humid Chicago day, it cooled me off nicely.  There's flavors like Pina Colada, Watermelon, Black Cherry and Georgia Peach.
• Bourgeois Pig – Yes, it's Rachael Ray recommended (which they advertise via large banner outside), and in a burbs-reminiscent area of Lincoln Park, but this cafe has that boho spirit that inspires one to sit and journal with a house chai or cappuccino. Look for a pig and the Eiffel Tower, head into a weathered, charming brick building, then up creaky stairs to the living room to curl up on a couch or sit by the window and daydream.
LAKEVIEW/WRIGLEYVILLE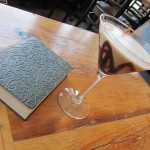 •   Uncommon Ground has become an institution since 1991, with the original Wrigleyville location just a couple blocks from Wrigley Field. It's basically an all-things-t0-all-people mix of coffee shop/bar/cafe/art & live music venue/restaurant. I was drawn in on a blazing hot game day for a drink, appreciating the creative sound of their cocktail menu. The vibe is casual cafe, but I have to say service on my visit was well below lackluster. It took forever for anyone to even glance my way, much less talk to me… it seemed there was one guy doing everything from mixing drinks to serving tables to running back to the kitchen. And he appeared none too happy about it.
That being said, it's a mellow place to read or write, they serve their own house coffee (spiked or otherwise), organic everything, and cocktails could be anything from Neal Cassady's Coffee ($9, madagascar vanilla bean house-infused Jim Beam whiskey, Black Cat double espresso & steamed maple cream), to a desserty-strong  Mochatini (yes, an atrocious name, but sounded intriguing enough to try) made with house-infused Intelligentsia coffee Rain vodka, Omanhene chocolate syrup, cream, served up with chocolate sauce drizzle and coffee beans. They're far from the best artisanal cocktails around, and it's not a destination, but if you're in the area, it's a good place for a break.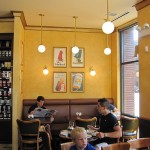 • Julius Meinl – Once again, would not mention it as I found each coffee I tasted too sweet or weak, basically not for the coffee connoisseur. But what I did like about this popular Austrian cafe, is that it reminded me of cafes in Austria, with lovely tea sets and coffee trays, red and yellow settees on which to linger with Viennese coffees, teas, jams and pastries.
• Bobtail – Far from gourmet, incredible SF ice creams like Humphry Slocombe or Bi-Rite, and not comparable to divine old school greats like Mitchell's, still, what charmed me about Bobtail was the darling, vintage ice cream parlor decor in creams and pinks, striped walls, sundaes piled high. Located in the cool Lakeview neighborhood, flavors like Peanut Butter Chip are playful, but one can't help but think that flavors like Signature Sunset (merlot with dark chocolate chips – rather bland) or Lakeview Barhopper (Dutch cocoa with Jack Daniels – the latter of which which you could barely taste) could have been excellent in the right hands.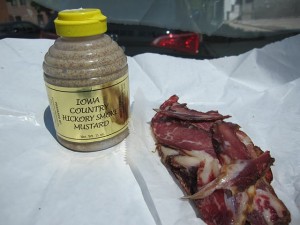 • Paulina Meat Market – Ok, this one pretty much wowed me. Like a bustling, spacious East Coast deli with a clearly Mid-West heart (and hearty portions), this sea of offal, wild game, sausages, turducken and head cheese took me straight to meaty heaven. The house bacon is more fat than meat… and it's divine. Their fresh, tender jerky? Pretty much the best I've ever eaten. I'm dreaming of it now.