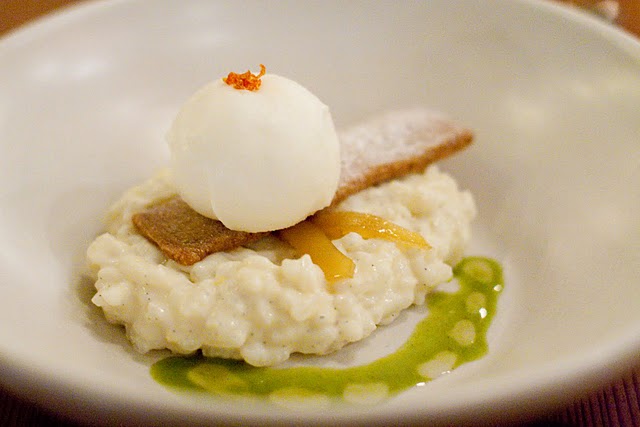 BERKELEY



• Gather – Yes, it's local, sustainable, organic (even the spirits, wine and beer). Though that's happily typical in the Bay Area, I venture to say that Gather, open only since December, already operates like a hardly "typical", fully-realized restaurant. In a large, rounded corner room, the bustling, open space is in full view of the kitchen, a muted showpiece in the center of activity. It's casual, holistic and chic, all at the same time.
Cocktails stand out with organic spirits (like Papagayo rum), without sacrificing craftsmanship and taste. Portions are small but classically so, in the proper sizes cocktails once were served. Greg's Pisco Sour ($10) is served in a champagne flute with Square One cucumber vodka, Marian Farms pisco, lemon, lime, with shaved hibiscus over the top of egg white foam.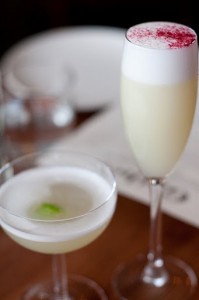 Humo Dulce ($12), 4 Copas tequila, Del Maguey Crema de Mezcal, lime, pineapple gum syrup, captures the proper smokiness of the mezcal and doesn't play it sweet. Wines and beers are local and organic, from Bay Area south to Santa Cruz, north to Wine Country and Mendocino.
Not your typical grilled squid dish, Monterey Bay Squid ($12), on Forbidden black rice, with aioli, mint, chili, bacon, is a sumptuous small plate with layers and warmth. All I can say is "wow" for 28-month House-Cured Ham ($13) with grilled Castelfranco, marinated crescenza, cardoon-walnut salsa. The crescenza cheese is warm and melting over a delightful, thinly sliced ham, prosciutto-like, ribboned with fat. One of the best dishes here.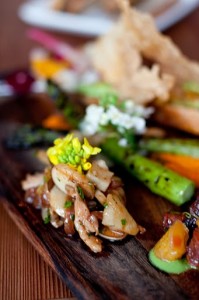 The piece de resistance is Vegan "Charcuterie" ($14)… and this comes from a decidedly non-vegetarian. As soon as this artwork array of vegetables come out on a wood slab, you know you're about to experience something unique. If only veggies were always this flavor-packed, we'd eat them without complaint. Completely worth the price for a vegetable extravaganza. On the platter was:
– Heirloom carrots, green garlic confit, mint, English pea-tarragon puree
– Grilled asparagus, almond-pepper puree, Spanish red spring garlic, "aioli"
– Roasted sunchokes, Rub Red crescent potatoes, fried onion cabernet vinaigrette, oyster mushrooms
– Roasted baby beets, shaved fennel, dill, blood orange, horseradish almond puree, pistachio
– Fried tofu skin bruschetta, avocado, spicy baby fennel escabeche.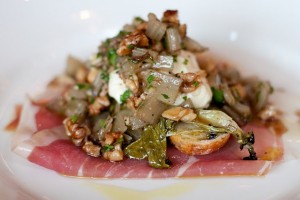 Those of us who eat for a living can get burnt out on the pizza insanity of recent years… that is, until we have another great one. I did not come here for pizza but as soon as I saw one, I had to order it. Puffy crust bubbles up in charred mounds filled with doughy bread and the house Sausage Pizza ($17) did not disappoint, laden with spring onion salsa, oregano, corno di capra (sweet peppers). A Petrale Sole special ($22) was a flaky, grilled fish with greens and lemon, rustically presented. It's always work picking out little bones but the dish recalled whole fish I've had in Switzerland, fresh from the lakes.
With little room left for dessert, I still managed to bask in the light cream of Citrus Rice Pudding ($7.50) with uber-tart Meyer lemon frozen yogurt and cinnamon-dusted graham shortbread. This early on, I project that Gather is not only one of the East Bay's best new openings but already one of its best restaurants.
OAKLAND
• Hibiscus is one of those chic Uptown newcomers with rustic walls and homey notes mixed with modern sensibilities serving "upscale" Caribbean food. I absolutely love the space, especially the charming bar area, which looks pretty different from the spacious dining room. It's inviting, as is the sweet staff. I want to be crazy about the food, too, and I think it shows great promise. The restaurant is still in its early weeks of opening and should become more even over time. For now, ingredients are of high quality, even as some dishes stand out more than others. Exec Chef Sarah Kirnon plays with a range of culinary influences from Trinidad to the Congo. Jerk Cornish Hen ($10.25) is prepared Maroon-style (Jamaican), with luscious coconut-braised Sea Island peas and Red Fresno salsa. This was my favorite dish.
Super spicy Crab & Grits ($9) turns the traditional Southern dish on its head with Caribbean spices, peppers and plenty of heat. Saltfish & Ackee ($8.75), the national dish of Jamaica, comes with sweet plantains, contrasting with salty cod and heat intensity of garlic oil. Split-Pea Fritters ($7.50) with tamarind sauce weren't as flavorful or texturally interesting as I'd hoped.
A simple Parish Punch ($7) is a mix of El Dorado Rum and house Ginger Limeade, initially a bit sweet, but once the salty heat of the meal kicks in, a refreshing soother. With ingredients and animals sourced locally and sustainably, not to mention the welcome pleasure of something different, this place has the potential of becoming another downtown Oakland gem.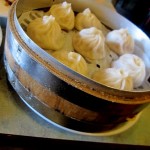 SOUTH SAN FRANCISCO



• South San Francisco's Xiao Long Bao Kitchen makes some mean xiao long bao (Shanghai soup dumplings). They're downright addictive and among the better I've had locally, warm broth oozing over ground pork and chewy dumpling wrapper. $6.95 for eight good-sized dumplings is a deal. If you order one giant one, good luck trying to eat it.