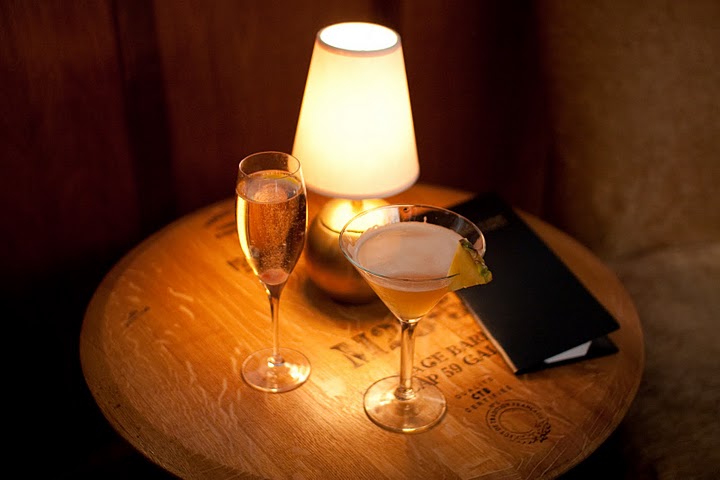 SPIRITS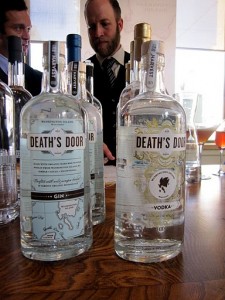 • Classic & Vintage Roadshow rolled into SF the first week of March with an industry tasting lunch at Nopa on March 3. This was an ideal tasting event as there were a handful of small batch vendors of highest quality. No wading through a sea of mediocrity to find a gem or two. This was a a selection of hand-picked, boutique distillers offering superb product.
There's the awesome Bitter Truth, a dynamic German duo (Stephan Berg and Alexander Hauck) making some of the best bitters in existence. Not only are they the only ones making Celery Bitters, their brand new Creole Bitters, a tribute to classic New Orleans-style bitters, is beautifully labeled with spice, floral and cardamom notes. They take it into the stratosphere with Jerry Thomas Bitters in tribute to the bartender who exemplified the craft in full form back in the 1800's. Tweaked from the Professor's own recipe, these bitters taste good on their own, punching bitter, spiced and fruity notes hard.
I'm quite taken with Death's Door Spirits, a small batch distiller with impeccable, classic packaging and gracious distiller, Brian Ellison, along with Nick Quiat, at the helm. Reflecting the terroir and ingredients of their Washington Island, WI, locale, their vodka, gorgeous gin and awesome white whiskey are made from organic, local Wisconsin wheat in a way that promotes small scale farming. All three are stand-outs in recent years.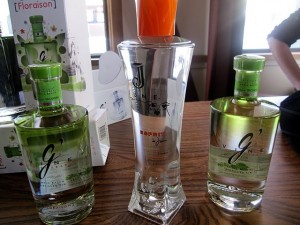 An Italian representative flew out for Averna products, like Citrus Sambuca, a sticky sweet but bold combo of citrus and anise. Cognac, France, was also 'in the house' with lush, floral gins from G'Vine like Florasion (which makes a fab Gin & Tonic, by the way) and the especially lush Nouasion, which tastes lovely all by itself. Fazenda Mae de Ouro Cachaca stood out with its smooth but peppery, citrus notes… an above average, small batch cachaca. I've already happily been exposed to Ransom Old Tom Gin from a small farm in Sheridan, Oregon, thanks to Neyah White at Nopa introducing it to me in his cocktails, but it was nice to taste it straight here. Check out the mention of it in Saveur magazine's current Gin article by expert, Dave Wondrich. Award-winning, unusual Suprema Grappas are a pleasure, particularly the soft Refosco with its seductive, long finish.

• Bushmills Irish Whiskey – March 12 was a dream start to St. Patty's Day week: an industry-only Irish breakfast at Lefty O' Doul's with Bushmills' Master Distiller, Colum Egan. Colum exemplified the charm and ease of an Irish chum walking you through his favorite spirits over breakfast, albiet one who makes what you're drinking. Two hours later, full of corned beef hash and Irish coffees, we'd tasted the entire line from Original and Black Bush whiskeys, to the 10, 16 and 21 year. The 21 year, aged in Oloroso sherry, bourbon-seasoned and Madeira casks, haunted me with raisin notes, spicy malt and smooth dry fruit. My other favorite was the 1608 Anniversary Edition, layered with sweetness, leather, toasted nuts, dark toffee. As Egan described it, Bushmills is a line meant for casual, friendly drinking… not elitist or froufrou. All this is true, yet the aged whiskeys maintained a smooth elegance that keeps up with some of the better whiskeys out there.
WINE
• Prohibition Speakeasy is the first of its kind up in Wine Country: a speakeasy with clandestine phone booth entrance through a Healdsburg shop selling hand-picked accouterments amidst vintage telephones and film cameras. Delightful owners, Richard and Kae Rosenberg, a retired film producer and runway model/novelist respectively, also own nearby Grape Leaf Inn. Their guest-only, secret cellar at the inn has been so successful, it inspired them to open the speakeasy-style bar, infused with Richard's grandfather's legacy running an actual speakeasy during Prohibition.
Though I long for Sonoma County to have some fine classic cocktail bars, this won't quite be it as they don't have a hard liquor license. Staying true to wine country, it's wines here, including many small, acclaimed local wineries, like Williams-Selyem, plus a few ales and beers (SF's own Speakeasy ales, naturally).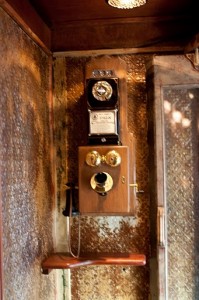 Thankfully, they have some sparkling wine cocktails on the menu to mix things up, with playful names like Bogart Breeze and The Flapper. The decor inside is not as vintage as I anticipated, more a comfortable, modern wine bar with classic touches, like a flat screen playing Cagney films and an actual Tommy Gun displayed behind the bar. Convivial and packed (mostly standing room) only three days into opening, I suspect this will be a big a hit in downtown Healdsburg, especially with the gracious warmth of its owners behind it.
• Disclaimer: this recommend does not fall into fine wines but was an ideal partner to Currywurst and Chicken Cherry sausages ($6 each) from Rosamunde in the Mission. They had a cheap ($5) Napa Marsanne out of a barrel. I expected basic house wine but was surprised with crisp but buttery layers of this white, reminiscent of a Chardonnay. House wine like this, I can do… it actually brought out layers in the Currywurst.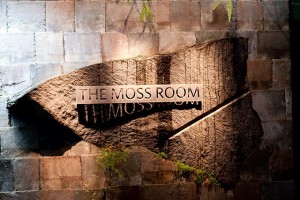 • At a winemaker dinner at The Moss Room, a stunning restaurant with moss-laced wall and fish pond inside the Academy of Sciences, the winemaker (Christian himself) from Domaine Christian Moreau made an appearance, though I wish he had interacted with guests or did a brief talk on his wines. It was a gift having Chablis wines paired with each course, and a happy education comparing the nuances of each as we progressed through a four-course seafood dinner.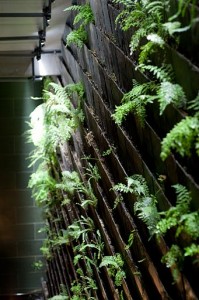 The first 2007 Chablis had an earthy, mushroom crispness that married well with beech mushrooms and Kombu Marinted Ocean Trout. An '07 Chablis 1er Cru "Vaillon" had a creamy tinge to its acidity… ideal with Dungeness Crab Capellini mixed with sea urchin and Meyer lemon. We moved on to a brightly acidic '07 Chablis Grand Cru "Les Clos de Hospices", paired with Baked Sablefish (loved crispy skin and buttery folds of white fish giving way at the touch of my fork), with fava bean shoots, celery root, grapefruit shallot gremolata. Finishing with Cowgirl Creamery's famed "Mt. Tam" cheese, which I've had (and loved) many a time, the natural sweetness of baked apple and walnut levian toast balanced the cheese and an '05 Chablis Grand Cru "Valmur", which smelled distinctly of cheese itself. Though the nose was pungent, its taste was more a buttery mix of citrus and baked pear.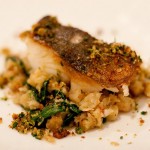 Paired with stunning Chablis and chef Loretta Keller's gratifying, refined food, the Moss Room is a one-of-a-kind setting well worth visiting.