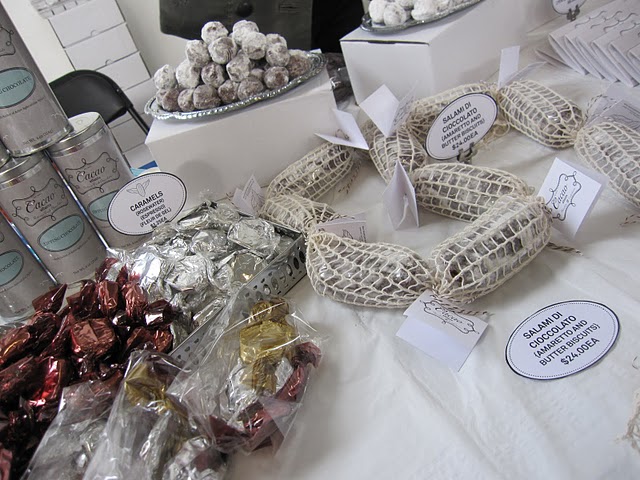 The annual SF Chocolate Salon (held this year on March 20) is a spread-out sea of chocolate purveyors, plus a small few choco spirits, wines, and cheese thrown in for good measure, in massive Fort Mason. There were few new discoveries for me, and some were just plain awful, plus the disorganized will call check-in made for a frustrating start. As my stomach eventually began to protest, I still made it my mission to taste something from every table – specifically products I hadn't tried from chocolatiers I may already be familiar with.
Being one who (nerd-ily) keeps an extensive chocolate spreadsheet with my own ratings over the years, it takes something expertly made or unique to stand out. My local favorites remain tops, including Christine Doerr's Neo Cocoa and the addictive toffee "tiles" of Poco Dolce.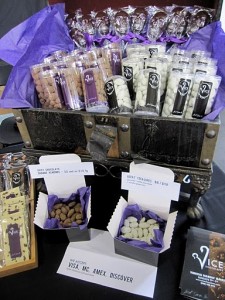 There were a slew of vegan chocolates, which I must be honest, I always find at the bottom in terms of taste: anything that sacrifices taste is a mark against for me. Chocoveda, at Fancy Food last month, is the only chocolate I've personally tasted that didn't fall far below 'regular' chocolate.
Highlights:
Socola Chocolatier – I was about to tell you prior to this event about this new Oakland chocolatier, started by two charming Vietnamese sisters, whose truffles I bought last month at Bi-Rite. Trying their range of Western and Eastern truffles at the Chocolate Salon helped round out my recommends. Playful flavors and names appeal, but some work better than others (beer taste is too subtle in Guinness, for example). Le Frog is really Laphroig and it's peaty, earthy, just like the scotch. Give it to Me Guava and Jasmine Tea stand out. But the winner for me is Notorious H.O.G. (both in name and taste): the crunch of applewood-smoked bacon with Hawaiian sea salt makes a superb truffle marriage of the now common chocolate and bacon.
Vice Chocolates – I've written about Vice before, and this one woman chocolate business remains among the best here. I was taken in by her new Vixen truffle. Though I've had my beloved passion fruit in many a truffle, the twist here is it's spiced way up with chili pepper. The other highlight? Subtle White Choco-dusted Matcha Almonds and especially addictive Spicy Orange Dark Chocolate-dusted Almonds, which I can't stop eating at home.
Amano Chocolates – For pure, straight-up chocolate, Amano aims high, as its sweep of the salon's awards show. Premium dark bars have complex notes and cocoa beans sourced from various countries.
William Dean Chocolates – Though I loved their truffle flavor profiles, not all tasted as good as they sounded. What blew me away is their toothsome Pate de Fruit, particularly the Caribbean Cocktail blend of guava, coconut, etc… a whiff of the islands pulsing through lush gelee.
Edible Love – Their flashy Moulin Rouge/bordello presentation stands out, if in a theatrical, Berkeley-boho sort of way. What I particular appreciate is Absinthe Truffles, heavy on the absinthe.
Kika's Treats – Kika's has long been a local hit. I've always enjoyed their caramelized graham crackers and Brazilian honeycakes. At this event, I was delighted to try a new product: their caramels are more of the old school chewy/sticky kind, rather than velvety/silky sort, but Dark Chocolate Palm Sugar Pecan Caramel is delectable as a nutty, crunchy confection on its own.
Clarine's Florentines – This is winning crispy, buttery Almond Brittle on bittersweet chocolate from Berkeley.
AF2 Fudge – Unlike the heavy, milk-chocolatey fudge of our American youth, this refined dark fudge is light but rich. The one I liked is Espresso Fudge, bitter and laced with espresso beans (Grand Marnier was too sweet for me).