Back to Chicago… neighborhood by neighborhood, in a multi-part series, I've been covering some haunts during my last visit. Here's my three previous columns on Chi-town.
NORTHWEST SIDE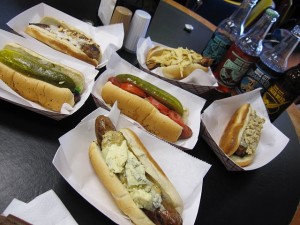 Hot Doug's – So much has already been said about this fairly recent addition to the Chicago dog landscape. I thankfully got to try about 8 dogs here and they were all awesome, though specials change regularly. And they can be wild. Even if you don't want foie gras on your dog (I did: Foie Gras/Sauternes Duck Sausage is topped with foie gras mousse, truffle aioli, fleur de sel – $9), there's something for literally everyone. I'm itching to try a new addition to the menu: Jack Daniels/Fennel-smoked Pork Sausage with roasted yellow pepper anchovy sauce, hickory-smoked sweet Swiss cheese – $7.50).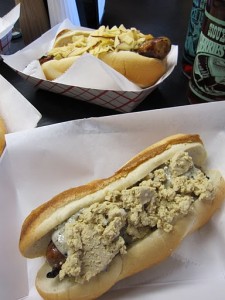 These are goopy, loaded, all-American dogs, not gourmet chi-chi or even European-style sausages, despite some of the ingredients. Whether going international (Spicy Thai Chicken Sausage with Sriracha mustard/seaweed-sesame salad – $7.50), humorous (The Salma Hayek – $4, a "mighty, mighty, mighty hot!" Andouille Sausage, formerly the Madonna, the Raquel Welch, the Ann-Margret…),or straight-up traditional (The Dog – $1.75), the price is reasonable and Doug himself, a welcoming guy… cheerfully patient with the crowds swarming his place.
Hot Doug's exemplifies what Chicago's about. Oh, be aware that by 11:30am, even on a weekday, you'll already be waiting at least 30 minutes to get in. Good thing I made friends with locals in line. And it's much further out than you think it's going to be, nowhere near the El. Take a cab or drive.
LINCOLN SQUARE
Nhu Lan Bakery – One of the better Bahn Mi's ($3.25) I've had comes in house-baked French rolls (it was a pleasure watching them brush butter over rolls as they slid them into the oven) at this non-descript hole-in-the-wall (note: that charming, European-looking structure on their website is NOT their building!) I took the El way north to the Lincoln Square area solely for the purpose of trying these babies which intrigued me from a mention in Time Out Chicago. The area is more suburban-looking, with lawns for everyone. And the area is lucky to have such a tasty, cheap meal.
ANDERSONVILLE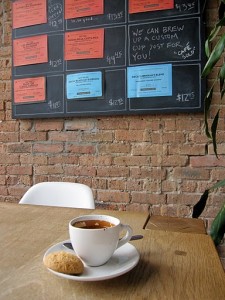 Ann Sather's famed cinnamon rolls disappoint me, lard-heavy and what exemplified incredible baked goods in the 1970's but don't hold up quite as well now… but Andersonville is one of my favorite Chicago 'hoods. With a Swedish and Norwegian spirit, the family vibe and charming, cafe and shop-lined street recalls my longtime home of Noe Valley here in SF. But there's other influences present, characterized in humble spots like Middle East Bakery & Grocery with tasty warm, mini pies (tried Spinach & Feta and Artichoke & Syrian Cheese – $1.75).
• The Coffee Studio – Probably the best cup of coffee I've had in Chicago, it's Intelligentsia Coffee, which I've had prepared well numerous places both in its native Chicago and LA. Coffee Studio does their espressos right with a knock-you-over strength and fine crema on top. It's housed in a modern, brick-walled storefront next to charming antique and vintage decor shops.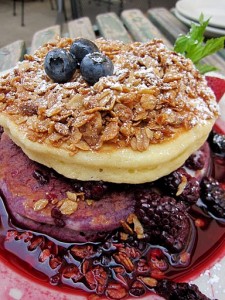 • m. henry – This place is darling, if there ever was a proper time to use the word: an old country storefront modernized with 'shabby chic' white wood pieces and gold, lower-case lettering. The back patio is funky, playful and welcoming. The food, however, despite raves as best brunch spot in many circles, is just alright.
It's definitely a good brunch but upon ordering uber-popular Blackberry Bliss Cakes ($8.95), I suffered sugar-overload from drenched hotcakes in blackberry syrup and vanilla mascarpone cream. I wanted more of that brown sugar oat crust and less of the sopping mess my bottom pancake turned out to be (as my photo clearly displays). Jorge's Black Bean Cakes & Eggs ($8.75) are decent, with chipotle sour cream, but not particularly memorable. It's all about the setting.
BUCKTOWN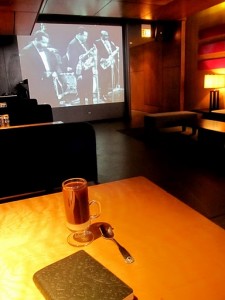 I stayed in a friend's incredible loft right in the heart of trendy, hip Bucktown, a mere two blocks from Violet Hour. Disappointment came with mediocre sushi at Coast, and at Rodan, an Asian bistro/bar that intrigued with a brunch menu offering the likes of beignets with Vietnamese coffee (the first bland, the latter lukewarm, too sweet, inauthentic). What I did love at Rodan, however, was a big screen on the back wall playing jazz/big band "music videos" – nice to chill to Ellington as you're waking up. Too bad the food doesn't keep up. Sultan's Market was an affordable little falafel shop and Middle Eastern deli in the 'hood. Here were my favorites in Bucktown:
• Violet Hour – The majority of cocktail raves in the city of Chicago center around this refined but youthful bar (refined but for weekend crowds descending rowdy and obnoxious from Illinois or Wisconsin suburbs). It certainly ushered Chicago into the artisanal, classic cocktail realm, though bars like this exist by the dozens in NY or even SF. I find fewer in Chicago of this caliber.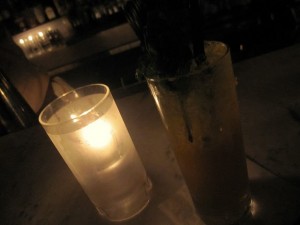 I visited Violet Hour a couple times (love the name, from a dreamy Bernard DeVoto quote found prominently on their home page). The first was a Friday night with annoyingly long wait, a doorman who let a group of shouting girls who looked about 18 and seemed wasted already, enter ahead of a long line of patient twosomes. Not was I was hoping for at supposedly a classy, cocktailians hang-out. Had it become too popular for its own good? Yes, is one answer to that question. Once we finally entered the graffiti-ed, signless door, we enjoyed our cocktails but Violet Hour fell well below my favorite Chi-town cocktail haven, The Drawing Room.
Thankfully I returned to Violet Hour, for a quiet couple hours at the bar on a Sunday at 5pm. What a difference! I made friends with those sitting next to me, fellow lovers of good food, drink, cities and unexpectedly, literature and poetry. I savored stimulating conversation paired with excellent drink and service… Stephen Cole was a top-notch bartender.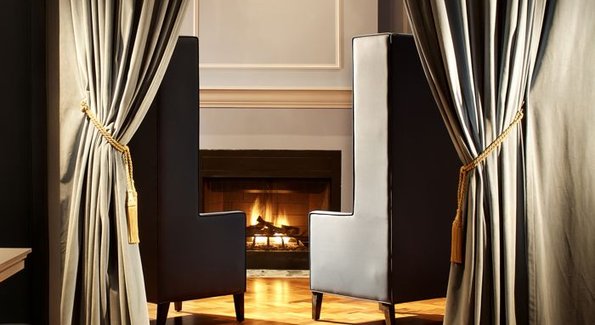 Generally around $12, my first visit entailed Zarzamora, Wild Turkey 101, Fernet, blackberries, house orange bitters, and Hush & Wonder, a refreshing blast of Matusalem rum, lime, Creme de Violette, grapefruit. It was better the second time around when I let the bartender choose. My favorite was a layered but unfussy mix of Green Chartreuse, Peychaud, Angostura, lemon, lime, pineapple, Velvet Falernum, fresh mint – herbaceous, grassy, fresh. In tribute to my home, he served a Manhattan with Fernet (SF has long been the highest consumer of this bitter Italian digestif), Carpano, Luxardo cherries.
After this visit, I could warrant the fuss more. It's still not my favorite bar in the country by any means, but I'm glad I got to experience the skill of its bartenders and the savvy of its regulars. Just go early…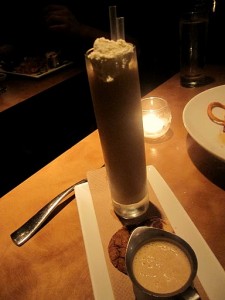 • Hot Chocolate – I went for a decadent three-course dessert one night and fell in love. The place is bustling, youthful, but noisy and crowded for my tastes. All was forgotten when I took my first bite of a Dark Chocolate Souffle Tart ($11) with salted caramel ice cream and pretzels. Salty/sweet perfection. Try to finish a sensual, lush dark Hot Chocolate ($6 – with a hint of caramel, or available in white or milk chocolate, with espresso, Mexican chocolate style or over ice – something for everyone!)
A Stout Caramel Milkshake ($6) with cookies mixed the malty taste of stout with ever-present caramel. Divine decadence all around. You'll see why owner, Mindy Segal, has won multiple Outstanding Pastry Chef nominations at the James Beard Awards.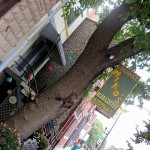 • Miko's Italian Ice – This guy rocks, sitting alone at a humble little window off a tree-lined street, scooping up ice flavors of the day.
I visited three of Chicago's popular Italian ice spots this last trip but Miko's was by far my favorite.
A tart, simple Lemon reminds me of East Coast Italian ices and Banana with Chocolate Chips is just fun.