OAKLAND
Encuentro – One of three owners behind this new-ish Oakland vegetarian is Millennium exec chef, Eric Tucker, long a standard-maker in vegetarian cuisine. The food here is inventive, even if portions are tiny.
Just a few blocks off Jack London Square, the high-ceilinged space is modern and airy, though a little stiff (as is service, in some ways), but the setting highlights bright dishes like Panzanella Salad ($9) with roasted celery root, beets, Gorgonzola, pine nuts, winter greens and crispy bread cubes.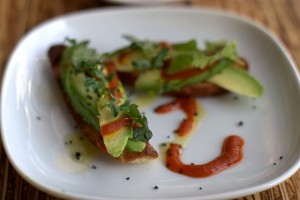 A mere whiff of a bite, there's two pieces of Bruschetta ($5) available with different toppings. I was won over by Avocado, Cilantro, Black Salt & Olive Oil Bruschetta with an addictive chili jam.
Just added to the menu that day, I found Maple Mustard-glazed Tempeh "Bacon" Sandwich ($9) surprisingly comforting: warm, on the softest of wheat rolls. For one skeptical of fake "meat" substitutions (there just is no substitution for the real thing), this didn't taste anything like bacon but was a worthy sandwich nonetheless. Stuffed Prunes ($4), with either goat cheese or macadamia nut pate, were good but didn't stand out as much as other dishes.
A highlight was a Rich Truffled Mushroom Pecan Pate ($11). The portion is delicate (read: small), but mini crostinis, grain mustard, sweet prune jam, and caper berries accented a lush pate that was almost smoother and more crowd-pleasing than some meat pates I've tasted. This dish showcases what is special about Encuentro that you can't find elsewhere.
An interesting wine pairing came in the form of a toasty, crisp Irish Monkey Chardonnay ($7 a glass), made in Davis, CA, of all places, with tasting room/offices in Oakland.
 
SOUTH BAY
Cafe Gibraltar – After a day of poetry and walks on the beach in Pescadero and Half Moon Bay, dinner at Gibraltar is a relaxing finish, idyllically perched with ocean view and breezy, Mediterranean menu. Service is effusive, even if there was an awfully complex pile-up and wait getting a number of tables seated at the front door.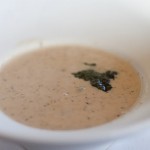 The space and crowd feel a tad suburban, but Moroccan tables on the far wall with pillows, floor seating and separate curtains, add a little intrigue to the dining room. The fresh, pleasing food is served in larger portions than expected, so order accordingly. Even with "light" crudo and seafood dishes, I was stuffed and would have ordered less if I'd known.
Bisque de Crevettes ($9) is a creamy, rich shrimp bisque seasoned with apples, sweet onions, dill and white wine. The shrimp nearly melt with tenderness and dill plays a dominant role. Ahi Tuna Crudo ($15) was generously portioned: a row of delicate, flash-seared ahi with an avocado salad that was too heavily drenched in a lime/ginger/habanero dressing.
Fairing better is Ahtapot Salata ($16), a Turkish beauty of a dish with plump octopus and calamari, grilled, then sautéed with chile, garlic, herbs and lemon, mixed with red onion, tomatoes, watercress. I tasted harissa-like spices and marveled at the meaty heft of the seafood. On the Moroccan front, they cook a lovely Tajin B'il Hut ($24), served in a proper tajine, with large cuts of Hawaiian blue snapper baked in a wood oven with olives, potatoes, baby onions, preserved lemons and tomatoes (I didn't taste the lemons). Atop couscous and in a chermoula broth, it's one of the great tajine dishes in the Bay Area.
With a nice wine list offering a number of zippy Portuguese or Alsace whites to accompany all that seafood, I left satisfied, though maybe not as impressed as years of raves about this place led me to believe… at least until I ate warm house bread dipped in sweet, aged basalmic and olive oil.