(From my print article in the Spring SCENE issue of the SF Bay Guardian): These two new bars debuted at the end of May, quietly ushering in what I hope might be a new "trend": mellow, sophisticated bars creating expertly-crafted cocktails, both classic and contemporary… without attitude, exclusivity, and, dare I say it (?), mobs of douchey crowds turning an otherwise fabulous bar into a place to be avoided unless it's 5pm on a Tuesday (and sometimes even then). I want to see these bars thrive but hope they won't lose that wonderfully executed vision they've begun with as places where community happens lingering peacefully over fine drink.
BURRITT ROOM, Downtown/Union Square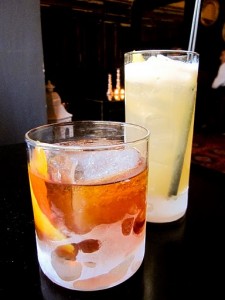 If I could imagine a dream "speakeasy", it would be one tucked away from the masses (maybe in the second floor of a hotel), rich with atmosphere (brick walls, chandeliers, a piano, black and red accents on velvet stools, couches, pillows), a reasonably-sized menu (say, 18 rotating cocktails?) of classics and inventive new drinks, classic jazz floating softly from the speakers, and a complete lack of pretension or "sceney" obnoxiousness. Enter Burritt Room, which quietly opened upstairs in the Crescent Hotel in the shadow of the Stockton Tunnel.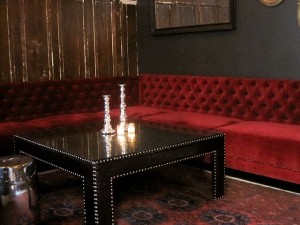 Master bartender behind Burritt is Kevin Diedrich, whose experience ranges from East (PDT and Clover Club) to West (Clock Bar and Bourbon & Branch). He sets the welcoming tone, devoid of snobbery, appealing to cocktail aficionados and those who want a classy, mellow place to sip a beer alike. There's other fine bartenders on board here, like Kelli Bratvold (Bourbon & Branch, Rickhouse). You might want to ask for Bratvold and Diedrich's off-menu creation, Black Rose, an unusual mix of Bols Genever and Junipero Gin with Creme de Yvette, rose water, blackberry simple syrup, splash of Maraschino liqueur and a rose/pepper tincture (most cocktails $10).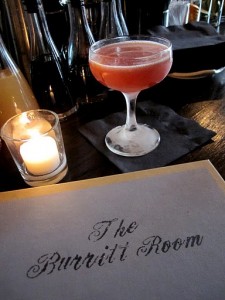 Pull up to the bar or get cozy on a red couch with a layered Evening Shade: cognac, Grand Marnier, lemon, orgeat, peach bitters. I'm impressed with the seemingly light (but it sneaks up on you), refreshing Hitachino Sour: bourbon, orange marmalade, lemon, sugar, orange bitters, topped with Hitachino White beer. A Champagne Julep comes beautifully frosty in a proper julep cup, bourbon intriguingly switched out for sparkling wine and cognac. I will always prefer a traditional julep, but this is a pleasing change of pace.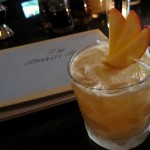 A spirituous, boozy Kentucky Stinger has a hefty hunk of Kold Draft ice allowing the punch of rye and cognac to stay strong, the drink accented with Amaro, dashes of Angostura and chocolate bitters, and a creme de menthe rinse apparent on the minty finish. End an evening here with the awesome Smoked Peach (scotch, sherry, lemon, muddled peaches) and just try not to fall in love with this place.
COMSTOCK SALOON, North Beach
Comstock Saloon is truly a beautiful space in a 1907 building on the Barbary Coast trail restored to the glories of its past with antique mahogany bar, Victorian furniture, wood-burning stove (faux, though it may be), upright piano and the bar's original spittoon. Jeff Hollinger (author of The Art of the Bar) and Jonny Raglin both came from Absinthe, bringing a mastery of cocktail classics to their own bar. Here you'll find straight-up classics, the kind found in pages of The Savoy Cocktail Book or Charles H. Baker's Gentleman's Companion, the latter displayed (first edition) in glassed-in shelves lining the wall, along with other historical cocktail memorabilia… a mini-Museum of the American Cocktail, if you will.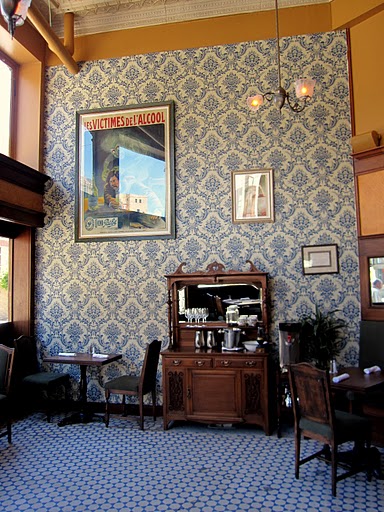 Besides making perfected Sazeracs and South Side cocktails, they've honed other lesser known classics, like a Hop Toad, with Jamaican rum, apricot brandy, lime and bitters ($8-12 for cocktails). Though Comstock, like Burritt Room, is an ideal place for lingering on plush Victorian couches, or in wood booths, it is also much more than bar.
It's a restaurant with full menu, offering lunch and dinner, from Chef Carlo Espinas, formerly of Piccino Cafe. At first glance, a Beef Shank with Bone Marrow Pot Pie ($17.50) may look like a store-bought pot pie, but just sink your fork into flaky crust with a meaty, heartwarming interior and you'll taste the love.
I also adore tender Potted Pork ($12) with a side of country ham, mustard, veggies and warm bread to spread it on.
A welcome addition to North Beach, this comfortable saloon is also a loving tribute to turn-of-the-century SF history and cocktails popular back in our wild Barbary Coast days.