My May New York adventures brought me to some of the city's newer treasures I've been desiring to partake in… a couple of them literally just opened weeks before, others open about a year.
Brand New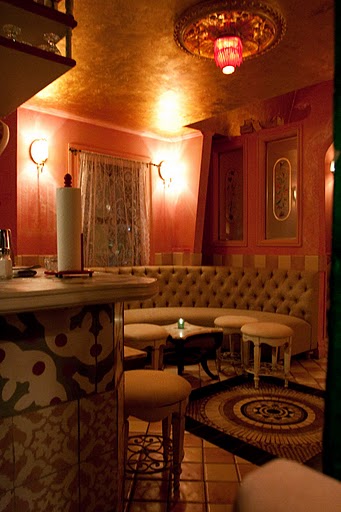 CIENFUEGOS (upstairs through Carteles sandwich shop), East Village – Open barely a month when I visited, this intriguing new rum bar is through a Cuban sandwich shop just a couple doors down from Death & Co. (and same owners).
A rum-centric bar with punch bowls, varying sizes of cocktails and rum shots, what immediately converts here, after a walk through the humble sandwich shop and up a set of stairs, is the magical wonderland interior. I'm not a pink girl, in fact it is my most loathed color, only palatable when paired with something to give it heft, like black or brown. But here, pink entices, teases, even charms. There's yellows, soft greens, white, a pastel profile I would normally hate, but here becomes a glowing explosion of color.
It plays like old world Havana meets Alice in Wonderland. You have fallen down a candyland rabbit hole and awaiting you are vibrantly fresh cocktails and bowls of rum punch, served in both the restaurant (will have to try next time) and bar area.
I adore their little cardboard-bound menu with old-fashioned drawings and a mix of classics, punches and modern creations. Initial intrigues? The Vesperone ($15) wowed by mixing Zacapa rum with rye whiskey, Green Chartreuse, agave nectar, blackberries and sage leaves. Musky and bright. Rosa Verde ($14) is a salad in a cocktail. I slurped down arugula leaves from a bright, pink glass of Flor de Cana rum, watermelon juice, celery bitters, lime, arugula-infused simple syrup and pink peppercorn.
LA BIBLIOTECA, East 40's/Midtown East – Again, this just opened a couple weeks before I arrived in the basement of a new restaurant, Zengo. I'd go to Mayahuel (below) for the best tequila cocktails in NY and a hip, festive atmosphere, but La Bibilioteca offers tastings of over 400 tequilas, NY's biggest selection yet, in an expansive underground lair.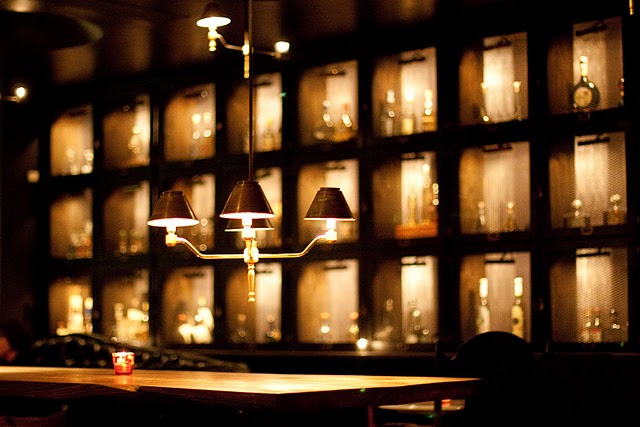 La Bibilioteca is a tequila storage library (similar to, but larger than, SF's Taverna Aventine) in a subterranean lounge where you are leisurely educated with tequila flights or your server's suggested tastings. The night I visited, a tequila brand ambassador was giving a tasting, offering further opportunities to educate New Yorkers, who, it was apparent, have barely scratched the surface of the tequila world.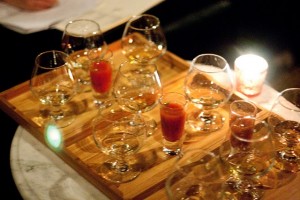 Thankfully, this place is attempting to narrow that gap. Servers are still in the process of beginning to try all they offer, so you may want to do some research ahead of time and go ready to ask for tequilas you would like to taste (for example, I noticed the Del Maguey line sitting in one cabinet – a fine place to start for mezcals).
But it doesn't have to be complicated. Their servers are friendly and willing to offer guidance, while the menu offers flights with varying themes. I appreciate the Barrel Aging Tasting ($16) theme, three tequilas aged in different barrels: Don Julio Reposado, the best of the three and one I'm already a fan of (bourbon barrel), Riazul Anejo, with vanilla and caramel notes (cognac barrel), and the interesting, but not necessarily winning, Asombroso Reposado (wine barrel). There's Anejo flights (mine had Don Julio, Casa Noble, Patron), brand flights where you try reposados through extra anjeos of one particular brand, and so on.
I sipped palate-cleansing shots of their bright tomato sangrita, and best of all, their house Horchata Blanco using Jose Cuervo traditional. Creamy and lush.
Sink back into black couches lining the large room (with touches of red), order guacamole and chips, and get schooled on tequila, New York.
2009 Openings
RAINES LAW ROOM, Flatiron – Opened in early 2009, there is a whiff of pretension when one locates an unmarked door and hipster doorman (a new guy on his first day). But there is no pretension within. In fact, this is now one of my favorite bars in NY.
The bartenders and staff are relaxed, knowledgeable, willing to explain stories and ingredients behind their recipes. Linger in the brick-walled, elegant main room, on black leather couches, cozy chairs next to the fireplace, pulling little wall buzzers signaling you are ready to order. This is an elegant, Prohibition-era den evoking a wealthy but approachable friend's living room.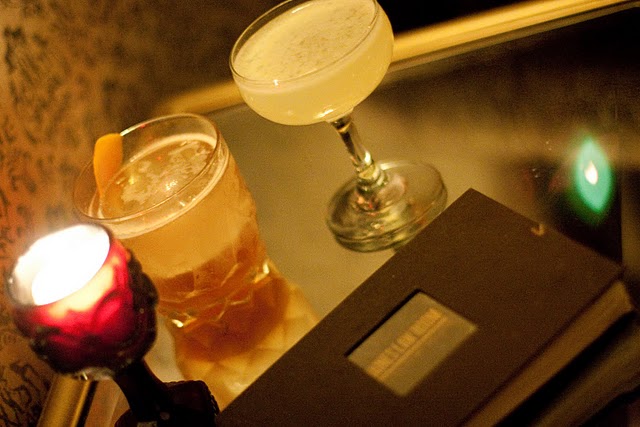 Head back to The Kitchen where, under pressed tin ceiling and atop a marble butcher block countertop, mixologists concoct drinks as you interact with them.
Most enchanting is the back garden, where herbs used in their drinks are grown. On a warm May evening, candles flickered in Moroccan lamps, lounge chairs inviting me to recline and take in the night air. The garden was refreshingly empty on an early weekend night. An idyllic respite.
The menu runs the gamut from classics (Negronis, Old Cubans), to seasonal (utilizing herbs and produce), to signature house drinks (all $13). There's even a "Fancy Cocktail" section with elaborate drinks from $16-23.
My visit included a boozy but smooth special of the day, Alice's Evidence with Asyla scotch, lemon, lime, simple syrup with absinthe rinse, and a signature Harold & Maude: Johnnie Walker Black, Zacapa 23, lemon, rose & lavender syrup, aromatic bitters, shaken and served down. Beauties, all.
Their former doorman is a chocolatier and after expressing interest in his chocolates (listed in the menu; available by the box), our server brought us a couple to sample. Chocolate Meurens are creamy, Belgian-style truffles in flavors like Aztec (cinnamon, cloves, cayenne, anise, orange flower water) and Early Century (absinthe and Grand Marnier).
MAYAHUEL, East Village – Tequila doesn't flow on the East Coast like it does in California. In fact, our bartender at Mayahuel talked about the difficulty accessing tequilas we are easily able to procure in Cali. But that's where Mayahuel, from the crew behind Death & Co., steps in.
I'd been eager to visit since I first heard about it's opening last Spring. The tequila selection is comprehensive with the likes of Del Maguey and Fortaleza stocking the shelves. The mezcal selection is excellent, bartenders are informed and passionate about spreading the tequila gospel, and the space is a charming, half-underground Mexican bordello with shiny tiles, wrought iron, snug booths, and loads of citrus and herbs lining the bar. If this was in my 'hood, I'd be a regular.
It made me reflect on the tequila bars we have at home, and though there is no tequila selection to match Tommy's, I wish we also had a spot like this: tequila in an subterranean, cozy, hip space with top notch cocktails (SF's Cantina has a superb tequila and South American spirits cocktail menu but the decor is not Mexican, which, gimmicky or not, I love about Mayahuel).
I didn't eat here, but they have a fun menu of good-looking food. If you're not sampling straight tequila, there are a slew of fine tequila cocktails. I particularly liked the balanced heat in Herb Alpert ($14 – love the musician's moniker): El Jimador Blanco infused with jalapeno, mezcal, fresh oregano, lime, and enjoyed a layered Slynx ($13): reposado, bonded applejack, pear & whiskey barrel bitters with a mezcal rinse.