**Photos thanks to Susannah Chen of YumSugar (www.yumsugar.com)**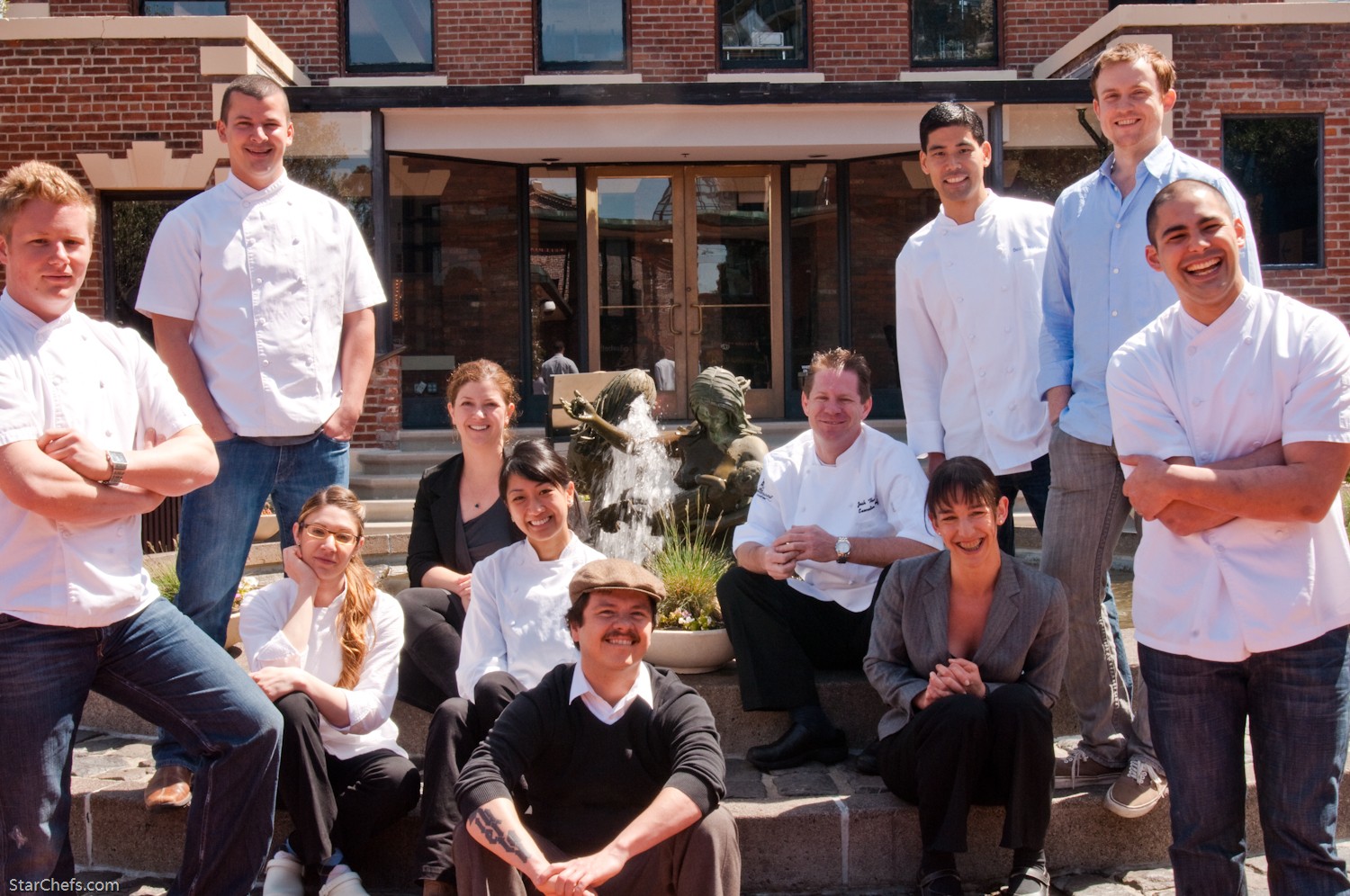 Ghirardelli Square minus the tourists. A warm early Summer evening. VIP hour overlooking the Bay on a patio replete with fireplace, lounge chairs, champagne, Petrossian white sturgeon caviar on chips with creme fraiche and onion relish. Chefs, mixologists, sommeliers, industry folk, food and drink writers milling about. Not too crowded, well laid out, festive. Awarding some of the brightest in the industry. Sunset, then the radiance of the moon over the Square (plus heat lamps!)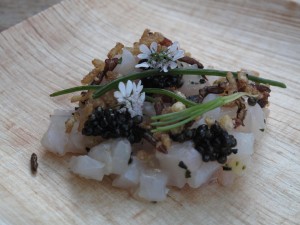 This was San Francisco's StarChefs Rising Stars Revue, the culinary insider magazine's annual awards for cutting edge creativity held in major US cities. Oh, and did I mention impeccable food? Not a bad bite in the house when StarChefs winners are serving the food, drinks and wine pairings.
Out of a 100% delicious menu, I'm hard pressed to pick favorites, but if I must (list of all winners here)…
Scott Nishiyama (Chez TJ) pulled out all the stops by shaving ice cold Moulard Duck Foie Gras "Neige" over blackberry, cashew puree, sunchoke salad and mustard toast. Wow. Who knew foie gras could be so brilliant ice cold, in a generous, melting pile of soft shavings? No surprise he won best dish of the night by event attendees.
I was also impressed with Matthew Accarrino's (SPQR) silky, panna cotta-like Bone Marrow Sformatino, enlivened with shaved horseradish, awesome smoked bacon and caramelized ciopollini onions. Kudos for A16/SPQR's Shelley Lindgren's (Restaurateur winner) bite: impeccably fresh, silky Sardines on minted pea bruschetta.
Did I say how difficult it was to mention just one or two? Every other dish, including desserts, were winners (not easy to do – believe me, I attend a lot of food events), truly highlighting why this group was awarded as some of the best in the Bay Area.
Two of my favorite guys behind a bar, Brian MacGregor of Jardiniere and Erick Castro of Rickhouse, were deservedly mixologist winners. MacGregor served a delicate (but with punch) Tippler's Delight with Slivovitz (plum brandy), St. Germain, lemon and a dash of absinthe. Castro offered up a rousing bowl of Lusty Maritime Punch: Highland Park 12-yr scotch, yellow Chartreuse, lemon, ginger puree, simple syrup, sparkling water, ginger beer, Angostura bitters. Highland Park, one of my favorite scotches (read about my once-in-a-lifetime HP tasting from March), had its brand ambassador, Martin Daraz, in SF for the event and they were keeping us happy with 18-year scotch.
My taste buds and stomach thank you, all. This event hints at the talent that flavors our city. One of the things that makes every day here a joy and an adventure.