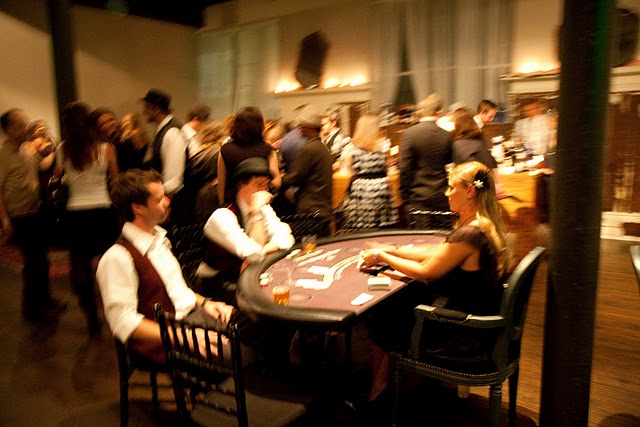 Magical settings, moments and drinks were many in the 4th annual SF Cocktail Week which set the bar high for all future Cocktail Weeks… consider attending next year as its far from being just for drink aficionados. It's for those who love a memorable party done in true San Francisco style.
I have watched it grow from intimate nights out at bars in prior years to this year's galas and ferry rides. Camaraderie was strong and I couldn't help but think that though there were even grander galas at major cocktail weeks like Tales of the Cocktail or Manhattan Cocktail Classic, the quality of the settings and drinks I had every night at SF Cocktail Week were far superior to most everything I tasted at either of those two events. SF, once again, does drink proud.
9/21 – Inauguration of Boothby Center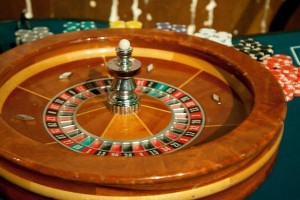 SF now has a cocktail center to call its own: the "Cocktail Bill" Boothby Center for the Beverage Arts, which debuted opening night of Cocktail Week, named after SF bartending legend Cocktail Bill Boothby.
A multi-use space, it will be community center, beverage lab, and event space, preserving the art and history of the cocktail. The Barbary Coast Conservancy of the American Cocktail (BCCAC), headed up by H. Joseph Ehrmann (Elixir), Jeff Hollinger (Comstock Saloon), Duggan McDonnell (Cantina), calls it home base.
Opening night was a raucous toast to the still raw space with, what else? Classic cocktails, including the week's official drink, a Papa Ghirardelli.
9/23 – Ragtag Rabble Gaming Soiree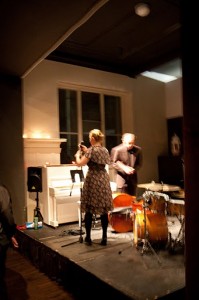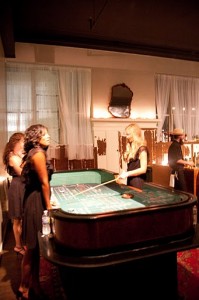 The back room of one of my favorite bars, Burritt Room, was transformed into a turn-of-the-century, Barbary Coast-era saloon/parlor with craps, blackjack, roulette and poker (sans real money), and a beautiful menu of classic cocktails prepared with skillful care, from The Last Word to a Boulevardier with scotch.
A jazz quartet (with talented female vocalist) set the mood, transporting me to another time, as did the decked-out crowd who filled but did not overcrowd the room with bowler hats, suspenders, boas, saloon or retro attire. It was a swank affair that carried on late into the night with an after-party at Comstock Saloon.
9/25 – Cocktail Carnival Gala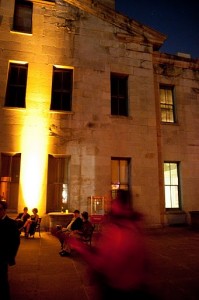 The event of the week, Cocktail Carnival Gala in the stunning, historic Old Mint, was a brilliant night. I only wish even more people filled (not overcrowded) the spacious mansion we were given free reign in.
This was a one-of-a-kind night I'd plan towards next year. The Barbary Coast-Era carnival theme included roving minstrels, talented musicians, contortionists, man-on-stilts, jugglers and acrobats, roving among us through each high-ceilinged room as we sipped punches from antique punch bowls.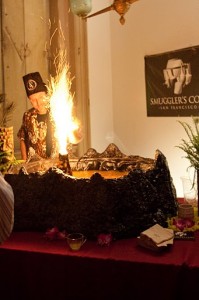 Leave it to Martin Cate from Smuggler's Cove to wow us with a 40-gallon rum punch bowl with flaming volcano shooting out of a sea of spiced punch. Daniel Hyatt and the Alembic crew scooped some mighty tasty 'swill' out of a swampy bucket.
One cachaca-based punch sported an ethereal liquid nitrogen top. Bartenders from Elixir, Cantina and 15 Romolo ensured there was not one bad drink in the house.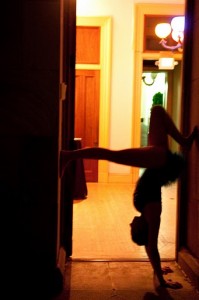 Chef Chris L'Hommedieu of Restaurant Michael Mina and William Werner of Tell Tale Preserve Co. sent out small but impeccable bites like lobster corn dogs, chips topped with caviar and creme fraiche, and lush dark chocolate caramel cake squares.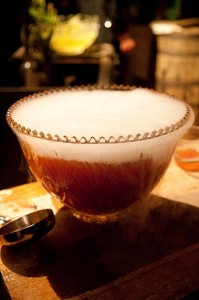 The courtyard of the Old Mint was a surreal setting transporting me directly to an ancient Spanish or Italian square. Chipped building facades contrasted against a deep, midnight blue sky.
As minstrels serenaded us on this warm, sultry night while the full moon cast a glow over the courtyard, I felt alive with the night… one of those perfect moments that lives illuminated in memory.
The evening ended (at 2am) with a bang: Brass Mafia played and we began to dance. Circling in and among us, their blaring brass brought to life songs from musicians as random as Michael Jackson, Salt-n-Pepa, Men at Work, even Montell Jordan's "This Is How We Do It", all in New Orleans' brass band style (they threw in a few classic Nola Dixieland tunes, too). It was a joyous, raucous dance.
Thanks to the Bon Vivants for co-hosting a tremendous event none who attended will soon forget (which I hope you will all attend next year).
9/26 – Cocktail Cookout on the Island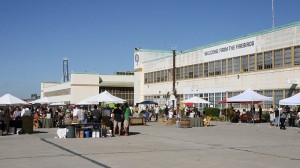 Though it's a toss-up between the Cocktail Carnival and the St. George/Hangar One cookout for best event of the week, sheer fun and beauty was unrivaled on the stunning Sunday boat cruise to and from Alameda (entire boat for Cocktail Week attendees only).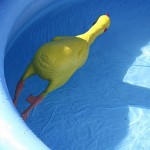 None other than Scott Beattie served cocktails for the scenic boat ride. It was a hot, over 80 degree day so Beattie's creations topped with Thai coconut foam and apple chip or dotted with edible flowers cooled us off in the most gourmet of ways.
Massive navy ships in Alameda's port made for a dramatic unloading point.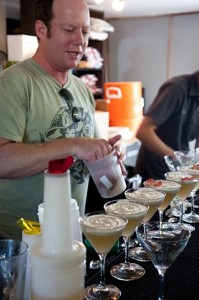 At the ever festive St. George/Hangar One distillery, there was BBQ (pulled pork from Fatted Calf), East Bay bartenders shaking up ice-cold cocktails, umbrellas and wading pools in the massive lot with views of the city across the Bay.
Claire of Claire's Squares served seductively lush dark chocolate squares which she hand-filled with St. George brandy in a caramel sauce and topped with sea salt. Damn. Tours of the distillery, a DJ spinning reggae and hip hop and bright sun made for a cookout to trump all cookouts.
But nothing could top that ferry ride home… pristine horizons, a rosy orange sunset illuminating our fair San Francisco with a gentle glow, warm air and rounds of Firelit Coffee liqueur.
Amidst much laughter with friends, I leaned over the side of the boat letting the spray of the waves caress my face as city lights begin to ignite before me. I knew, once again, the grateful wonder and privilege of living in a place so magically stunning.
9/25 – The Return of Absinthe at Comstock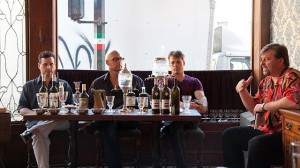 Absinthe distillers, Peter Schaf of Vieux Pontarlier, Lance Winters of St. George, and Ted Breaux of Lucid, formed the panel for two hours of all things absinthe. Their expertise and knowledge is dizzying. It was a crucial intro for those who dabble in the green fairy, clarifying the difference between real absinthe distilled from herbs and the unnaturally colored and flavored "absinthes" that flood the market. Absinthe's history, art and paraphernalia, as well as "terroir" and sourcing of herbs, were all discussed… with occasionally rowdy laughter from comments such as the one about syphilis (don't ask). Comstock Saloon was the perfect setting, serving us three impeccably-prepared (and in gorgeous classic glassware) absinthe cocktails, including a Sazerac and Brunelle, as well as savory snacks from their kitchen.
9/26 – I-talian I-ranian Spaghetti Feed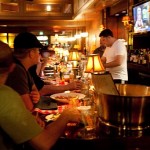 Negronis, Sangiovese, antipasti, spaghetti and meatballs (traditional Italian from Long Bar chef Erik Hopfinger, as well as Hoss Zaré of Zaré at Fly Trap's famed Iranian meatballs), ending with tiramisu and grappa.
This was Sunday night (plus red-checkered tablecloths) at Reza Esmaili's Long Bar for the I-talian I-ranian American Spaghetti Feed. Some took the tip, wearing velour tracksuits or elastic-waist trousers: trashy and tacky, ready to fill up after a long day in the sun at St. George. It was all delicious… a special kudos to Hoss' decadent surprise meatball stuffing of foie gras, duck, fig and date.