COCKTAILS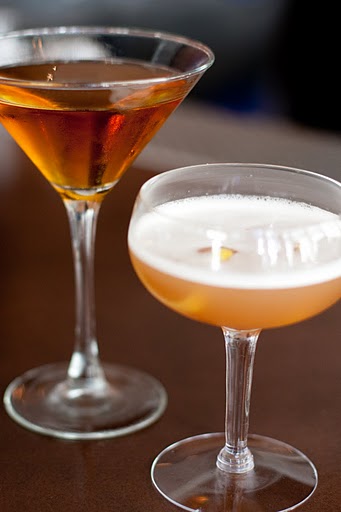 PROSPECT, SoMa – In the midst of 3.5 star reviews and consistent accolades, Prospect moves forward in its early opening months shining. My first take on it was strong and repeat visits only confirm. This place is the whole package (see Top Tastes for food, below for wine).
Enter more supreme cocktails from Brooke Arthur and crew. On the regular menu, complexity rolled over my taste buds with A Better Tomorrow ($11.50), Danny Louie's recipe of Encanto Pisco, Gran Classico, Broadbent Malmsey Madeira, Regan's Orange Bitters. Starting out sweet, lush and bitter, it unfolds with earthy nuttiness, an herbal, raisin-sweet finish. This cocktail exhibits ingenuity and classic principles. And I appreciate the film name.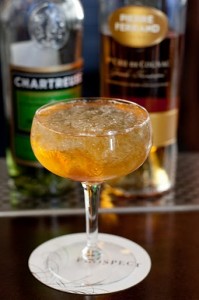 Vicious Circle ($11) continues the cinematic and literary references – in taste it's a light presentation of Old Overholt Rye, ideal on a hot day (which we've been having quite a few of recently), enlivened with Zirbenz stone pine liqueur, Drambuie, pineapple gum syrup and lemon.
SF Cocktail Week was appropriately celebrated here with two boozy beauties, particularly Jimmie Roosevelt ($12), a Charles Baker classic. Pierre Ferrand 1er Cru de Cognac is poured over an Angostura-soaked sugar cube and chunks of ice, mixed with green chartreuse, topped with a prosecco float. Similar to A Better Tomorrow, this cocktail develops with spicy, herbal tones, gaining sweetness as the sugar cube dissolves.
Expect refinement, as well as refreshment, in Prospect's cocktails.
Glories of GRAPPA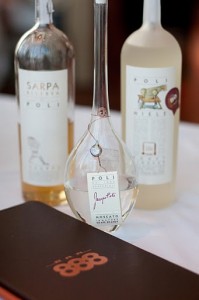 I have visited Luce a number of times since its opening, pleased with Dominique Crenn's food and with their Bar 888's one-of-a-kind grappa selection. At a recent visit, assistant restaurant manager Kiet Le, selected a flight of Poli grappas for me, inspired by their Rustic Grappa Flight ($14), which I have also tried: S. Cristina Grappa di Lugana, Nardini Aquavite (aged, hot), Luxardo Euganea (harsh but pleasing), Le's Poli choices were all smoother, more nuanced than the still enjoyable rustic three.
Out of the three, I was most wowed by Poli's Moscato brandy, a traditional-style grappa in a long, graceful bottle inspired by a woman's neck – even draped with a necklace. It's a clean, clear eau de vie: aromatic, dry, yet floral and lush with whispers of vanilla.
Sarpa Riserva is another beauty, aged in Slovenian oak, golden, floral and redolent of juniper berry. Poli Miele Honey Liqueur was my least favorite due to its heavier sweetness, but it's a fine intro to grappa for beginners who normally find it too harsh. It's lightly cloudy to the eye, green and herbal to the taste, honey sweet.
BOURBON with Four Roses' Jim Rutledge
Even as I find it a thrill to taste the best in any genre (spirit, wine, beer), my taste buds are most in love with American whiskey: bourbon and rye somehow comfort and please me like nothing else. So I jumped at the chance for an intimate lunch at Zero Zero with Four Roses distiller, Jim Rutledge. A romantic bourbon with a history and name based on a Southern belle's response to the founder's proposal of marriage in the late 1800's, Four Roses is a crowd-pleaser with it's classic yellow bourbon, ideal for cocktails (which was also the country's #1 selling bourbon post-Prohibition).
All bourbons in their line are made with a mix of corn, rye and barley grains (read about their unusual process of 10 distinct recipes here). Their 90 proof Small Batch hits the nose with rye, vanilla and fruit, while it tastes of spice, brown sugar and a rich rye. This one is a smooth sipper that could convert those who think bourbon is too strong. My favorite is the Single Barrel, surprisingly smooth for a bracing 100 proof, yet subtle and restrained on the nose. I detected hints of vanilla, honey, even pine there, but to the taste it was spicy, with notes of cherry and maple.
VODKA: Borje Karlsson of Karlsson's Gold
You may have heard my thoughts on vodka, usually my least favorite spirit. I have tasted Karlsson's Gold Vodka before, appreciating it's earthy potato complexity. I had a recent Burritt Room lunch with its master blender, Börje Karlsson, who was also behind Absolut years ago, a soft-spoken vodka craftsman.
Karlsson's Gold is made from seven varieties of virgin potatoes grown on Cape Bjäre in Sweden on family farms. Unlike a lot of vodka companies who brag about how many times their vodka is distilled, which is actually no bragging point since it means (one of my main issues with vodka) all flavor has been distilled out of it, Karlsson's appropriately distills their vodka once. As they discussed during lunch, if you use an expensive raw material like virgin potatoes instead of significantly cheaper wheat, why would you distill the flavor out?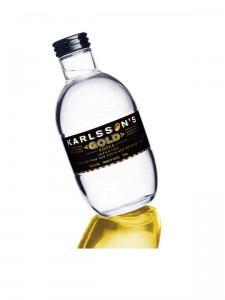 Using 18 lbs. of potatoes per bottle (!), they blend the varieties for greatest balance and consistency. Lest one think all potatoes are created equal, we had the opportunity to sip a variety of their vodkas in varying forms, from three made of the same potato but different vintages, to two different potatoes and vintages. The range of tastes is surprising: some sweet and creamy, others fiery and complex, like my favorite, 2004 Frieslander.
The final product encompasses a mix of the various vodkas we tasted, ideal served as "Black Gold", or rather, on the rocks with their own black pepper freshly ground on top. On a hot day, it was refreshing, peppery, bracing, with notes of citrus. Once again, there are exceptions to every rule.
NOTABLE WINES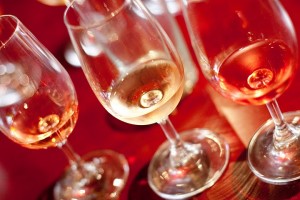 B3, Mission – Besides the food at my last B3 visit (see Top Tastes), I sipped Forlorn Hope's new wine: 2008 Ost-Intirgen. Forlorn Hope is a favorite discovery through B3 – try any of their wines. This visit, I was taken with Fort Ross' 2006 Pinotage's gentle blackberry earthiness balanced with hints of black tea and vanilla. It improved with burgers. Another stand-out is two from Lee Family Farm in Lodi: a 2008 Rio Tinto (56% Touriga Francesa, 24% Alvarelhao, 13% Touriga Nacional, 7% Tinta Roriz grapes), which marries berries to nutmeg and cardamom with enough acidity to make it food-friendly. Their 2008 Grenache is Monterey-grown with jasmine and berries on the palate.
PROSPECT, SoMa -Wine director Amy Currens knows her wines. When it came to a recent meal at Prospect, her by-the-glass recommendations started off strong with an off-dry Egon Muller Scharzhof Estate 2008 Riesling ($11), reaching a higher pinnacle with 2006 Bruno Colin Charmois Saint-Aubin Chardonnay: bright acidity with the lushness of caramelized apple.

JAQK CELLARS – A brick building in the architectural richness of the Jackson Square area (between North Beach and the Financial District) is home to JAQK Cellars' lovely offices, complete with rooftop deck in the shadow of the Transamerica Building (you can host private wine and food tastings here with 8-12 people at a mere $25 per person). I was impressed with the down-to-earth staff and winemaker, Craig Maclean, of JAQK Cellars. As much as I like the striking, irreverent labeling of their bottles with a speakeasy gambler's feel, it can give the impression of being gimmicky.

They brought it up first, saying restaurant owners and wine buyers often see them coming and turn the other way… until they taste the wines, which are selling out on many of the wine lists where they're featured. They spoke frankly about California wines compared to old world, European styles, and the pressure to cater to Parker, which they refuse to do (though Maclean has won Parker accolades in the past, he sees right through the hype of awards and points).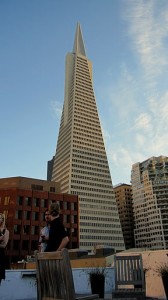 These wines are California wines and thus bigger than many European wines with higher ABV, though not outrageous (hovering around 14% for some of the reds). Among the whites, 2008 Pearl Handle Chardonnay was the stand-out. Higher-priced at $36, it's toasty oak, spiced pear and vanilla notes open up with surprising acidity as it aerates. Their 2008 Charmed Sauvignon Blanc ($19) grew on me with each consecutive taste, crisp with mineral citrus and vanilla. 2007 Napa Valley "High Roller" Cabernet ($67) is JAQK's flagship wine, meant to age, rich with tannins, oak and acidity. Not commonly a Merlot drinker (there are some fine ones, of course), I'd almost go for the 2007 "Bone Dance" Merlot first, both for value ($25) and round, black cherry earthiness.