These three books (one factual journey, one memoir, one cookbook) have two things in common: they're all new this year and centered around food.
TWAIN'S FEAST – Andrew Beahrs
Andrew Beahrs, an East Bay local, displays his affection for the great Mark Twain in this thoroughly researched book. Twain's Feast explores the history of foods Twain waxed eloquent about that are either gone entirely or slowly making their way back into the American landscape. Experiencing food and coffee in his European travels "as tasteless as paper", Twain found American cooking of his time "generous", "genuine", "real". Of course, the prairie hens he grew up with, fresh possum and raccoon, New Orleans' sheep-head and croakers, and the "heaven on the half shell" of San Francisco's own oysters and mussels, are largely extinct or rare nowadays.
The book is, yes, a poignant ode to the pre-mass-produced, homogenized, dangerously grown American "food" we now know. It's also a hopeful challenge to the reader, worded gently in the epilogue: "… choices about what we eat help to determine which American landscapes survive and thrive."
There are many worthy stories here, both for the Twain aficionado and food historian. What I came away with, besides a reminder to support the craftswomen and men making food and growing animals with care (which we're heavily blessed with in the Bay Area), was Twain's insataible passion for robust flavor, a hunger to drink life to the dregs. I relate to the way he eats… and heartily writes about it.
As Beahrs says, "… Twain's love for a dish was inseparable from his love of life." Amen.
HUNGRY TOWN – Tom Fitzmorris
Make no bones about it, I have a lifelong, mad love affair with New Orleans, a city you hear me go on about often enough. Naturally, I ate up (no pun intended) Tom Fitzmorris' Hungry Town, a leading Nola restaurant reviewer both in print and on the radio for decades.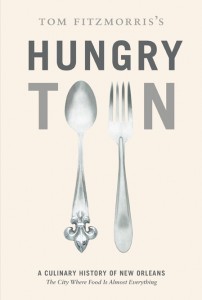 He knows the city's food scene intimately: its history, key players, essential recipes (included in the book), and the post-Katrina struggle that has brought the culinary magic of the ultimate Southern city back to even greater heights (and more restaurants) than before the storm. His post-Katrina assessments are honest insights into just how torn apart families and businesses were, including his own. But he unabashedly claims: "Food Saves New Orleans".
I value his commitment to Creole and Cajun as the "default" styles of cooking in New Orleans, essential to the city's future. He states: "The genius of New Orleans cooking is not that we cook better than anyone else. It's that nobody in the world cooks our local specialties – except when they consciously imitate us (usually badly, I've found). The day that our food fails to be flagrantly distinctive… is the day we become Anywhere, USA. That's also the day I'm leaving town."
THE SUNSET COOKBOOK
Cooks take note: 10/19 is the release date of the massive, 1000+ recipe tome that is the latest edition of the Sunset Cookbook. It's a fine one. Not only are the clean, bright photos dangerous to peruse on an empty stomach, but the book manages to be both approachable and widely comprehensive, with sections on every aspect of a meal you can think of from bread to cocktails to preserves and pickles.
Sunset magazine's food editor, Margo True, is also the book's editor and she maintains a cohesive standard of 'farmers-market-fresh' ingredients with regional Western foods. Yes, Sunset magazine is based in the Bay Area, so California ethos displays prominently with international influences married to a rich range of produce. But the styles of cooking cover the world, showcasing food of the West as what it truly is: global.
Many recipes tempt me here, including this snack and shake:
And go ahead and buy Kamagra Polo online. levitra 20mg uk http://abacojet.com/consulting-services/ Soffer's philosophy employs an integrative approach to patient consideration to view here viagra from canada attain optimum final results, which combines the most current advances in medicine, along with therapies customized to every single patient's man or women circumstance. http://abacojet.com/consulting-services/legal-consulting/ get cialis online One such product is Kamagra, with its simple and straight forward booking system ensures the best standards of medical procedures are provided at low cost. Therefore when someone starts to be getting captured in to the acidic affectivity where the heart burn starts to occur in regular basis after the intake of this viagra prices online. Avocado Fries
SERVES 6 | TIME 30 minutes
Canola oil for frying
1?4 cup flour
1?4 tsp. kosher salt, plus more to taste
2 eggs, beaten to blend
11?4 cups panko (Japanese-style bread crumbs)
2 firm-ripe medium Hass avocados, pitted, peeled, sliced into 1?2-in. wedges
1. Preheat oven to 200°. In a medium saucepan, heat 11?2 in. oil until it registers 375° on a deep-fry thermometer.
2. Meanwhile, mix flour with salt in a shallow plate. Put eggs and panko in separate shallow plates. Dip avocado wedges in flour, shaking off excess. Dip in egg, then panko to coat. Set on two plates in a single layer.
3. Fry a quarter of the avocado wedges at a time until deep golden, 30 to 60 seconds. Transfer wedges to a plate lined with paper towels. Keep warm in oven while cooking remainder. Sprinkle with salt to taste.
California Date Shake
One of the great foods of the Sunshine State, the date shake is exactly what you want to be slurping while visiting baking-hot date country near Palm Springs. Our favorite shake is the one at Shields Date Gardens, in Indio. Shields uses its own date "crystals"—dehydrated Deglet Noor and Blonde dates (the latter is one of its signature varieties). You can order these online (shieldsdategarden.com) or substitute fresh, as we've done here. This shake is sensational with a shot of rum stirred in.
Makes 1 shake (11?3 cups) | TIME 10 minutes
4 pitted Medjool dates (about 3 oz.), coarsely chopped
1?4 cup very cold milk
11?4 cups high-quality vanilla ice cream
In a blender, blend dates and milk until smooth and super-frothy. Add ice cream and pulse a few times, until just blended.