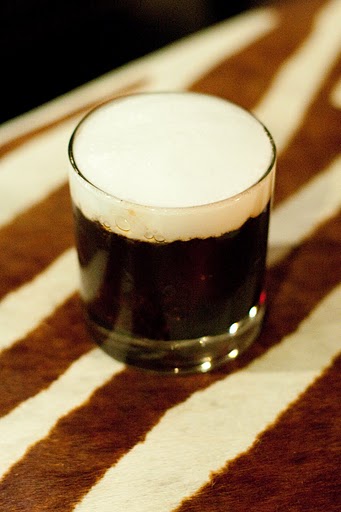 Not to be confused with downtown LA's Library Bar (a pleasantly casual, book-lined hang-out, though not memorable on the drink front), the Library Bar, hidden in the back of the Hollywood Roosevelt Hotel's lobby, makes about the best cocktails I've ever had in LA (alongside the New York classicism of The Varnish and molecular creativity of The Bazaar). And that hasn't always been the most rewarding search over the years.
A surprising respite off the jarring, touristy Hollywood Boulevard across from Grauman's Chinese Theater, it's a one-bartender show on any given night. This means you will wait for a drink, but it is worth it.
A farmers' market spread of fruits, herbs and vegetables, selected daily, hints at the delights in store. There's no menu. Tell bartender, Matt Biancaniello, your preferences or mood, trusting him to concoct a winner. And he will.
Though I love faux zebra bar stools and chairs, paired with sultry, brown leather couches in the mellow room. The one sour note is common in my experience at LA bars: the clientele.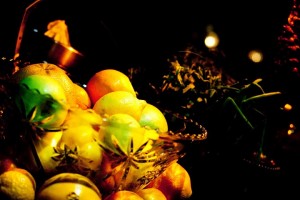 Only one of a handful of people that night seemed to actually be any kind of cocktail appreciator. And he was driving home the point fairly loudly to the girls he was trying to flirt with. These women asked for a vodka tonic or some variation thereof… I couldn't help but wish that these types would go to any of the hundreds of bars nearby that would happily serve them just such a flavorless drink, leaving this a quiet haven for cocktail aficionados and adventurous palates.
But it's to Biancaniello's credit that he cheerfully asked these women questions, pushing their boundaries using various herbs and white rum or gin instead of vodka. Stretching them a bit, but not too far, he did what a great bartender should do: educate and enlighten, without talking down to.
For those with expanded taste, delights await. Tastes run savory with vegetables or spices, lush with foams or house-infused liqueurs, tart with an array of citrus. As Biancaniello will say, he's clearly inspired by the likes of Scott Beattie. If not reaching that level of artistry, he pursues it.
On my visit, Biancaniello made cocktails with white raspberries and sage, or hops-infused gin. After asking for something savory and different, I was a little disappointed to get a drink with gin and strawberries, Last Tango in Modena (which Jonathan Gold calls one of the best cocktails in LA as of 3/3). It was expertly made, though not my favorite of the night. Hendricks gin gave it a cucumber crispness, married with strawberries, topped with St. Germain foam, brown with a sweet, 25yr balsamic vinegar. I have had the aged vinegar and strawberry combo before, from drinks to ice cream, though this was certainly a superior version.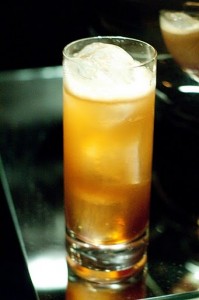 He mixed rum with California's Winter bounty: blood oranges, Meyer lemons and satsumas. St. Elizabeth's Allspice Dram imparted a Wintery spice. A crisped orange slice exhibited a Beattie-like touch.
I especially took to Kentucky Bubble Bath, a bourbon cocktail (Bulleit, in this case), brightened with lemon. Gently floral with house lavender syrup (hence the bubble bath), Cynar artichoke liqueur adds a layer of gentle bitterness.
Cocktail lovers should make a beeline for this bar whenever they're in LA. It's not typical for that city, or anywhere, really. The skillful, one-man-show, California farmers market bounty, and intimate setting (minus a bit of clientele douchebaggery) make it a drink destination.
But please, if you want a vodka tonic, just go to the perfectly nice-looking bar at the front of the hotel instead.