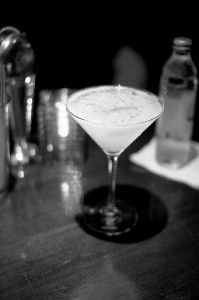 A favored experiment: gather a few industry and non-industry friends, taste a specific spirit side-by-side, sample it in the same cocktail recipe, and compare notes. Gin seemed appropriate for a rainy Winter's night.
While gin is fabulous all year 'round, there's something about its bracing herbal and citrus qualities that evoke Winter, particularly in Northern California where crisp air and sunny days mingle to create the mild backdrop that spawns our wealth of citrus at its peak.
Our cocktail of choice was plain and simple: the Martini. Gin and dry vermouth with a little twist of lemon… on the extra dry side to truly taste the properties of the gin.
Out of the 12 gins we sampled, these six stood out for various reasons:
All-Around Favorite
DEATH'S DOOR GIN (94 proof – $32) – In our gathering, all loved Death's Door, and the majority included it as one of their top two or three. It has been a top choice of mine since its release. This Wisconsin gem is made with local ingredients (wheat and organic malted barely) around Washington Island, WI. One of the best gins to come along in recent years, it's reminiscent of a London dry gin but with its own unique, Midwest character.
Tasting Notes: Juniper berries dominate, coriander and citrus add nuance, while gentle fennel notes surprise.
In a Martini: A bold, flavorful Martini, Death's Door fennel adds a subtle but seductive absinthe-like tinge to the cocktail.
Rare Edition
BEEFEATER WINTER EDITION (80 Proof – $30 and up) – The very limited Beefeater London Dry Winter Edition Gin isn't going to be available for long, in limited supply, originally launched in New York and San Francisco in December. Legendary master distiller Desmond Payne has taken the signature profile of Beefeater, and as he has done with Beefeater 24 and their Summer gin, added new depth. Here's hoping for more seasonal, limited editions ahead.
Tasting Notes: With a heavier citrus thrust than the standard Beefeater, I taste Seville orange and peel with a gentle sweetness. Pine and cinnamon add dimension.
In a Martini: It makes a citrusy, bright Martini with nuanced smoothness.
Brand New
NO. 3 GIN (92 Proof – $45) – Created by Berry Brothers & Rudd, London's oldest wine and spirit merchant, No. 3 Gin is a brand new release named after BBR's address at 3 St. James St. in London since 1698. Actually distilled in Schiedam, Holland, in copper pot stills, No. 3 is a classic-style, London dry gin.
Tasting Notes: Juniper stands strong here but does not overwhelm. There's undertones of citrus with the Spanish orange and grapefruit peels used, while Angelica root, coriander and Moroccan cardamom round out this dry gin with a spicy finish.

In a Martini: Makes a classic, smooth Martini, redolent with juniper.
Smooth & Balanced

VOYAGER GIN (84 proof – $35) – Voyager Dry Gin is a harder-to-procure beauty that exemplifies balance and roundness in a juniper-driven gin. Voyager is American (made in Woodinville, WA) in the London dry style, distilled in a copper alembic pot still.
Tasting Notes: Not one element overwhelms: orris root, citrus, angelica, coriander and cassia are all here, but so are licorice and cardamom. They meld with smooth elegance.
In a Martini: Though initially a martini made with Voyager tastes as smooth as the gin alone, when compared side-by-side to other martinis, it somehow got lost. It was quite mellow compared to martinis made with gins like Death's Door or Junipero.

Local Perfection

JUNIPERO GIN (98.6 proof – $33) – Junipero Gin has long been one of my favorites. Certainly I am proud of its local heritage as an Anchor Distilling product. But it also has one of the bolder, stand-out gin profiles. In the classic London dry style, more than a dozen botanicals and distillation in a copper pot still imbue it with a radiant complexity.
Tasting Notes: Bold and punchy, juniper comes across strong, though the overall effect is still clean and bright. Spice comes through as does citrus, though Anchor Distilling remains secretive about botanicals used.
In a Martini: A bracing yet balanced martini, this makes my top martini alongside Death's Door.
Classic & Affordable

BROKER'S GIN (80 proof – $20) – Broker's Gin has only been around since 1998, created by brothers Martin and Andy Dawson, but it plays like a classic London dry gin (actually distilled near Birmingham, England) around for hundreds of years. The best part is the quality vs. price, if you can get past the silly bowler hat cap (although I love the elegant, clean label design with a bowler hat gentleman).
Tasting Notes: Delightfully dry, botanicals reign here with herbs from Bulgaria to Macedonia. Orris root and coriander co-mingle with nutmeg, Cassia bark and cinnamon.
In a Martini: Makes a straightforward, classic Martini, but is also balanced, full and spicy.