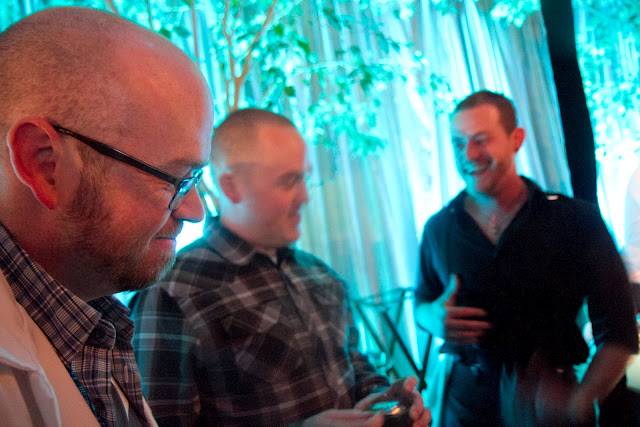 Though Science of Cocktails may be on hiatus next year due to the Exploratorium's big move to the Embarcadero, this year's party is worth highlighting. Attending since the inaugural event three years ago (my review here), Science of Cocktails gets better each year.
I'm not sure if the new VIP area added much other than a bird's-eye view from above with a few additional bites and drinks, the bulk of food being downstairs. Edible options were more enticing than ever in the uber-cool museum space (mini Reubens, sushi, Chinese dumplings, In-N-Out-inspired burgers with Thousand Island dressing). The cavernous space easily holds hundreds of people without feeling packed. Here one can interact with exhibits, kid-free, cocktails in hand.
Drinks were poured by some of the Bay's best bartenders and distillers, sporting white lab-coats, delivering concoctions from test tubes, beakers and hand-crafted contraptions. Cocktails were served in pre-bottled, liquid nitrogen, jello, even powdered forms. Let us not forget the shiny, porcelain toilet spouting Speakeasy beer.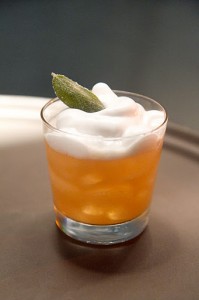 The biggest treat of the evening was a special barrel from distiller Dave Smith at St. George Spirits in collaboration with bartenders Darren Crawford (Bourbon & Branch) and Russell Davis (Rickhouse). The three of them call the endeavor the Manhattan Project, a tribute to Frank Oppenheimer, founder of the Exploratorium. He also worked on the Manhattan Project, producing the first atomic bomb, with its director and his brother Robert.
No bombs here, however. Only fine whiskey. Using St. George's new Breaking & Entering Bourbon (B&E), the dynamic trio aged Manhattan cocktails with their own precise blend of vermouths (Punt E Mes, Dolin Rouge, Carpano Antica), serving a balanced, aged Manhattan. The unexpected came when they followed that up with a p0ur of B&E bourbon finished in the barrel used to age the Manhattan.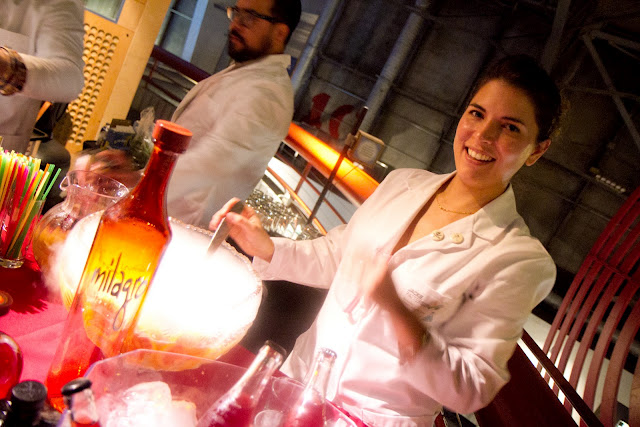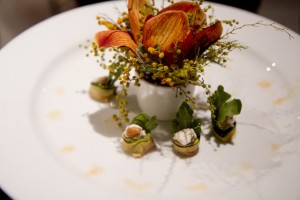 Whispers of spice and bitters from the Manhattan up the B&E whiskey experience. This beauty won't be for sale but you might just see the like of it at special drink events such as this.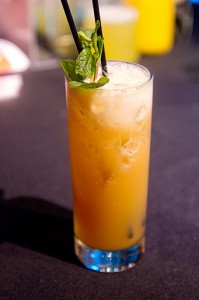 My favorite cocktail of the night was Christina Cabrera's (Michael Mina) Roses Foxtrot. Made with Four Roses bourbon, Calvados apple brandy, Gran Classico, Benedictine, Angostura bitters, and her own cardamom pear syrup and coffee tincture, the pièce de résistance was a finish of thick absinthe foam and gently fried sage leaf. Lush and light, the absinthe foam endowed a creamy crown and anise spirit to the cocktail. I could eat the foam and softly sugared sage leaves all on their own (and did). As a whole, the drink melded into a textural, breezy pleasure.
Other highlights included Jennifer Colliau's (Slanted Door) mocktails using her own unmatched Small Hand Foods line of gum syrups, grenadine and the like. Leave it to skilled hands to make some of the best drinks of a cocktail event sans alcohol (I was in love with her coconut water/orgeat drink).
It's a long wait until 2014, but here's to many more years of Science of Cocktails in the new Exploratorium.