Edible Adventures in the city of BORDEAUX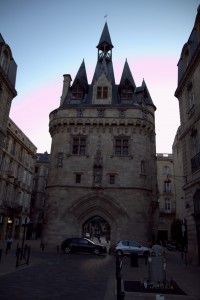 Photos & article by Virginia Miller
A week loaded with fatty duck, foie gras, canneles, and, of course, wine… such was my time in Bordeaux (see last issue on Bordeaux winemakers).
Try tasting numerous wines from morning till night in weather just shy of 90 degrees. Though I was craving a good cocktail and a salad by week's end, I was complimented by locals who deemed my eat-everything-(with gusto)-approach as "very French". Another local informed me that with picky eaters (I'm sorry, that includes vegetarians in their book), they are polite, "but we do not invite them back. We'd invite you back."
The city of Bordeaux (founded in the 3rd century A.D.) is a pleasant surprise. Having undergone a series of renovations and renewal over the past fifteen years, its Beaux Arts architecture, narrow, cobble-stoned streets, and new tramway, enliven the ancient, narrow streets, the historic district closed to cars. As the 6th largest city in France, it is bustling and full of things to do, yet approachable and walkable.
I fell most deeply into its charms getting lost wandering cobblestone streets, happening upon exquisite, hand-crafted shoemakers, elegant boutiques and home decor shops, enchanting tea cafes, countless bars and restaurants, opening into animated squares lined with tables. Basically some of the prime joys found in European cities are present in this small, bustling city that is a UNESCO World Heritage site.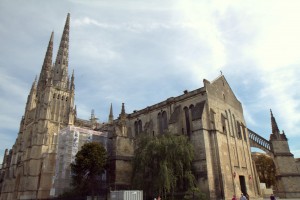 As a base from which to explore vineyards of the storied region, Bordeaux is packed with sidewalk cafes, restaurants and bars (though give up now, ye cocktail lovers, on even getting a drink that resembles a cocktail – an Americano with Campari, sweet vermouth and soda is as good as it's going to get).
Forget even finding much cognac, armagnac, calvados or other French spirits. As I was told in many a bar, those products are not made in their region specifically (even if produced merely an hour away) so they don't offer them (!?) Every bar stocked plenty of Bacardi, Jim Beam, and other big brand, sub-mediocrity, however. Havana Club and Coke was the only drink that didn't do me wrong. The Cuban rum's inaccessibility in the US makes the otherwise average rum even more appealing.
This is wine country after all, and they're sticking to that. Thankfully, the wine is excellent and I had many an affordable bottle with heartwarming French meals.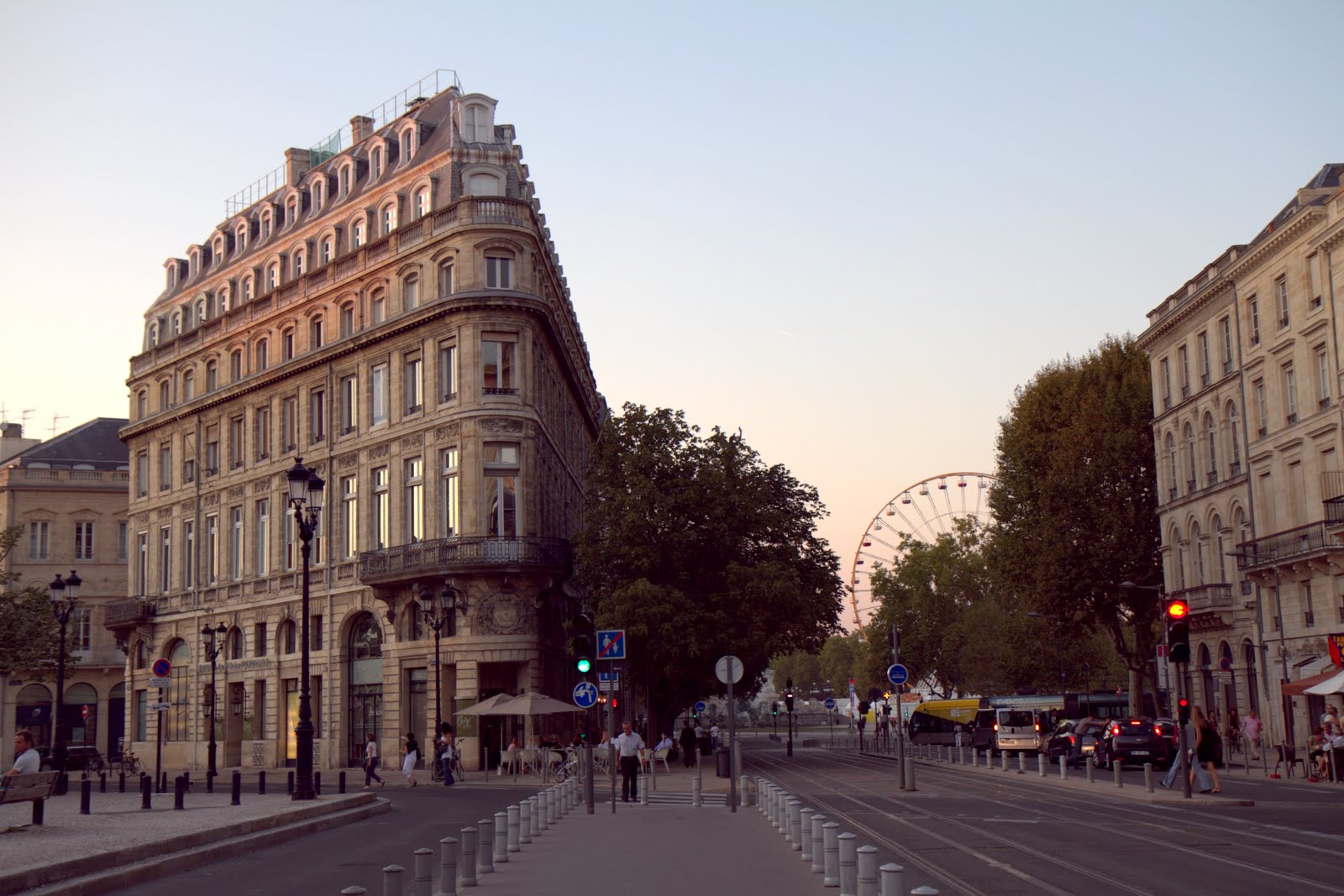 FOOD
JEAN d'ALOS FROMAGERIE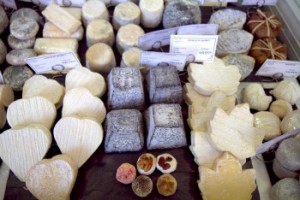 I wanted to sample every last cheese in the pristine, renowned Jean d' Alos cheese store. Clean and spare, cheeses are elegant, some looking like candies in colorful herb molds. Fabulously smelly, this little store is a French cheese lovers' paradise (exporter is Patricia Dubourg, patricia[at]fromages-jean-dalos.com).
La MAISON DARRICAU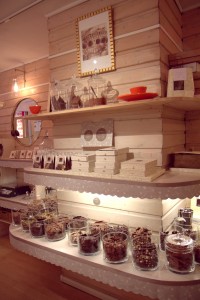 Owner, Nathalie, and chocolatiers, Michel & Lawrence, created La Maison Darricau, a charming, romantic little shop serving memorable chocolates. Truffles are creative, made fresh daily, and consistently lovely. I enjoyed Violette, Médoc (filled with wine from the region), Gingembre (ginger), Basilic (basil), Setchuan (Szechuan pepper), Datte (date with curry), and the excellent Prunoux (prune, almond paste, Armagnac).
MAISON GEORGE LARNICOL
Despite an odd policy of no photos and seemingly disinterested staff, Maison George Larnicol, is a shop I was drawn to multiple times for bins of Les galets des Glénan (mini-chocolate discs topped with crystallized ginger, mango, apples or nuts), Les rochers des Glénan (clusters of dark chocolate, almonds, orange), and Noisettes enrobées (dark chocolate-coated hazelnuts).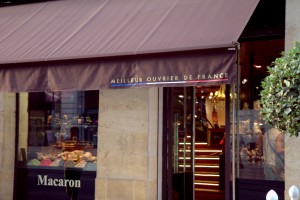 Their macarons are delightful and intensely flavored, particularly passion fruit. They are also known for their kouignette, mini kougin-amann, a Breton sticky cake, layered with caramelized sugar and salted butter (these became trended in SF last year). The store is conveniently located off the city's main square across from the Opera House/Grand Theater.
AMORINO
Granted, it's a European chain with a shop in NYC, but Amorino, founded by two Italians who know gelato, is far and away the best ice cream I had in Bordeaux. It's real deal gelato (try Amarena cherry). They won me over with Speculoos. Speculoos is a Belgian cookie redolent of cinnamon, sugar, nutmeg, pepper and spices, rather like a spiced graham cracker. It tastes amazing combined with their fresh banana ice cream.
RESTAURANTS
WINE & SOUL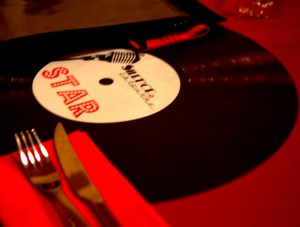 The newer Wine & Soul was my favorite meal in Bordeaux. Run by a gracious young couple, the decor is reds and blacks with LPs as table settings, soulful tunes in the background, and a vintage Marx Brothers movie poster.
The food is French with a Spanish tapas approach and Italian nods. Caprese salads and shrimp cocktail stand alongside beef filets.
The best dishes? A ridiculously good baked Swiss style Camembert roti, oozing with onions over potatoes; and beef tartare a l'italianne, basically classic raw beef tartare tossed with Parmesan cheese, garlic and basil. Delicious.
Wine stand outs: a mineral, crisp pear-inflected 2010 Chateau de Malrond (100% Semillion) and a mushroom, butter 2010 Chateau Dubois Challon.
LA TUPINA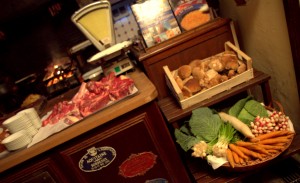 La Tupina is rustic Bordeaux cooking. The region claims foie gras. Here it is thick, buttery and rich. Stone walls, a French country kitchen, and massive hearth greet you upon entrance. In front of the blazing fire is a board laden with giant cuts of beef, duck, whole fowl.
The food is served a la carte or family style and is a hearty pleasure from start to finish. Scallops with cep mushrooms and duck fat fries earn additional points.
Wine stand outs: Crisp, passion fruit notes of 2010 Chateau D' Haurets, rare coastal wine, 2008 Chateau Laroche Joubert Cotes du Bourg.
DUBERN
With flirty, French waiter, elegant upstairs rooms, sidewalk seating and 30-35 Euro prix fixe menus, Dubern is a worthy dinner destination. While sipping a dry, light, seafood-friendly 2006 Benjamin de Chantegrive from nearby Graves, I savored a Tartare de la Mer of salmon dourade and local Cap Ferret oysters to start. Oysters were served with rye bread and a side of duck sausages. Nice.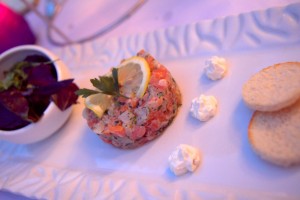 My main course was monkfish medallions done tandoori style with a cool cucumber raita. Local French pastry cannele came came in threes, sliced in the middle and filled with ice cream. Already full, I could not finish the generous dessert.
However, I did finish the creamy, citrus glass of 2007 Chateau Reynon, produced in nearby Cadilliac.
DRINK
MAX BORDEAUX WINE CELLAR
Max Bordeaux is the ultimate tasting room, which they call a "wine gallery and cellar". Their non-stuffy approach makes tasting and learning about Bordeaux wines and appellations fun.
The rarity? They have some of the best (and most expensive) wines of the region available by the taste. Buy tasting cards in increments of 25 Euros, and they will help you max out your sips accordingly. I visited affordable producers around the region, but at Max Bordeaux, I was able to sample some of Bordeaux's Grand Crus Classés, upper tier wines.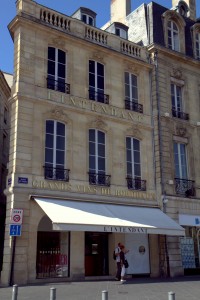 It's a must-visit when in the town of Bordeaux.
Here are some amazing wines I tasted here, including their by-the-bottle price:
2005 Aromes de Pavie, Saint Emilion Grand Cru: earthy, dry, dusty, gentle spice (70 Euro)
2007 Chateau La Conseillante, Pomerol: elegant, tart berry, violets (100 Euro)
2007 Chateau Palmer (read about my dinner with their winemaker last year), Margaux: acidic, spice, smooth, complex nose, earth, medium finish (200 Euro)
2007 Chateau Pichon-Longueville: Cru Classic Paulliac (170 Euro)
2007 Ducru-Beaucaillou, Saint Julien: long finish, vanilla, cassis, acidic (100 Euro)
2004 Chateau Guiraud 1er Cru, Sauternes: organic (60 Euro)
2004 Chateau Climens 1er Cru, Barsac (85 Euro)
LA COMTESSE
Wandering the Rue Parlement St Pierre led me to La Comtesse, a sexy bar, reminiscent of old Paris in absinthe greens with dim corners for conversation and cocktails.
I perked up at a chalkboard listing Gin Fizzes and Cuba Libres. My intrepid digging led me to the one place in the city I could finally get a real cocktail… or so it first seemed. Though they had an actual cocktail menu, they served them the same way I'd faced around town: sometimes in an ice cream-type glass, always with a bad, neon maraschino cherry and a straw (?)
The Gin Fizz wasn't anything like a real gin fizz, more a strange mix of Aperol and gin. Thankfully, the bar is full of Old World charm so I wanted to linger in conversation for hours.
CAFE BRUN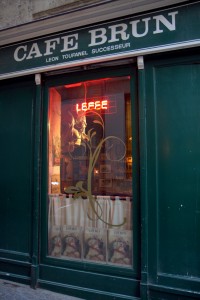 You'd not go wrong ending every night in the city of Bordeaux at Cafe Brun.
With personality to spare, the bar is packed with quirky locals, random visitors, exuding a festive, eccentric spirit. In dark woods, the worn space is well-loved, feeling a bit like Parisian-meets-Irish-pub.
There's live music, spirits, beers, and French ciders. Here you catch the playful side of Bordeaux.
CAFE OPERA
Cafe Opera is along the left side of the stately Opera House. Dripping chandeliers and breezy, columned walkways mark the elegant space.
They serve solid food, though I would recommend the bar as a stylish stop for a a glass of wine (like sips from nearby Pessac-Leognan: a tart apple 2010 Domaine du Grand Maison, or full-bodied 2006 Chateau D'Eck) or a pour from their decent (for the city) spirits selection.
Save