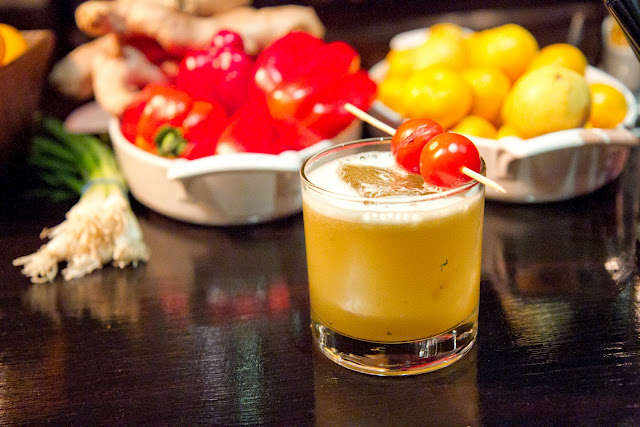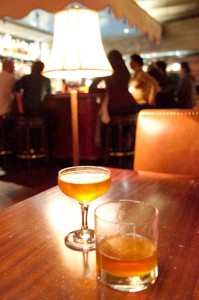 After years of hunting, the day finally came when I could find proper cocktails in LA, even if it was years behind NY or SF. I've covered LA cocktail bars in recent years as the quality has rapidly grown, with my latest visit yielding the most consistent drinks yet.Their cocktail renaissance is coming into its own, even if a local bartender at one of LA's best bars bragged to me of "doing something really different" at his next cocktail competition with a more bitter profile vs. the sweet cocktails "everyone does". Having judged numerous cocktail contests, I am glad that SF's competition recipe standard has long been unique, bitter, herbaceous, spirituous or the like, veering away from too sweet. Sweet cocktails still may be preferred across much of LA's expansive metropolis, but hopefully his statement means another taste standard is about to shift in the City of Angels.
There were a few letdowns, like Next Door Lounge in Hollywood, which is a fantastic space: roomy, mellow, old world, with comfy leather couches, friendly service, and classic Powell and Loy movies playing on a big screen. I absolutely loved the environment which it made it even more disappointing in sampling four expensive drinks ($12-14) to find them unbalanced and generally unappetizing.
Italian & Peruvian Pleasures
SOTTO, West Los Angeles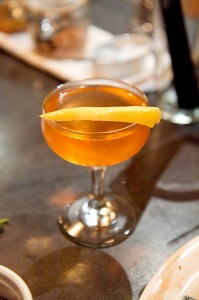 My favorite bartender and drinks this visit were Kate Grutman's at Sotto. She exudes style and panache, while keeping customer service and comfort foremost. In a spacious building housing Picca Peruvian Cantina upstairs, Sotto's low ceilings and buzzy vibe are the backdrop for Neapolitan pizzas and Italian pleasures like sardines or house lardo on toast (my Sotto food review next issue).
Both restaurants opened just under a year ago with menus created and bars managed by Julian Cox, well known for his cocktail menu at Rivera in downtown LA. He poured rare Italian amari from Sotto's vibrant collection, while Kate served cocktails exhibiting restraint, balance, and sheer drinkability. At Sotto, amaro is king and in cocktails is given a range of interpretations.
I particularly adored Kate's off-menu creation of Junipero gin, Suze, house sage and parsley bitters, Angostura bitters, and vermouth infused with pineapple and thyme. The drink hit all the right herbaceous, bitter, aromatic notes, shining as an aperitif or dinner accompaniment.
More amaro fun was had with a Carroll Gardens, typically made with rye, amaro, and maraschino liqueur. Instead, Kate used Averna, maraschino liqueur, and Cocchi for a bitter brightness. Menu stand-outs include a spiced Amaro Daiquiri: Fall Redux (rhum agricole, lime, Averna, allspice dram), a subtle, soft Smart & Fennel (London dry gin, lemon, house bitter orange marmalade, fennel-scented egg, fennel frond), a boozy but elegant Bicycle Thief (Scotch, Holland gin, vermouth, West Indian orange bitters), and a vivid Il Cavallo Bianco (reposado tequila, pineapple/thyme-infused dry vermouth, Cocchi, grapefruit peel).
PICCA, West Los Angeles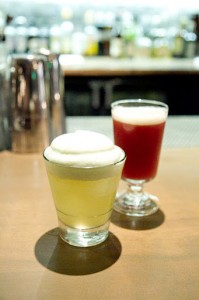 Upstairs from Sotto is the bustling Picca (my food review next issue). While impeccable Peruvian food is reason to visit, the bar is a destination on its own for South of the Border spirits. Mezcal, tequila, pisco and cachaca are showcased here. There are infusion shots ($6), like pisco with coconut, pineapple or Concord grapes, or mezcal with rocoto pepper.
Cocktails are once again by Julian Cox, while the friendly bartending crew exhibit a love for the spirits they work with. After two visits, my top drink is Zarate's Tomahawk # 15 ($12). It utilizes my beloved mezcal, infusing it with rocoto peppers, shaken with lemon juice, agave, and huacatay (Peruvian black mint), topping it with a soft cucumber foam. Heat, citrus tart, pepper, smoke and silky sweet weave into a balanced whole.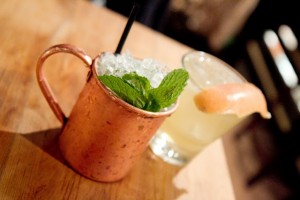 Boots with Fur ($12) shows off Italia-varietal pisco in a Tiki-inspired drink. Brightly spiced with bonded apple brandy, lime, and ginger, orgeat and falernum offer texture and nuttiness. It's served over crushed ice in a copper mug, the most playful presentation on the menu. Texture rules in Avocado Project ($12), blending fresh avocado with the excellent Banks 5 Island white rum, lime, agave, ascorbic acid for balance, and a bit of salt for a sweet, salty, vegetal imbibement.
A bartender said actress Frida Pinto (Slumdog Millionaire) was just in days before and they served her their Slumdog Chamomillionaire ($11). Subtle Quebranta pisco earthiness marries well with red grape cardamom black pepper coulis, balanced by lemon and evaporated cane sugar. Picca's bar menu is as lively and vivid as its food.
Rum & Cigar Havens
CANA RUM BAR, Downtown
Cana Rum Bar transports. Yes, you need a membership to enter, but it's merely $20 for a whole year. I find this seemingly pretentious charge at the door actually keeps out "riff raff" (allow me to digress for a moment and explain my apparent snobbery. By riff raff, I mean vodka tonic partiers who ruin the setting at some of the more craft cocktail bars. There's
nothing more frustrating for those of us who really care about quality and a relaxed space to imbibe than to have that space overrun by those uninterested in craft and there to get drunk – they can do so at any of the hundreds of bars and clubs around that cater to exactly that crowd. There's far less quality cocktail havens than party dens, so even more reason we pine for a few civilized spots in which to savor a well-made drink and conversation).
Though I would normally find a membership fee pretentious, at this price – and most importantly, knowing mainstream LA clientele – I am grateful they are doing it. Don't worry: the place is sans attitude. Mellow on my visit with roaring patio fireplace, embracing glow and cozy booths, they make many a night a party with funky DJs and celebrations like Bob Marley birthday.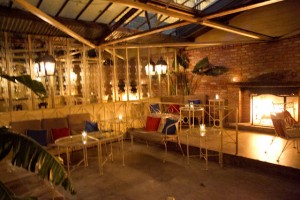 General Manager Allan Katz knows his rum… and his cocktails. Though not an encyclopedic Smuggler's Cove rum menu, rum geeks will delight in a well-curated menu grouped by island and continent. There are also tasting flights and cigar pairings.
I'm delighted with cocktails like Tennessee Isle ($12) made with Prichard's Fine Rum, overripe mango-infused absinthe (subtle), and coconut Peychaud's bitters.
Their menu describes it best: "This is what a Sazerac would taste like if the wicked witch of the west overtook Kansas and sent Tennessee to the Caribbean via flying monkey."
On the low alcohol front is a Trader Vic recipe adapted by bartender Danielle, an Angostura Fizz ($13): a full shot of bitters with house pomegranate reduction, lemon, cream. It's a bitter, frothy, elegant beauty. An Actual Apple Martini ($12) changes the game for a typically dreadful drink using apple-infused Plymouth and Death's Door gins, Pommeau de Normandie (a marriage of Calvados and fresh apple juice), Dolin Dry Vermouth, and Bitter Truth Creole Bitters. No fake green apple pucker here.
In keeping with Cana's vibe, the drinks are refined yet entirely approachable.
LA DESCARGA, Hollywood
La Descarga is mobbed when live burlesque and Cuban jazz are scheduled, while bartenders in the main bar seemed disinterested and "too cool" to engage. But in an open air back room (appears to be closed but is vented around the ceiling), I encountered two delightful bartenders who knew their rum. Only a couple basic cocktails are served in this room, otherwise, it's straight rum and cigars. I truly appreciate that you can bring your own cigar or purchase one from their selection. In the main bar, I made my usual off-menu request and was served a Mr. Boston classic, the Chet Baker cocktail (named after the musician), using Zacapa 23 rum, Punt e Mes, Angostura bitters, honey.
Though I slipped away for live jazz in the body-to-body main room, Renaissance Man and I were more than content to linger in the cigar room over rum and a cigars, savoring La Descarga's musty, Old World ambiance.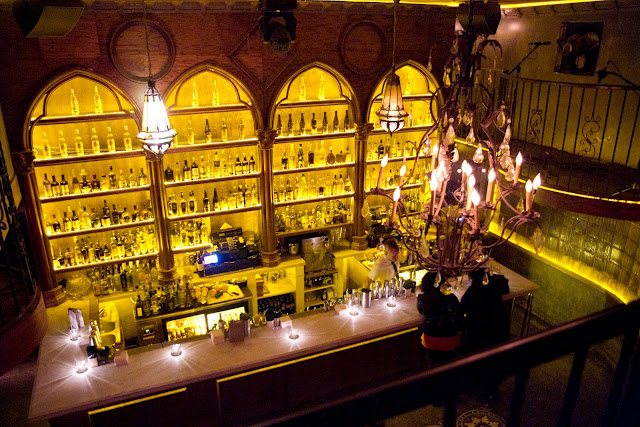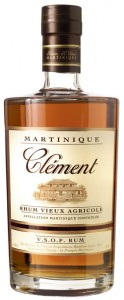 I was delighted with each rum pour selected by back room bartenders:
– A light brown Martinique agricole (French West Indies rhum made from sugar cane juice vs. molasses): lovely Clement Rhum Vieux exudes minerality with apple brandy and fig notes.
– Vascaya 21yr Cuban-style rum from Dominican Republic has whispers of vanilla cream soda.
– Pot-stilled beauty Plantation 1990 from Guyana is earthy, even slightly smoky, alongside vanilla and soft spice.
La Descarga evokes Old World Havana: divey, dim, a little run down. Despite the beautiful Hollywood crowd, this is not merely a hipster haven but a true rum bar.
Note: make a reservation (email via their site).
Along Hollywood Blvd.
LIBRARY BAR, Hollywood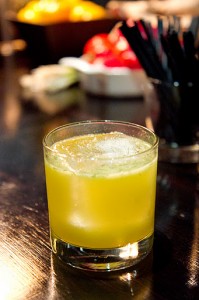 Returning to Library Bar in the Hollywood Roosevelt Hotel confirms thoughts in my review last year: creative, farmers market cocktails remain impeccable, some of the best LA has to offer, but I missed the higher level of service given by Matt Biancaniello in prior visits. Clientele was as frustrating as before, asking for basic, vodka tonic-type cocktails or coffee, packing out the intimate, chic bar the longer we were there, turning it into a pick-up scene.
Despite these downsides, a full farmers market spread and bartender creations (be aware: there is no menu) resulted in more winning drinks. Simple and sweet, Barsol Pisco was perky with mint, agave, lime, and grapefruit.
Mezcal mixed happily with jalapeno heat, herbaceous thyme, and agave for gentle sweetness. Another creation of Basil Hayden bourbon with plump cherry tomatoes, fresh basil, and lemon, defined "garden fresh".
The best cocktail of the night was bartender Chris Hughes' Controlada (he also provided best service of the night). Hughes blends five chiles with two of my top agave spirits: Del Maguey's Chichicapa mezcal and Fortaleza Blanco tequila. Additionally, he adds ginger lemon honey, arbol chile-infused St. Germain elderflower liqueur, red and yellow peppers. It may sound like too many ingredients but balance is spot on. Spice, color and brightness shine, while the overall effect is vivacious and refreshing.
Just be ready for a NYC-priced bill of about $16 per cocktail at the end.
WOOD & VINE, Hollywood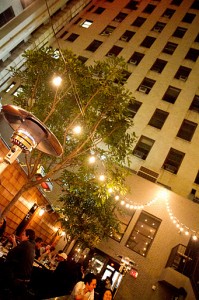 Packed crowds mar the scene at Wood & Vine – I wouldn't recommend going out of your way for it. But if you're in the area and on a mild LA night, Wood & Vine's back patio and laid back staff are inviting.
Late night happy hours keep prices low and though there are only a few cocktails, there's a solid spirits and beer selection and classic drinks like a Bee's Knees or classic Daiquiri.
Their own creations vary in quality, from a Millennium, surprisingly delightful with softly bitter Cocchi, gin, and white creme de cacao, to a Kentucky Cashmere, with dominant spice from chai vanilla-infused bourbon, Jelinek Fernet, and chocolate chili bitters, which ultimately felt off balance.
DRINKS WITH A VIEW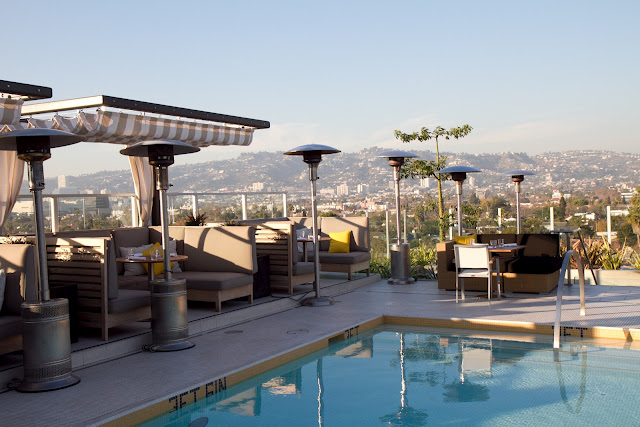 HOTEL WILSHIRE ROOFTOP BAR, Mid-City West
Staying at the new boutique Hotel Wilshire was a welcome respite from busy LA streets.
Spending each sunset on their rooftop bar by the pool was a pleasure.
Surrounded by LA hills and high rises, it's a gorgeous urban view and peaceful place from which to take in rosy-pink LA sunsets.
The drinks menu is fairly basic but there is care in the details. They make their own ginger beer, which is delicious on its own 0r makesa vivid Dark & Stormy, garnished with candied ginger.
Also of note, the hotel's restaurant chef is Eric Greenspan of Next Iron Chef fame.
And you can't beat that view.
CLASSIC HOLLYWOOD
MUSSO & FRANK, Hollywood
Much has been said about Musso & Frank over the years. As LA's oldest restaurant since 1919, it's famous for grey-haired bartenders who make a mean martini, and for serving Hollywood's elite through the decades, from Greta Garbo to F. Scott Fitzgerald.
This is not haven of cocktail perfection or experimentation. Thankfully. When I want an adorable, older bartender and a stiff gin martini the old school way, this is LA's best.