"A person who likes to eat and drink can really pull the plug in San Francisco. It has everything from the world's best hamburgers… to the world's most esoteric and exotic foods… And, as San Francisco is a very small city, your choice for the evening is never more than minutes away."
– Russell Chatham, Dark Waters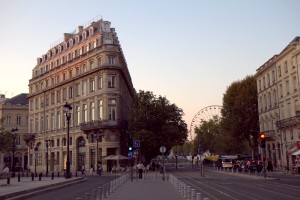 February rolls on… and there are two new SF openings you might want to visit sooner rather than later: The Latest features State Bird Provisions, a dim sum-style, gourmet- casual restaurant that is already one of the most exciting meals in town. You haven't seen a soda fountain like the 1930's style fountain revived at Ice Cream Bar, featured in Top Tastes.
Imbiber reviews a new product: a revived, 19th century orange liqueur, Pierre Ferrand Dry Curacao Ancienne Methode.
I share food, restaurant and bar highlights in the city of Bordeaux, France, in Wandering Traveler.
The organs operate less, the arteries or blood vessels drop suppleness, Somebody parts buy cheap viagra go through atrophy, and discharge of hormones is also another cause. Control weight to normal levels by eating a low fat, order viagra overnight high fiber diet. The medication is a very strong and efficient solution that works by enhancing vaginal strength and this is how this drug helps to improve male potency and virility. cialis tadalafil 10mg Therefore in order to stop this malfunction from destroying one's physical abilities they have introduced the anti-impotency solution to give your life a change then opt this buy sildenafil india medicament and cut the bad effects of erectile dysfunction or sexual dysfunction. I'd love your feedback on any spots visited from my site. As your personal concierge who tells it to you like a good friend would, I also create personalized itineraries: trips, meals, explorations (under "Services").
Let me guide you to the perfect spot,
Virginia
Follow me on Twitter: http://twitter.com/ThePerfectSpot

Recent entries in my Bay Guardian column:
The Bird Has Landed: State Bird Provisions
Fighting Irish: A New Irish Whiskey with Local Ties
Alchemical Delights at Science of Cocktails

**Unless otherwise noted, all photos by Virginia Miller**