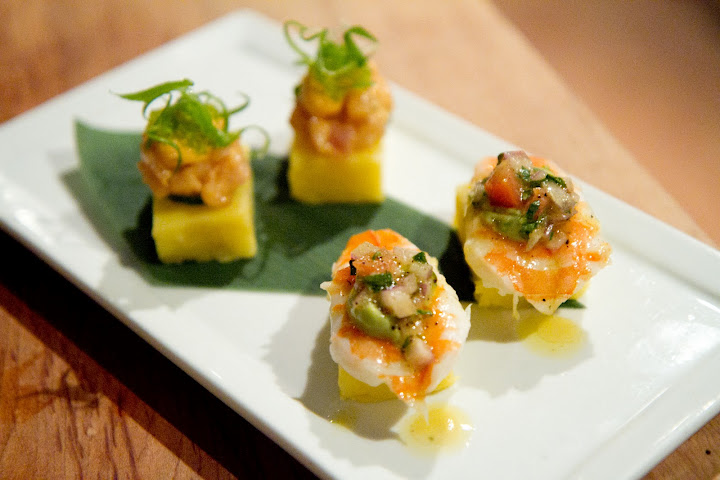 Spending nearly half my life in Southern California, I continue to explore LA's best foods, often miles – and hours – apart. My latest return, staying in a modern, neutral-toned suite with retro spirit at the new, peaceful respite of Hotel Wilshire, yielded more edible hits (and a miss).
Last issue I explored more LA cocktail havens. This issue it's all about food, from brand new spots to a few classics.
BACO MERCAT, Downtown LA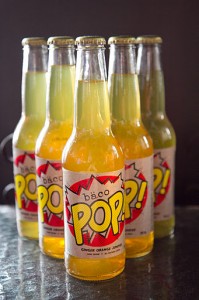 Of my recent LA travels, Baco Mercat was one of the more gratifying (and fun) meals. In a historic building downtown, Baco exists in a narrow space with high, airy ceilings. The casual restaurant feels almost cafe-like with a bar and unique menu concept. A "baco" is essentially a sandwich of pita bread (chewy inside, crispy outside) overflowing with fillings like oxtail hash or beef tongue schnitzel.
My server pointed me to "The Original": pork belly and beef carnitas in an almond-chile-garlic-based salbitxada sauce (a Catalan recipe). The meat is tender, as one would expect, and the sauce nutty and spicy. Only an excess of greens throws of the sandwich.
I was surprised to prefer the vegetarian offering, "The Fava Fritter", lined with falafel, feta cheese and poblano peppers, in a Spanish, tomato and bread-based salmorejo cream. Baco also offers a few coca (flatbreads), and plenty of mini sides and salads, like a spicy green papaya, cabbage, lime salad ($6).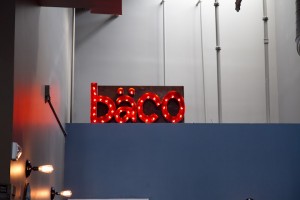 Other highlights? Banana cream cannoli (desserts $7 each) enlivened by cardamom and butterscotch. Playful cocktails like gin-pop! made of their house Baco soda pop, gin, bitters, ginger. Sweet and sour house sodas like black mint (I wish the celery soda tasted more of celery). They also serve the already popular new Handsome Coffee (and sell their beans), started by three former Intelligentsia guys.
FUNDAMENTAL LA, Westwood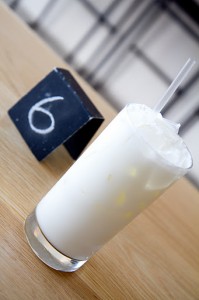 New Fundamental LA (opened last summer) easily vies for LA's best sandwiches. In a spare space lined with communal tables., everyone orders the early crowd favorite: a chicken torta ($9) laced with tomatillo salsa, cotija cheese, crema, pickled jalapenos and guacamole.
But I fell in love with their take on one of the best sandwiches in existence, the Cubano. Their Cuban torta ($11) is pig happiness with pork, ham, Swiss cheese, mustard, and further decadence with a fried egg and pickled jalapenos. Soft yet crispy bolillo bread makes it, each part of the sandwich in perfect harmony.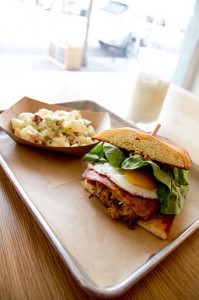 Sandwiches rotate with further joys like meatloaf on brioche ($11) layered with celery root puree, pickled cabbage, and, to seal the deal, fried brussels sprouts. For dinner they offer a variety of small and large plates in addition to sandwiches.
Warm potato salad is one of the better I've had lately ($4). Yes, its warm, accented by hickory smoked bacon, eggs, creme fraiche, excellent with chunky blue cheese.
Though they offer fun beers, like The Alchemist/Ninkasi/Stone More Brown Than Black IPA, Fundamental's must-order drink is their Vanilla Cream Soda ($3). Dreamy and creamy, it is easily the best cream soda I've had.
PICCA, West Los Angeles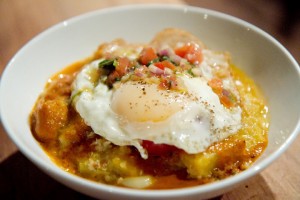 LA has a winner in Picca, a new-ish Peruvian restaurant. It is, hands down, the best Peruvian I've had in LA, and that includes Mo-Chica. Last issue, I wrote about LA cocktails, some of the most fun being at Picca, from a menu by Julian Cox.
One of my favorite Peruvian dishes, causas (basically a soft potato mound garnished with ingredients), come in a variety of renditions. They arrive small, looking every bit like maki (sushi rolls). I was taken with a spicy yellowtail causa ($7) dotted with spicy mayo, green onions and wasabi tobiko, as well as a shrimp causa ($6) with pickled cucumbers and yuzu kosho guacamole. Then there's skewers (anticucho) such as juicy, grilled scallops ($9) given a kick from aji amarillio aioli and wasabi peas, or anticucho corazon ($8), tender beef hearts in creamy rocoto pepper walnut sauce.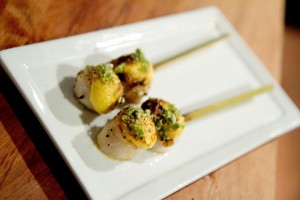 Tiraditos are another favorite of mine, essentially sashimi-like platters of fresh, raw fish in South American sauces. Picca's thinly-sliced seabass tiradito ($13) is simple and pure: pristine fish doused in soy, lemon and sesame oil with a dollop of sweet potato puree.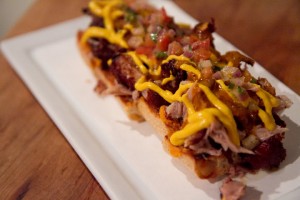 My top entree was not one I expected to fall in love with: Locro de Quinoa ($13), described as quinoa pumpkin stew. It's far better than it sounds. Parmesan cheese, crispy tomato (yes, crispy), fresh corn, and a fried egg crown this bowl of comfort. Finishing one, I immediately craved another.
SOTTO, West Los Angeles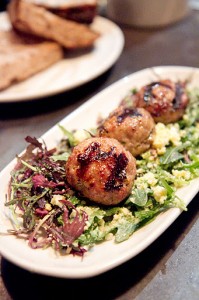 Last issue, I wrote about the delightful Kate Grutman and her cocktails at Sotto. Thankfully, Sotto's food is no slouch and rounds out the experience. Of course, we've seen dozens of these Neapolitan pizza, gourmet Italian venues line the streets of San Francisco in past years. Sotto is not exactly revolutionary, but there aren't (yet) many like it in LA with a couple exceptional bites worth noting.
A hefty chunk of rustic house wheat bread is the sort of bread I'm used to at home and can be ordered with olive oil or burratta cheese, but I recommend fatty, satisfying lardo pestato ($7) slathered on a slice. They do a fine Neapolitan pizza but not the best, and certainly no Pizzeria Mozza if you're talking LA pizza.
What I found more exciting was their pasta. Sure I've had squid ink pasta many a time, but their squid ink fusilli lunghi ($16) is chewy, dark noodles enlivened with pistachios, mint and bottaraga (Italian salted, cured fish roe) – a brighter, more vibrant version than typical one-note squid ink pasta dishes.
I've heard complaints about distracted service – the place is continuously mobbed (I was pleased to find my nearby dining companion to be actress Maya Rudolph). But sitting at the bar I was well-taken care of. It's the best perch from which to sip rare Italian amari and savor Italian pork meatballs.
MEZZE, Mid-City West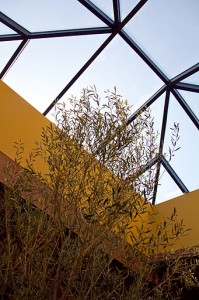 Mezze's open, airy dining room with a pristine, white kitchen within view welcomes immediately. Under a glass-ceiling, an olive tree stands in the center, evoking a Mediterranean garden patio. Drinks include a handful of cocktails, well-selected wines and beers, including a few limited edition bottles from the OC's Bruery, and a robustly red house cherry coke ($6).
Chef Micah Wexler was just nominated for a James Beard Award for Rising Star Chef of the Year. He works deftly with Mediterranean food keeping it light, flavorful and gourmet without being fussy. An array of colorful beets ($12) is playfully contrasted by crunchy, fried chickpeas, while dollops of sheep's milk yogurt add creamy sensuality. An exemplary beet dish.
An Arabian classic shakshouka ($13) is a heartwarming bowl of eggs, onions, tomatoes, and in this case, sweetbreads, with yogurt and pita to scoop up the stew-like dish. Egyptian Rebel fries ($13) are crowd pleasing, reminiscent of Canadian poutine, the fries covered in heirloom beans, beef brisket, Syrian cheese. Wood-fired Merguez flatbread ($14) is crispy thin dotted with fontina cheese and tomato jam, gently spicy with aleppo pepper.
Wexler indeed shows "rising star" promise, and I would gladly return for more.
SON OF A GUN, Mid-City West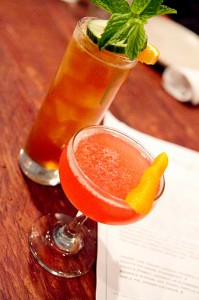 Son of a Gun was a royal letdown. I should have known. The can-do-no-wrong chef duo of Jon Shook & Vinny Dotolo already won LA over with their uber-popular Animal restaurant, which I found overhyped when dining there at the beginning of 2010. I should have learned my lesson, but staying at Hotel Wilshire merely a mile away, the New England-influenced seafood menu and charming fishing decor propelled me there regardless of my hesitations.
After braving the annoying no reservations policy and an early line pre-opening to then sit at a noisy communal table, unable to hear my friends, I found my server knew nothing about their cocktails ($8-12). It should have been a warning to stick with wine from their celebrated menu and sommelier. But cocktails looked good, running the standard classics from a Boulevardier to an Aviation. But execution was flat, signified by the modern classic Penicillin, which here tasted watered down, lacking in Scotch or ginger punch.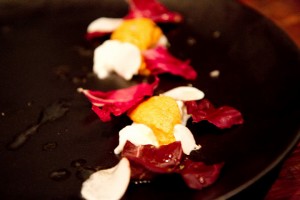 To add insult to injury, we all left feeling ripped off – a problem I rarely complain of, though I eat out at good 10 times a week. I usually prefer small plates both to sample more and finding greater creativity than in a traditional meat and veg entree format. At Son of a Gun, "small" plates is an understatement.
A mini-lobster roll with lemon aioli sounds like a steal at $7, but in two bites, it's done. Shrimp toast sandwich ($11) is utterly delicious, saucy with Sriracha mayo, but is the smallest $11 sandwich I've ever seen. Even a tiny scoop of pimento cheese with chips is $10.
Their popular fried chicken sandwich ($11) loaded with spicy B&B pickle slaw, is the one "normal-sized" sandwich, but is an obvious rip-off of the supreme Bakesale Betty's fried chicken sandwich, which was around years before… and is superior.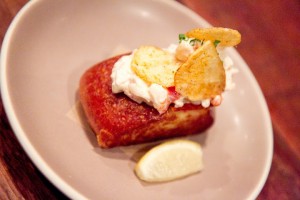 Don't expect any better by ordering higher-priced plates. An unexciting alligator schnitzel ($18) or insanely miniscule and odd uni, burrata, radicchio "entree" ($19), even a refreshing finish of frozen lime yogurt with graham cracker crumble and toasted meringue ($6), were all quite small. Four of us left hungry and annoyed, $200 later. Dropping $100 per couple with drinks is understandable, but rarely do I get so little for that at a casual restaurant.
Next time Jon and Vinny open another restaurant, I'll know what to do.
KOBAWOO HOUSE, Koreatown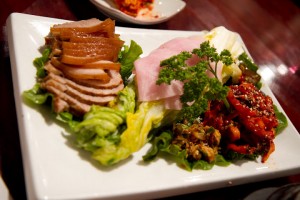 Korean food in LA… you hear so much about it. The hype is warranted on volume of restaurants and food options alone. I can't say I've yet had a Korean meal in LA that blows others way out of the water, but please do tell me where I must go.
On my latest visit, I was perfectly content at Kobawoo House, a family style dining room lined with wood and communal tables. Be forewarned: there's a wait even on a weekday at lunchtime (thankfully, Bourbon Street Cafe – below – is next door so you can grab a coffee while you wait).
Seafood pajeon is a giant pancake of goodness, laden with octopus, squid, scallions and the like. Definitely up there in terms of great pajeon – and the size of a two to three person pizza. Their popular bossam ($15.99 small, $24.99 large) is tender pork steamed in a variety of spices with lettuce leaves and different ingredients to wrap it all up in. This is interactive food at its best. Miso stew is a soybean paste stew that arrives so boiling hot, it wasn't till near the meal's end I was able to take a (still hot) satisfying slurp.
Kobawoo is an ideal place to fill up for less (the Renaissance Man and I could not finish all we ordered for $35) with a group of friends or family on quality Korean food.
Snacks & Desserts
BULGARINI GELATO, Culver City & Altadena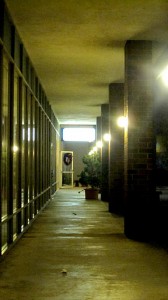 LA isn't the ice cream city SF is. Though I enjoy LA's Scoops and Pazzo Gelato, you won't find the shining equivalent of Humphry Slocumbe, Bi-Rite or even Mitchell's here. But LA does have Bulgarini Gelato.
Leo Bulgarini's obsession for perfection shines best in his nut gelatos. A Roman native, Bulgarini and his Pasadena-born wife, Elizabeth, hunted for the best ingredients for two years in Italy, studied two months with a third-generation Sicilian gelato master, then on to Milan to perfect their gelato-making skills.
Their Sicilian pistachio is unlike any other. Same goes for Kona macadamia nut. And Mandorla Sicilian almond. It tastes as if Bulgarini uses double the amount of nuts anyone else does, allowing for a nutty intensity greater than in even the best of pistachio ice cream. Macadamia nut is my favorite but taste each if you can.
Sourcing coffee from Naples, cocoa from Santo Domingo, and hazelnuts from Oregon, quality is evident in these expensive gelatos. I liked other flavors, like Florentine chocolate with salt, but prefer general flavors at any of the aforementioned SF shops.
However, each of Bulgarini's nut gelatos are better than any I've had throughout Italy or the US. A glorious excess of nuts takes on a textured but creamy body. Perfection.
SIMPLE THINGS SANDWICH & PIE SHOP, Mid-City West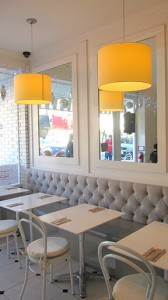 Mini-pies ($2.50 each, plus small $5.50 or full size $20) aren't life changing at Simple Things Sandwich & Pie Shop, but they are fun, particularly key lime. There's other baked goods and daily-changing sandwiches, salads and soups. The bright white and grey space is accented by yellow lamps, as cheery as the friendly servers. It's a worthy sweets stop when on 3rd Street, with a far smaller selection but a more peaceful setting than always-mobbed Joan's down the block.
TAMARIND AVE. DELI, Hollywood
There's Jersey-style deli sandwiches, including pastrami, brisket and salumi, at Tamarind Ave. Deli, tucked off a non-descript Hollywood street. But that's not worth going out of your way for. Rather, the joy is an impressive collection of classic, old-timey American sodas lining the walls of this charming, little take-out spot.
FONUTS, Mid-City West
I must admit I'd rather have a traditional donut than what the new Fonuts is calling (rather cheesily) "faux donuts". But if I think of them as baked donut cakes, they are quite good. Crowd-pleasers include maple bacon and strawberry buttermilk.
Coffee & Juice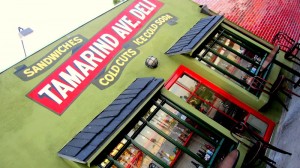 Coffee favorites in LA this time around? Bourbon Street Cafe in Koreatown with its Asia-meets-New Orleans-meets-third wave coffee offerings, from siphon to pour-over.
In Mid-City West (near West Hollywood), Commissary prepares coffee right, featuring three different beans from small coffee brands, including our own excellent Sightglass Coffee in San Francisco. I enjoyed a cup made with Victrola beans from Seattle (while at Commissary, don't forget to pop into fabulous butcher shop Lindy & Grundy next door).
Spring for Coffee is a closet-sized shop in Downtown LA selling some of the West Coast's best coffee beans, more than half of them from SF (from Blue Bottle to Ritual). They make a proper cappuccino and espresso, too.
On the juice tip, Sustain Juicery, a tiny shop downtown in LA's garment district, is expensive ($7 each) – as any quality juice shop is – blending refreshing, bright winners like the classic green: kale, spinach, apple, celery, cucumber, parsley.