Call it dessert wine if you will, icewine (eiswein in German) is definitely sweet. But winemakers prefer to call it "rich and concentrated", an apt icewine description, which, when produced well, retains enough acidity to keep it from being cloying.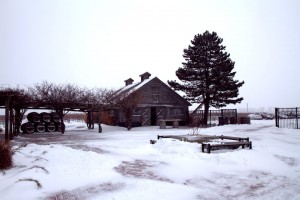 Icewine's intensity comes from frozen grapes, allowing greater flavor concentration. Unlike in Sauternes, Bordeaux, icewine is not sweet from botrytis (noble rot), rather from frozen, concentrated juice. Canada and Germany are the largest icewine producers in the world, with most of Canada's icewine vineyards in Ontario, which I recently visited. Besides attending the annual Niagara Icewine Festival, I spent time with three wineries and tasted winning salumi and cheeses made locally.
INNISKILLIN Winery

On a clear winter night, I arrived in Niagara-on-the-Lake, an idyllic, sleepy town on Lake Ontario, a short distance from Niagara Falls. By morning, a gentle but steady snowfall covered the woods and stately homes in a blanket of white.
Legendary Inniskillin winery, which put Canadian icewine on the map in the '80's, was my home base. A flat expanse of vines and shimmering, frosty grapes surround the warm, modern Inniskillin buildings, including one that is a restored 1920's barn.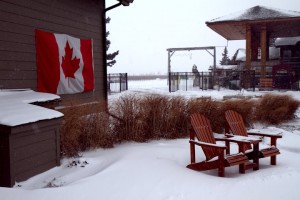 Austrian native Karl Kaiser started Inniskillin in the 1970's with Donald Ziraldo to fill a need for premium Canadian table wine, getting into icewine in the 1980's. Kaiser was Inniskillin's first winemaker, while Nicholson got into wine in Niagara in the 1980's, quickly moving up the ranks to winemaker at Jackson Trigg's Okanagan winery in British Columbia. He returned to the East Coast and became Inniskillin's winemaker in 2007, his wines having won over 1400 awards internationally. Terroir-driven as a winemaker, Nicholson states: "You don't try to emulate someone else's style because the terroir will dictate the wine you make."
Due to icewine's labor-intensive process, including picking in the middle of the night at lowest temperatures, the best icewine is expensive. And being as good as it gets, Inniskillin wines can be pricey.
Nicholson says for it to be icewine, they cannot legally pick until temperatures reach -8 Celsius (17.6 °F), a lower temp than required in Germany (-7 °C), but he typically prefers -10 °C or below. He calls that: "the sweet spot for balance of acidity and sweet."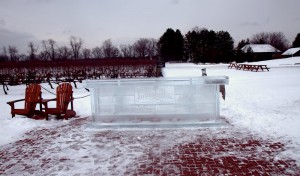 Inniskillin produces far more than icewine with Burgundian influenced Pinot Noir, Chardonnay and the like. I was impressed with numerous wines like an acidic, floral Riesling icewine. I particularly love their sweet but earthier Vidal icewines, from a balanced, bright 2008 Vidal to a 2008 Gold Vidal, uber sweet with marmalade and candied brown sugar balanced by crisp acidity and funky earth notes. Another standout is a red icewine, 2007 Cabernet Franc, robust, rosy, tasting more like strawberry conserves vs. fresh strawberries. If you're at the winery tasting room in winter, ask for a hot chocolate made with icewine. You won't regret it.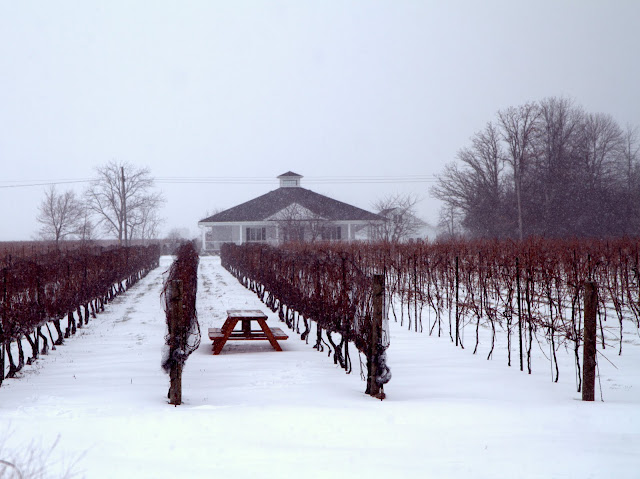 JACKSON-TRIGGS Winery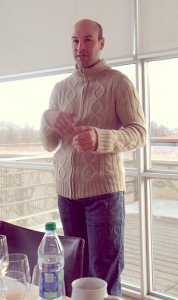 A sister winery to Inniskillin, Jackson-Triggs impressed with dramatic high ceilings, a modern barn-like feel, giant, roaring fireplace, and state-of-the-art production facilities.
We met with head winemaker Marco Piccoli, who is from Friuli, Italy. He brings a European aesthetic to the wines, married to New World vision, having also worked in Argentina. He was long ago fascinated by icewine and how it single-handedly put Canada on the wine map, though he produces everything from a peach blossom-redolent 2010 Sauvignon Blanc to an acidic, sandalwood-inflected 2007 Cab Franc. I enjoyed a unique 2007 Entourage Sparkling Merlot, but my favorite was their buttery yet citrus-laden Silver Series Chardonnay, which unfortunately we do not yet have available in the state.
LE CLOS JORDANNE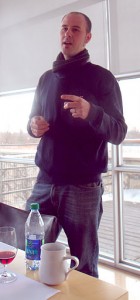 I met with young winemaker Sébastien Jacquey from Burgundy who creates Burgundian-style, single vineyard Pinots at Le Clos Jordanne. I wasn't as taken with Pinots as with best wines at Inniskillin or Jackson-Triggs, but enjoyed a mint and plum-accented 2009 Pinot Noir Le Grand Clos and a dusty, earthy 2009 Talon Ridge Vineyard Pinot.
WINERY MEALS
Eating well was not a problem at the wineries. Great Estates of Niagara chef David Penny (who worked at Four Seasons Hawaii) cooked Inniskillin meals with a couple key highlights.
He smoked a luscious slab of pork belly on a smoker behind the winery. Braving the snow and wind, Penny cooked the fatty belly, slicing it on toasts with an onion jam. A superb breakfast. Penny also created an Inniskillin poutine, topping warm fries with duck confit, Niagara Gold cheese, and red wine gravy.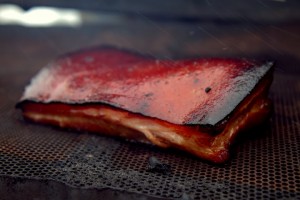 On a freezing cold night, I was warmed by a moveable feast all over the Jackson-Triggs winery, starting with a spread of Pingue charcuterie. The meal was prepared by pastry chef Anna Olson, a Food Network star in Canada, and culinary instructor/chef husband Michael Olson. Favorite eats from the night were a mini-tureen of choucroute garnie, a favorite Alsatian sausage and sauerkraut dish of mine, and mushrooms in Chardonnay thyme cream sauce with potato cheddar focaccia. No surprise: a round of Anna's desserts was the perfect ending, each rich and flavorful, from raisin butter tarts to cranberry gingerbread upside down cake.
PINGUE PROSCIUTTO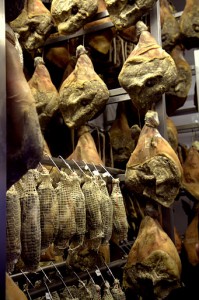 It's a family affair at Pingue Prosciutto, an authentic producer of Italian-style salumi. Brothers Mario and Fernando Pingue learned meat skills at gold standard San Daniele del Friuli, in Parma, Bologna, and in their father's hometown of Sulmona, Italy. Their meats are found at delis and restaurants throughout Ontario though they do not sell the general public. Meeting with the charming Mario Pingue, I tasted through some of their salumi, including the prosciutto, which certainly evokes great Italian prosciutto. When in Toronto or Ontario in general, look for their meats on restaurant menus.
CHEESE TASTING
Tasting through local cheeses while in Ontario-on-the-Lake was a pleasure. Upper Canada's Comfort Crème is a creamy Camembert-style cheese from a family with five generations of cheesemaking in the region. Comfort Crème is hand-salted, smelling delicately of truffles and mushroom, buttery in texture. Devil's Rock Creamy Blue from Thornloe, Ontario was my favorite – a semi-soft, vegetarian friendly (no rennet used) blue cheese. It's velvety, tangy, salty and sweet. From neighboring province Quebec, Bleu Benedictin is a milder blue made by Trappist monks at Abbaye Saint-Benoit, another delightful cheese.