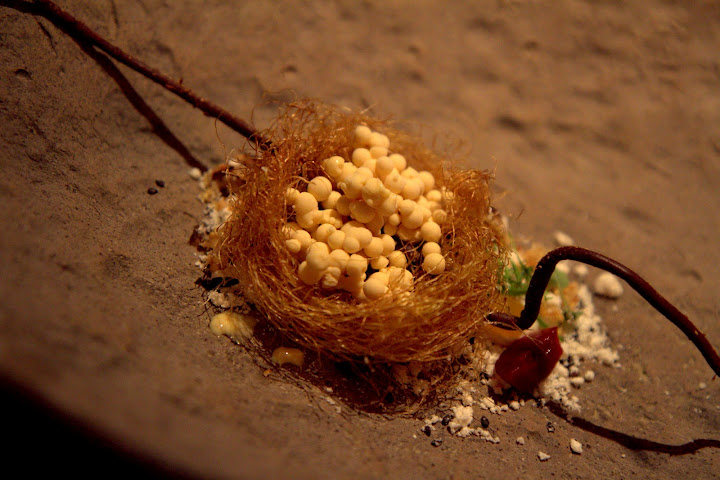 A strong concentration of the US's cutting-edge chefs are right here in the Bay Area. Widely acknowledged in food publications and amongst global diners, there's been an uptick in Bay Area creativity buzz in recent years. Collaborative dinners between local chefs and with chefs from countries beyond uniquely showcase the forward-thinking cooking coming out of our region. I've been privileged to attend recent one-of-a-kind dinners like the one this week between culinary "it" town Copenhagen chef Christian Puglisi of Michelin-starred Relae and Bar Tartine's visionary chef Nick Balla.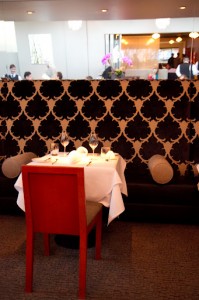 During a weekend in May, one of Australia's star chefs, Ben Shewry of Attica in Melbourne, joined the incredible David Kinch at Michelin-starred Manresa in Los Gatos (which is celebrating its 10th anniversary this month a series of collaborative dinners with guest chefs). Both chefs are known foragers, utilizing local bounty in their restaurants on par with art form, Manresa sourcing their produce from nearby Love Apple Farms (which hosts a series of classes on everything from gardening to cider-making). The few hour dinner was a dream of freshness in unexpected forms, heartwarming in taste – not merely visual.
Shewry started with walnuts in their shell, unadorned and tender, while Kinch offered carrots, clams and savory, textural granola dotting vegetable marrow bouillon. Shewry's fresh crab and artichoke leaves arrived softly layered, dotted with citrus cream. Unlike any crab dish I've had before, it nearly dissolved on the tongue, fresh as the sea yet elegantly subtle. A stunner.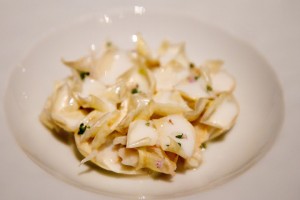 As was his beauty of diced sweet potato, purslane and egg doused in a creamy pool of Cabot clothbound Vermont cheddar. Kinch's gorgeous dessert was a silken, custard-like mound of white chocolate surrounded by crispy quinoa, goat's milk ice cream, and a strip of rhubarb like an elevated fruit roll-up for the gourmand.
Manresa (namely Kinch's cooking) is a destination any time, "the whole package" with garden-fresh cocktails, impeccable service and wine list. The partnership this particular weekend showcased two world class chefs side-by-side, expressing their gifts, melding their visions.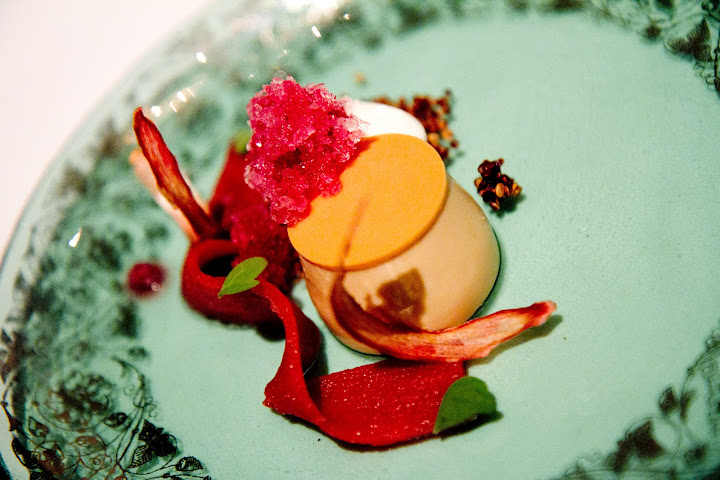 As part of SF Chefs' current Dinner Party Project, teaming up local chefs in themed dinners leading up to the big food and drink classic swiftly approaching August 2-5, inventive chefs Dominique Crenn and Jason Fox (Commonwealth) partnered at Dominique's restaurant, Atelier Crenn, for a special dinner on July 8th. Both chefs connect over a similar ethos apparent in their delicate yet bold, often playful, cooking styles. Alternating courses, each flowed out bright with Summery spirit.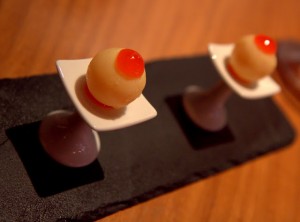 An amuse bouche certainly did "amuse", awakening the taste buds: little white chocolate shells dubbed "Campari explosion" actually exploded with vivid, joyously bitter Campari reduction, paired alongside a Campari/blood orange cocktail aperitif. Both chefs rocked the tomato in unexpected ways. Fox plays with green tomato in the form of a jelly disc gracefully dotted with silky uni, shiso mint leaves and refreshing cucumber granita. Crenn salutes the glories of red and yellow tomatoes in varying forms and textures – from peeled to sorbet – in a vibrant bowl accented by goat cheese, edible flowers from her home garden, and a strip of lardo, that beauty of pig fat salume, for rich contrast.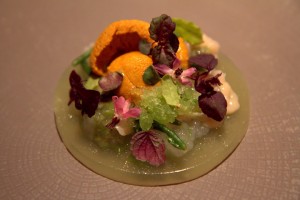 Unpredictable touches jump out, like Fox's frozen "white snow" over corn pudding topped with grilled sweetbreads and tempura-fried okra (paired beautifully with a 2006 Pierre Morey Bourgogne Chardonnay), or another Fox hit: bone marrow puree animating hearts of palm, skinned red potato and poached ruby fish, happily paired with a cup of duck consommé tea. The meaty tea seamlessly interacted with the vegetables and bone marrow, highlighting masculine mischievousness in Fox's stylish cooking.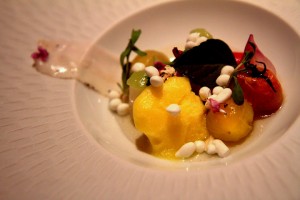 Besides her truly imaginative take on tomatoes, my other favorite Crenn dish arrived dramatically on a scooped stone slab graced with a chocolate branch and an edible, glistening silk nest filled with dehydrated vanilla pods over sweet corn and porcini mushrooms. Like a treasure found in an enchanted forest, the dish explored both savory and sweet whimsically, a feminine wildness tempered by refinement.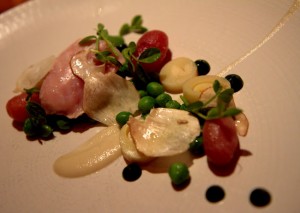 We'll see more from both skilled chefs – and many others – during SF Chefs days' long extravaganza, which I look forward to every year in tented Union Square (event schedule here). It's a pleasure to witness our region's best collaborate with each other and the finest globally, a reminder as to why the Bay Area is in the midst of yet another culinary renaissance, one of many the past few decades.