16th Street between Valencia and Guerrero is packed with good food and longtime dive bars. As classic cocktail dens and mixology menus are the norm rather than the exception in this town, it's easy to forget that some of our great 'tenders continue to serve the quality drinks we crave without fuss. On this stretch of 16th, there's two in particular.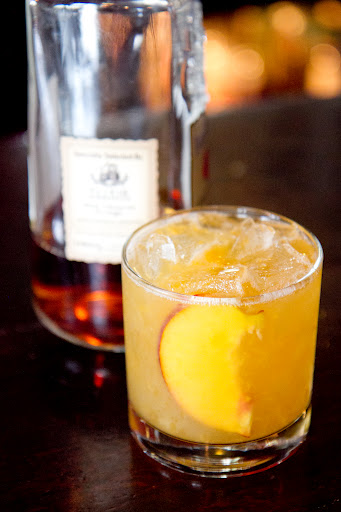 As with any bar, who is tending makes a difference and these gifted few craft their own robust creations while nailing down boozy classics. Chat them up about what they're working on lately or ask for one of these recent pleasures, including a rare, single barrel bourbon collection.
Elixir
Elixir is an SF institution, the intimate, wood-lined saloon harkening back to Barbary Coast days – a bar since 1858. Run by one of our country's cocktail pioneers, H. Joseph Ehrmann, and talented bar manager duo Shea Shawnson and Nick DesEnfants, the cocktail menu is a mix of 1800's saloon classics, Elixir classics like H.'s Celery Cup No. 1, and rotating seasonal drinks.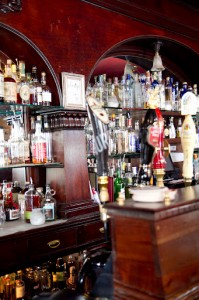 Elixir is also for the whisk(e)y aficionado, with over 220 bottles behind the bar – not to mention a solid tequila selection. Now is the time go, however, for a flight ($25) or single pour ($12.50) of their four special single barrels of Four Roses bourbon, aged 8 to nearly 11 years, personally selected by H., Shea and Nick in Kentucky when visiting master distiller Jim Rutledge (selected while I was also in KY judging spirits alongside H. for the American Distilling Institute awards).
Their four single barrel whiskies show an impressive range and body, all at barrel strength/high proof. Part of their unique profile as a bourbon is due to the signature Four Roses style of a higher mashbill (which is essentially the grain mix used to make a whiskey or beer) of rye grain: 20%-35%. Bourbon must be corn dominant (51% or more) and no other bourbon contains as much rye as Four Roses, except for Bulleit Bourbon due to the fact that it's distilled at Four Roses. This higher inclusion of rye grain adds the spice and character us rye devotees adore, while retaining those sweet, caramel bourbon notes.
In reference to the combination of proprietary yeast strains used to make each of these bourbons, Elixir's barrels are labeled by yeast strain combinations: OBSK, OBSO, OESO, OBSQ. Lest all this start to sound a little geeky, just ask for the tasting sheet and see what tasting notes jump out at you (chocolate and caramel or pickle brine, wood, hay?), then choose your pour accordingly. Better yet, share the flight with someone and find your favorite the best way: side-by-side comparison. My favorites? OBSK, which was the unanimous first choice of the Elixir guys, for its orange zest and earthy chocolate notes, and the OBSQ with greater bite and salty, grassy soul. Sampling Four Roses Limited Edition 2012 Single Barrel release (aged 12 years) alongside Elixir's one-of-a-kind four rounded out the pleasure at a bracing 111.2%, still smooth with vanilla cream and toasted almond tempered by a spice bite.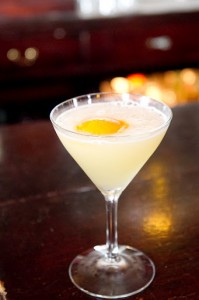 The latest cocktails at Elixir? A few so new they aren't on the menu: Roses for a Peach uses the OBSQ single barrel bourbon, muddling fresh, juicy peaches, peach bitters and Shea's house sage syrup. Though sweet as summer, the bourbon's higher proof imparts body, holding up to and elevating the natural peach sweetness. Bartender Levanah Ananda created this cocktail beauty along with Sunny Side, an ebullient mix of Aviation Gin with the sage syrup, pineapple, lemon and an absinthe rinse – a large slice of lemon floats in the glass like a sunny side up egg yolk (hence the name).
I'm in love with the wet stone/slate quality of Nick and Shea's Que Sea Rapido (make it quick!) Del Maguey Vida imparts the smoky stone notes, while just the right touch of Domaine De Canton ginger liqueur and lime rounds it out, with ancho chile powder giving it earthiness rather than heat.
Elixir is a small, often crowded bar so for those such as myself who like it mellow, preferred time is afternoon or early evening hours for a seat at the bar and time with these bartenders who keep it real… as they casually craft winning cocktails.
Dalva/The Hideout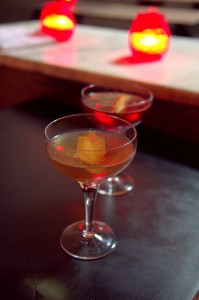 Dalva is the main bar, a worn-but-comfortable Mission classic, thankfully untrendy, divey and to be relied upon for a beer under a screen showing classic films and lesser seen Bruce Lee movies. I typically head straight to The Hideout, a cozy, dim back bar with superior craft spirits selection. Here one or two bartenders, including the occasional guest bartender like Josh Harris of the Bon Vivants, craft classics and classically-influenced cocktails… accompanied by loud, kitschy-cool tunes (see my review from early 2011). Arriving early one night before the Hideout opens at 7pm, I'm taken care of by bartender David Curiel who tends both in Dalva and The Hideout (currently he's at the latter Wednesday and Friday nights). Even with big name brands lining Dalva's bar, I'm not suffering for a craft drink.
Curiel operates with a classics ethos of just a few ingredients – including vermouth and bitters – allowing boozy attitude to shine, tempered with mature restraint. A prime example is a creation he was considering naming Michael Landon (after the TV actor, who I grew up with both on Bonanza and Little House on the Prairie): rye whiskey, Italian aperitif Cocchi Americano, musky Oloroso sherry and orange bitters. This imbibement hits first with rye spice and Oloroso nuttiness, balanced by Cocchi's bright bitterness. Another Curiel drink, Smoking Gun, goes the peaty route with Ardbeg 10yr Scotch, and if at Dalva's bar, it's vivid with two Italian aperitifs, Campari and Cynar, plus Angostura bitters. In The Hideout it's local great Gran Classico and Italian amaro Ramazotti instead of Campari and Cynar. Ask what Curiel or any of the Hideout bartenders are working on or excited by lately – or give them your mood (bitter, smoky, citrus, herbaceous, etc…) and let them satiate.