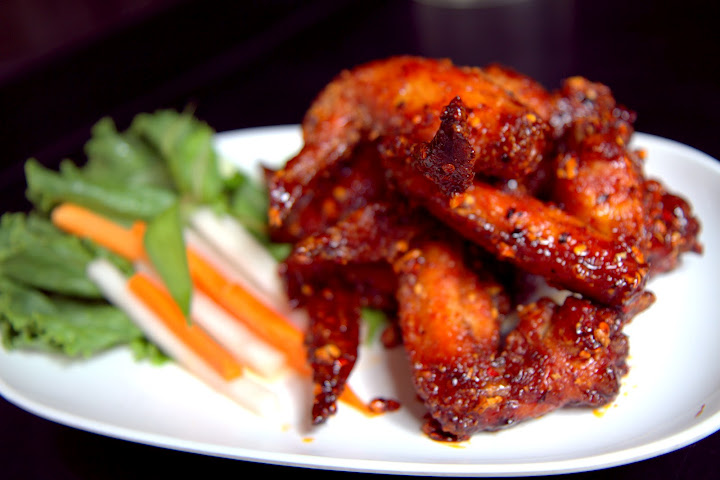 Over 50 places in one week… I may not have covered all Portland this May, but I certainly made a dent. So much so that my Portland reviews are broken up in a four part series. Soaking wet half the week, from my home base, Kimpton's RiverPlace, in a roomy suite with a fantastic view of the Willamette River, I biked out to neighborhoods East, West and North with my usual (if grumpy, cold and irritable) tenacity to dig in and taste the soul and breadth of a place rather than its veneer. Join me as I eat my way through the rainy town up north.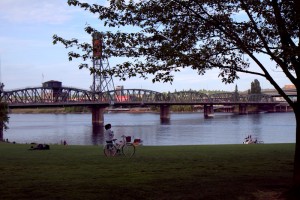 Last issue I talked cocktails. As they are heavily intertwined in Portland (since cocktail bars are required to serve food), there is some overlap and will be again here with restaurants.
My top two restaurants in Portland are the most obvious, though not at all overrated. Though I've heard about Le Pigeon and Pok Pok ad nauseum, they were by far the standout meals in a week of 3-5 meals a day.
The Musts
LE PIGEON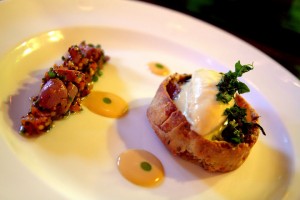 Chef Gabriel Rucker won a James Beard award for 2011 Rising Star Chef of the Year – and the accolades are absolutely called for. In fact, Le Pigeon was easily the best dinner of my visit, a true standout. The intimate space puts you almost on top of fellow diners, especially at the cozy bar, ideal for front row cooking views and chatting with Rucker. Brick walls and vintage chandeliers exude French bistro romance – the place glows with warmth and buzz.
Though a la carte dishes add up, you can go the tasting menu route (5 courses $65, 7 courses $85). Whatever you do, Rucker's food is the reason Le Pigeon is a must when in Portland. He exhibits both playful vision and precise technique in dishes like a foie gras Monte Cristo sandwich ($19), layered with duck ham, rhubarb, and Emmental cheese, or lobster-stuffed chicken ($28), alongside panzanella (bread salad) and chunks of lobster in morel cream.
The dish I cannot stop thinking about is smoked rabbit pie ($13), savory with cheddar, sweet with apricot, topped with hot mustard ice cream which melts over the warm pie and flaky crust in a dreamy, cool covering. Brilliance.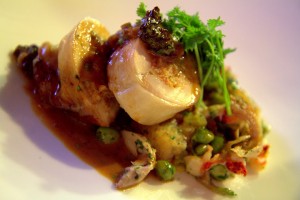 Entrees are more complex and intriguing than they sound, from a tender pork dish ($25) layered with yogurt, okra, curried cucumbers and other delights, while a halibut special ($32) accompanied by fermented shrimp-ginger hollandaise (yes!), and a fantastic corn and fermented black bean relish on top of sweet onions, sugar snap peas,and shitakes.
It all may sound like a lot but it's not overwrought. Rucker's vision is ballsy, playful and forward-thinking but with a firm grasp of technique and balance. Finish rich with foie gras profiteroles ($12) in caramel sauce or a bacon waffle ($10) topped with maple ice cream, peanut butter whip and sorghum syrup.
POK POK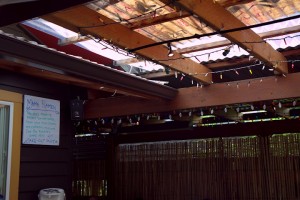 Pok Pok is truly is all that. With the recent opening of legendary PDX Thai restaurant's NY outpost, I figured I missed the heyday now that it has gone national. Yes, it's Thai food from a white guy (Andy Ricker), but I tasted flavors here I hadn't had since I spent two months all over Thailand over a decade ago.
There are soms (drinking vinegars) and funky cocktails utilizing soms and beer, those utterly divine fish sauce wings, exciting plates like charcoal-grilled boar collar or durian-scented custard with sticky rice… it's all top notch.
Unlike any other Thai restaurant in America, Pok Pok is a destination and the other food "must" when in Portland. The raves all true. And there's their Whiskey Soda Lounge down the block when evening waits are long. Soak up the mellow, vacation-like vibe during the day under thatched roofs smelling rotisserie-roasted game hens in the air.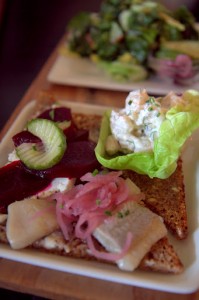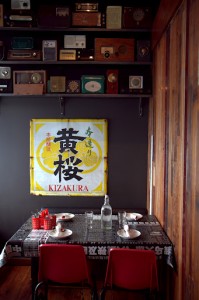 Germanic to Swedish
BRODER
Broder is a cozy, Swedish hipster eatery on PDX's East side with excellent daily breakfasts. How can you not love breakfasts with Swedish coffee (aquavit, Kahlua and coffee), Dutchman's Milk (genever, orgeat, milk, bitters) or cups of Stumptown Coffee? I adore this type of food already and at Broder they execute it with youthful charm and homey comfort.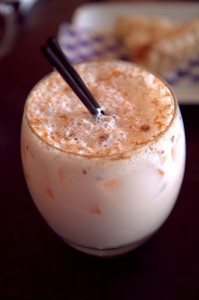 A layered Broder Club sandwich ($11) shows off house-cured gravlax, bacon, avocado, tomato and horseradish cream on lightly toasted Pearl Bakery brown bread, or on the same hearty bread, I like a trio of smorrebrod (open-faced sandwiches -$11): skagen shrimp salad in dill, pickled herring, and pickled beets with chevre. Potato pancake or sauteed greens come as sides (or $4 each on their own) with each lunch dish, and baked goods, like a Swedish-style cherry cream tart, rotate at breakfast.
Swedish meatballs ($11 plate/$6 happy hour) in sherry cream sauce or a Stockholm hot dog ($9) wrapped in flatbread and a potato pancake ensure dinner is equally fun.
GRUNER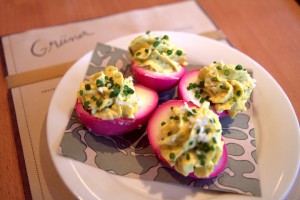 I couldn't help but compare Gruner to other modern Germanic (Austria, Germany, Switzerland and Alsace) restaurants, whether Leopold's in SF or BierBeisl in LA. As I adore this type of cuisine and have traveled through these countries, Gruner was high on my Portland list. While a delicate hand was used in dishes such as foie gras torchon on toasted brioche ($14) with pickled rhubarb and superb Riesling gelee cubes (!) or an artful display of shaved radishes ($8) in pumpkin seed oil and cider vinegar, dotted with dill and toasted pumpkin seeds, portions were minimal and at times the food felt just shy of satisfying.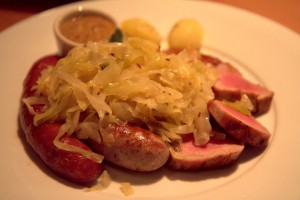 Beet-pickled deviled eggs ($4) were among the more gratifying bites. Choucroute garnie ($26) – a favorite Alsatian platter of mine, typically involving sauerkraut, sausages and salted meats – is sausage, braised pork belly, cured pork tenderloin, sauerkraut, sweet mustard and Yukon gold potatoes, but at a pricey $26 is no better than the choucroute garnie at the aforementioned Leopold's for $18.25. The general mark-up here didn't result in better dishes. Another example? Stuffed quail and rabbit boudin blanc sausage ($25) are two more foods I'm crazy for, here partnered with dandelion greens and chicories salad, crisp speck and a quail egg, but, again, the dish was sparse and the boudin blanc solid but not among the best versions I've had.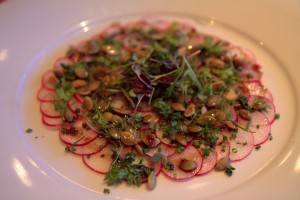 All said, I respect the vision of the menu though I long for more of the elements to pop, as with sockeye salmon cured with gin and pine liqueur ($14), the juniper-piney elements were far too subtle next to horseradish creme fraiche and dill.
Cocktails ($10) were well-executed though not destination-worthy, like the bracing-yet-soft Munchner (Ransom Whippersnapper whiskey, Cocchi di Torino vermouth, Zirbenz Stone Pine Liqueur, aromatic herbal tincture) and Citro e Spezie ( Small's – lovely local gin, Cocchi, tangerine juice, bay leaf, black pepper), bright with tangerine which I'd hoped would unfold with more notable bay leaf and pepper notes.
Brunch
TASTY 'N SONS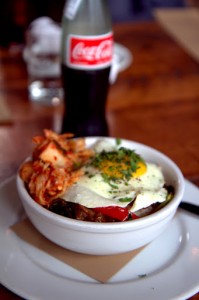 Tasty 'n Sons is one heartwarming brunch, lunch, breakfast, dinner spot. They are open all day in a complex housing a quality butcher as their direct neighbor. Open, hip and bustling, the air is alive with sizzling bacon and fermenting kimchi. What they get right is food that's filling as it is gourmet, common dishes with enough tweaks and quality ingredients to keep them from being boring.
There's around eight Bloody Mary variations, including Dim Summore ($8 – Monopolowa vodka, tomato, hoisin, lime, Sriracha, ginger), and light but fun cocktails like a Cool Rickey ($8), vivid with cucumber, gin, lime, Averna amaro, soda. All this happily cuts the heartiness of their oozing Monk's Carolina cheesesteak ($9) or John's Breakfast ($9), a bowl of brown rice laden with house kimchi, sauteed vegetables, caramelized onions and sunny side up egg.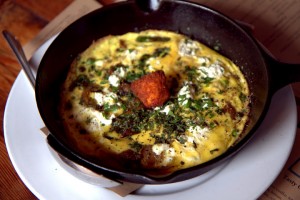 On the lighter side, a Spring vegetable frittata ($9) is expertly executed, served in a cast iron skillet, fluffy with English peas, roasted asparagus, caramelized onions, mint and feta. Spanish patatas bravas ($7) are taken up a notch, potatoes topped with over easy eggs alongside aioli. My top dish just might be seemingly simple but heartwarming pork cutlets ($12) topped with- what else? – a fried egg and sauteed spinach. They may overdo the egg here but you won't hear me complaining.
SCREEN DOOR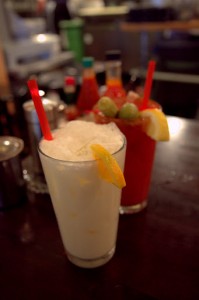 Lines around the block before opening, waiting outside in the rain for a table to open up – welcome to Screen Door. Walking into this lively neighborhood favorite, my eyes popped at the size of chicken and sweet potato waffles ($12.95) pierced through with a steak knife or biscuits and gravy ($7.95-8.95) big enough for two (as is just about everything here). Specials like cream cheese ricotta blintzes and breakfast corndogs with cracked pepper cane syrup amped up my excitement level as did basic cocktail favorites like a Ramos Gin Fizz – never has a better breakfast/brunch cocktail been created.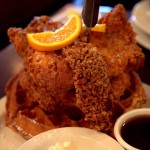 But the Ramos Fizz arrived in a tall glass watered down, tasting mostly of seltzer and milk on the rocks. My biscuit was ok, the chicken and waffles a subpar version to the many excellent ones I've savored from the Deep South to LA (Roscoe's, I'm talkin' to you).
Only the praline bacon was unforgettable. Despite friendly, fast service and the appeal of the space, this is one I wouldn't go out of my way or wait in line again for.
Healthy
PRASAD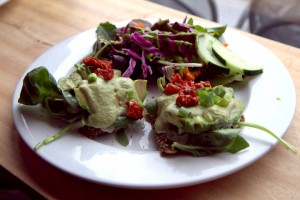 Despite the town's hippie-granola leanings, I managed to eat hearty and gain weight at many of PDX's more popular spots. This made Prasad a welcome break despite annoying yoga shop setting and faux Zen service (whisper, please!) A matcha green tea latte ($4) with vanilla syrup and coconut milk (or almond hemp) and a Bland The Rita juice ($7.5) of celery, cucumber, spinach, kale, parsley, mint, lime, both nurtured as they registered on the green spectrum.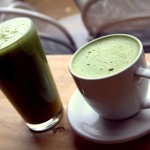 Ignore the cheesy name of feisty tostada ($9.50) to savor jalapeno cashew cheese, fresh spinach, avocado, sundried tomatoes, scallions and green chili sauce on pumpkin seed-pesto raw crackers with a yam rice salad in cilantro cream sauce.
The food is evocative of SF's Cafe Gratitude in its earlier, better days.
The Rest
PING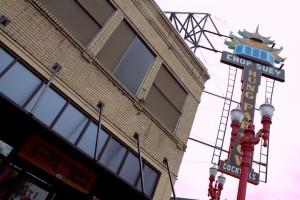 As sister restaurant to Pok Pok, Ping serves the same house soms (drinking vinegars) put to good use in a playful, unfussy cocktail menu. Here there's a different menu of Asian "fusion" dishes, a mashup of Thai, Singaporean, Japanese skewers, noodles and beyond. Reds and blacks highlight funky decor in a historic Chinatown building with standout "Chop Suey" signage.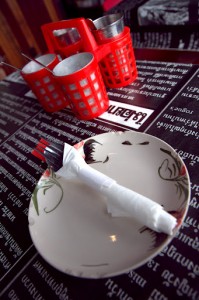 Ping is well worth visiting on its own merit with affordable, comforting dishes like hokkein mee ($10), Singapore-style thin wheat noodles stir-fried in pork fat, dotted with prawns and cuttlefish, alongside cocktails like kalamansi (often dubbed the golden lime) rum punch. This would be my ideal late night eatery.
WOODSMAN TAVERN
A grand seafood platter ($80, or $8-16 for individual items) at The Woodsman Tavern, a charming hipster, wood cabin/ hunting lodge of a restaurant in Southeast Portland, comes overflowing with chilled prawn cocktail, half Dungeness crab, mussels, oysters (Pacific Coast, Fanny Bay, Newport Natives), marinated octopus in pickled lemon and capers, and a crudo of bay scallop in Calabrian chilies and oranges. The platter makes a dramatic first impression at this treny restaurant (opened last fall) from Stumptown founder Duane Sorenson, sharing the building with his original Stumptown café.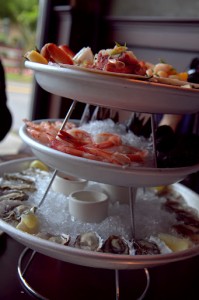 As the meal progressed with country ham platters ($8 or $18 for all three with baguette, pickles, sweet butter) piled with slices of La Quercia, Johnston County, Benton's hams (three of the great Southern hams), it felt like a menu taken directly from SF's Hog & Rocks, which has been open since 2010. But ultimately, I didn't find the food as satisfying. Jumping around from fried cauliflower tossed with currants and smoked almonds ($7) to smoked trout over lentils with fresh horseradish, and pistachio in aquavit ($9), each dish read better than it tasted, though potted rabbit liver and offal jumped out ($10) with apple butter, hazlenut-parsley salad and Benson's rye bread. Our server brought us a taste of pickled green strawberries, tart and punchy – a specialty of the season, she told us – and the other highlight.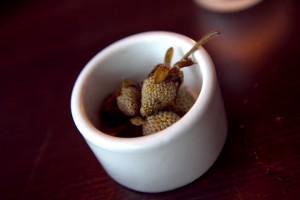 Cocktails are a strong focus here, pleasantly leaning towards classic ethos with no more than 3-4 ingredients, in intriguing mixtures like Minor Threat ($8): coffee bean-infused Cynar, white vermouth, rose water. Though appropriately strong on the coffee given the Stumptown connection and pleasantly bitter from Cynar, Minor Threat worked mainly as a stiff, spiked coffee, not as a nuanced imbibement.
OVEN & SHAKER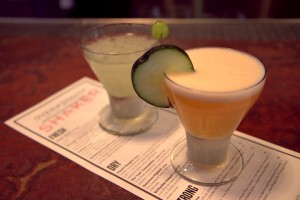 After eating what feels like thousands (more like hundreds) of Neapolitan, wood-fired pizzas in recent years across the nation (and in Italy, of course), forgive me if I say Oven & Shaker's pies, though comforting on a rainy afternoon, didn't stand out. The pies are average but the roomy, rustic wood space is thankfully open all day, an inviting place to stop in at the long bar or communal tables and enjoy a pie and cocktail while trying not to sing along with classic rock tunes.
Cocktails ($8-12) from the "Fresh" section (there's also "Dry" and "Strong") are refreshingly vibrant, like a Pepper Smash ($10) of Krogstad Aquavit, lime, maple syrup, mint, yellow bell pepper, or a subtle, bright Corleone ($12): green grapes, Aviation Gin, Clear Creek Grappa di Sangiovese, lemon, simple syrup, Regan's No. 6 orange bitters.
PAZZO RISTORANTE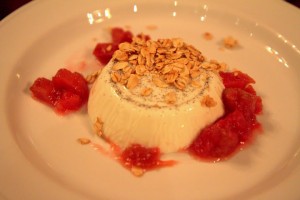 A multi-course feast in Pazzo Ristorante's wine cellar showcased classic Italian dishes and an extensive Italian wine list, while incorporating local elements such as Eastern Oregon beef in raw carpaccio ($13) doused in 2011 olio verde, Parmesan, arugula and lemon. Sampling through pastas and entrees, I took the most comfort in linguine ($18) mixed with a generous amount of Dungeness crab, garlic, chili and chevril, while a silken, proper vanilla bean panna cotta finishes right.
Chef John Eisenhart, who worked as sous chef with Mario Batali at NY's Babbo, showcases his love of Italian cuisine from NY and his year training with chefs in Lucca, Venice and Alba, Italy.