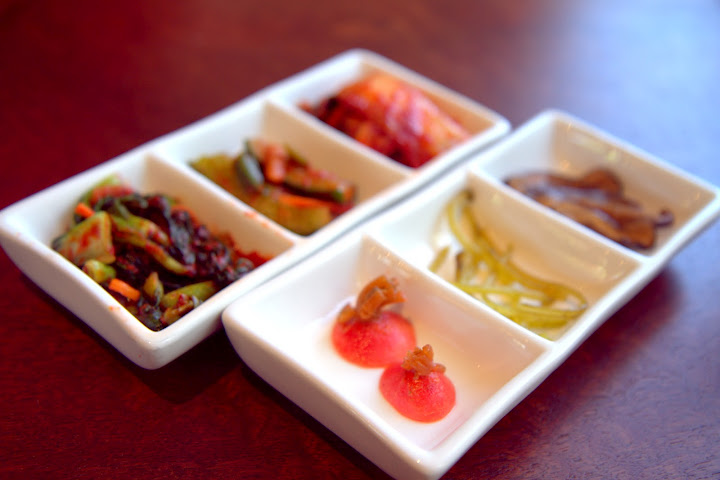 The nation has become increasingly enamored with kimchi and all things fermented. California long being home to some of the US' densest Asian populations, this side of the palate is staple vs. exotic novelty. As San Francisco's population consists of as many Asians as Caucasians, it's no surprise that we are blessed with an endless wealth of authentic Asian food, though Korean has been one of the few not at the forefront. Historically, NY and LA, both areas I've lived in, are the strongest/densest for Korean food in the US.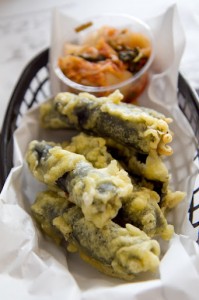 Age 18 was the first time I ate Korean food. My girlhood best friend since my New Jersey days had begun dating her now husband when we went out to dinner with his family. From Flushing, Queens (read about my top Flushing Korean BBQ joint), every meal with his Korean family was the real deal (i.e. not places a Caucasian would go). My first impression of Korean food was: red. The usual array of panchan or banchan (mini-dishes often accompanying a Korean meal) arrived doused in red sauce, each bite fiery with heat. Though I wasn't hooked immediately on kimchi as I am now, I wasn't averse to it as I was doenjang (fermented soybean paste) at first, which took me longer to appreciate. As a novice that day in NY, the dish I fell in love with was dolsot bibimbap (meaning "stone pot"), a popular melange of rice, meat and veggies, served in a sizzling stone pot topped with an egg. Though a common Korean dish, in a non-descript NY basement, this superior version spoiled me for all bibimbap.
Despite a dearth of Korean BBQ joints in SF and a concentrated Oakland Korean population, it hasn't been until the last few years I've witnessed restaurants offering far beyond BBQ. From the forward-thinking "fusion" of Namu Gaji to the home-cooked joys of To Hyang, Nan, Manna, and Aato, we've seen a steady growth in Korean openings in recent years. In Oakland, good times are had at what regulars refer to as the "porno bar" due to the Korean film posters lining the walls (nothing explicit), Dan Sung Sa. Fried chicken and rounds of Korean beers in a comfortable dive atmosphere evoke a Korean speakeasy, ideal with a group of friends. It's reminiscent of long-timer Toyose, a similarly relaxed, tucked away SF spot in an Outer Sunset garage.
Here's two stand-outs in another wave of openings exemplifying the gourmet fun of Korean snacking and casual eating, ideal with cheap beer and good friends.
ARIA KOREAN AMERICAN SNACK BAR, Tenderloin (932 Larkin St. between Post & Geary, 415-292-6914)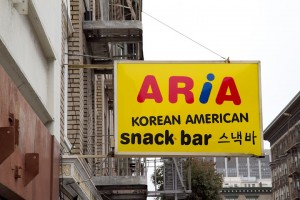 The Kim family has moved into what was Old Chelsea Fish & Chips with Aria Korean American Snack Bar. The closet-sized space is still dingy on a bustling Tenderloin block, but the Kims have infused it with fresh life, greeting with smiles and a record player stocked with Tom Jones and Sintra LPs. Mom and Pop Kim run the place, though their son and his girlfriend have come up from LA to help them get going.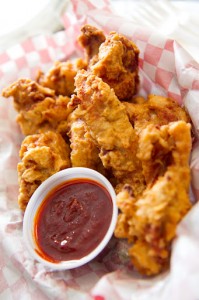 They have a hit on their hands with their Korean Fried Chicken (9 pieces – $6.99-7.99, 16 pieces $12.99-13.99). It feels like everyone is doing KFC these days, but these boneless, overgrown nuggets are special: crispy-tender, fried in cottonseed oil. Dip in earthy-sweet "spicy sauce" and an addiction is born. Mama's acidic sweet and sour radishes are just the right accompaniment to clean the palate and perk up the taste buds.
There's an array of fried snacks, from mixed veggies (carrots, sweet potato, zucchini, onion) to fried seaweed rolls packed with potato and glass noodles ($5.99, 8 pieces). Another of Mama Kim's recipes is Korean hot and spicy rice cake ($5.99), blessedly chewy, it sits in – what else? – a spicy, red sauce. The Kim family's good cheer and authentic, fried bites make this the kind of snack bar every neighborhood should be so lucky to have.
FuseBOX, Oakland (2311 A Magnolia St. at 24th, 510-444-3100)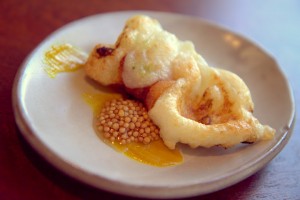 Tucked away in a sunny courtyard off desolate West Oakland streets is FuseBOX, a truly exciting haven for Asian "fusion" – only open Wednesday through Friday (11:30am—2:30pm) though dinner is promised soon. You could deem it Korean food served Japanese izakaya style, although it's mashup of both and beyond. Open just over three months, this cash-only respite from Sunhui and Ellen Sebastian Chang offers daily robata bites ($1-3) on the specials board. Granted, these are merely bites, but the joy is sampling a range of grilled vegetables and meat.
From the spare, industrial interior boasting merely a few tables to rice ($2) purified with binchotan (Japanese white charcoal), it's clear this no typical Asian eatery. There is, of course, KFC ($5), although here it is lightly fried, spicy chicken wings more akin to Buffalo wings than the aforementioned boneless chicken at Aria. BAP sets ($6-10) offer meat or veggies alongside rice and panchan or banchan (mini-dishes often accompanying a Korean meal), which rotate daily. Spinach roots or French breakfast radish crowns are brined in mustard, nori (seaweed) and sesame leaves are pickled in soy, white zucchini or green mango in vinegar. Kimchee comes in multiple forms, like bok choy and kale.
The aforementioned robata specials are grilled on wood skewers, from okra and snap peas, to tender chicken thigh and back oyster cuts. The best bite of all? Bacon mochi ($2.50). The mochi is sticky, subtly savory and gummy, satisfying on its own merit – until you reach the bacon and accompanying mustard seeds. Sigh. I'd eat this fantastic bite for breakfast, dessert – basically any way at all. For bigger appetites, there's sandwiches ($8) like a Tokyo po boy laden with fried chicken, red cabbage slaw, house mayo and pickles.
To drink there's a bracing, cool roasted corn tea ($1), chilled and nearly creamy with fresh corn flavor. Other drink options include Tang (yes, Tang!), house barrel aged soju, and neighbors like Alameda's Rock Wall wines or beer on tap from Oakland's Linden Street Brewery. As their hours expand, I've no doubt FuseBOX will become more crowded than its three-day lunches already are. There's no place like it.