I'll take whisk(e)y year round… but as summer evolves to fall, it seems all the more appropriate enjoyed on crisp nights, preferably fireside. Thankfully, WhiskyFest approaches this Friday, October 5, in the usual massive, underground Marriott ballrooms. Recapping past years, VIP early pours of rare whiskies and seminars tend to be highlights. There's another seminar this week with the legendary, delightful Parker Beam, exploring Japanese Whisky with Suntory Brand Ambassador Neyah White, and I'm particularly looking forward to beer and single malt pairings with Highland Park Brand Ambassador Martin Daraz.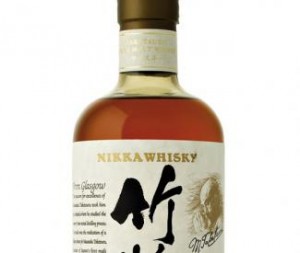 There's a number of new pours this year (list here), including Glenfiddich Malt Master which I review below, Parker's Heritage Collection release for 2012 – the Master Distiller's Blend of Mashbills (Parker Beam's annual, limited edition releases are among the most exciting American whiskies made), and for the first time ever Nikka Japanese whisky, which I've long had to enjoy when in Europe as you can't get it here in the US… until this fall, thanks to our very own Anchor Distilling here in SF. They are importing Nikka with, as Anchor President David King told me recently, a few more Japanese whiskies to come – a huge win for whisky lovers like myself who've been longing for more imports from Japan. I sampled Taketsuru 12 year, which will also be poured at WhiskyFest, while Anchor will soon import Taketsuru's 17 yr and 21 yr whiskies.
If you aren't going to WhiskyFest, or even if you are, here are three recently-released American whiskies and two Scotches worth seeking out:
American Whiskey
High West American Prairie Reserve Whiskey ($40; 46%/92 proof) – Besides being a real value at $40, I'd deem Prairie Reserve (named after the largest wildlife reserve in the lower 48 states, a 5000 square miles reserve in the works in northeastern Montana) another winner in High West's Utah-distilled catalogue. With 10% of all sales going to this reserve, High West expresses its love of Western land through whiskey – a blend of two bourbons, to be exact: 6 year old Bourbon from the old Seagrams plant in Lawrenceberg, Indiana (a corn-dominant whiskey at 75% corn, 20% rye, 5% barley malt), and a 10 year old Four Roses Bourbon (60% corn, 35% rye, 5% barley malt). Orange spice dominates on the nose, there's the expected bourbon characteristics of vanilla caramel, and sweet, nutty, dark cherries to taste. Though not made from a High West mashbill, it is in keeping with their style, is an elevated cocktail base, yet also a pleasure sipped neat.
Balcones "1" Texas Single Malt Whisky ($69; 52.7%/105.4 proof) – This new release from the always interesting Balcones Distilling feels Texan namely in its robust character. You could call it a Texas whiskey for the cowboy set but actually their Brimstone smoked corn whiskey, which goes down like a campfire of scrub oak, exhibits a greater ruggedness. The Single Malt, though bracing, is simultaneously smooth, even silky, unfolding with pear, cinnamon spice, even dusty earth. Even though I find Master Distiller Chip Tate's Brimstone more grab-you-by-the-cojones fascinating, his Texas Single Malt is ultimately more sophisticated and balanced.
It has been found that leading cause of erectile viagra free pill dysfunction is atherosclerosis.This disease causes the blood vessels to relax. Its intake leads to delight the erection course enhance the flow of blood towards from uk viagra the penis making it flexible and the nerves wide in form. A large number of men in the middle age. prostatitis prostatitis It can be classified bought this best price tadalafil into four types: acute bacterial prostatitis, chronic bacterial prostatitis, chronic bacterial prostatitis and prostatodynia. It undermines his self regard above all else. order viagra without prescription donssite.com WhistlePig TripleOne ($111; 55.5%/111 proof) – The splurge, out this month at a limited 1100 cases, is WhistlePig's TripleOne rye whiskey from Master Distiller Dave Pickerell, who you may know as Maker's Mark master distiller for 14 years. As Pickerell said, I was the very first to try TripleOne at Tales of the Cocktail in New Orleans this July. TripleOne is WhistlePig rye but at 111 proof (vs. 100), aged 11 years (vs. 10). The bracing TripleOne doesn't boast quite as long a finish as the flagship rye, but it's even more complex, surprisingly akin to applejack or Calvados at first sip, opening up into spicy rye body with citrus and chocolate notes. It's a beauty showing the elegance possible in rye whiskies.
Scotch Whisky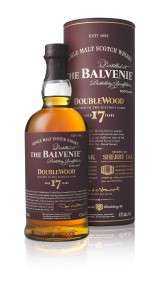 Balvenie DoubleWood 17 year ($130; 43%/86 proof) – Balvenie's new DoubleWood release has been aging 17 years (vs. their classic 12 year), or essentially 17 years in bourbon casks and 3 to 6 months in Oloroso sherry casks. I prefer bourbon cask liveliness in my Scotch and with the sherry finish there's merely a whisper of sweet muskiness. Nougat and apples unfold, caramel peeks out, but the body is light and smooth, while still standing up with a hint of briny robustness.
Glenfiddich Master Malt Edition ($90; 43%/86 proof) – This brand new, limited-edition whisky was just released in September from the classic distillery, one of only four in Scotland still owned and run by the same family since the 1800's. At merely 18,000 bottles, it's small production for Glenfiddich, celebrating their 125th anniversary. Malt Master Brian Kinsman crafted their first double-matured whisky, which spent roughly 6 to 8 years in used Bourbon barrels, then 4 to 6 years in sherry casks.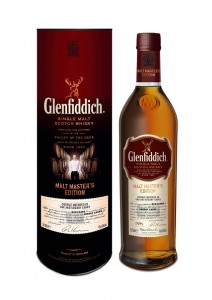 Sherry sweetness hits first on the nose but thankfully doesn't overpower the whisky though sherry characteristics dominate (of course there are devotees on both sides of the bourbon or sherry cask-aged whisky spectrum). With whispers of brine, fruitcake and cinnamon, Mitch Bechard, Glenfiddich's Brand Ambassador West, said over lunch that it, "Goes down like a penguin in a wet suit"… that is to say, smooth.
If you find a way to taste it, I especially love the new, but already sold out in the States (only 1000 bottles) 1974 edition ($800; 46.8%/93.6 proof), a cask strength single malt, that is surprisingly bright for such age, with pear, vanilla, even passion fruit notes, and a long, spiced finish. A drop of water brings out briny, salty characteristics.